TidePod Season 3, Episode 12: Senior Reflections
In the twelfth episode of the TidePod's third season, we gave seniors the opportunity to share their experiences at RM. We accepted audio recordings from any seniors who wanted to reflect on their lives in high school, give shout-outs to their friends and favorite teachers, share their future plans, give advice, and more. We captured the memories of the Class of 2021 in this podcast. It's also our last TidePod episode of the year, and this episode is extra special because it's the last one all of the TidePod editors from this year are participating in. Mirula, Amna, Savva, and Rediet have worked hard this year to make the TidePod what it is and have watched it turn into something amazing. This episode will commemorate the end of our times here and the end of this historic year for high school students.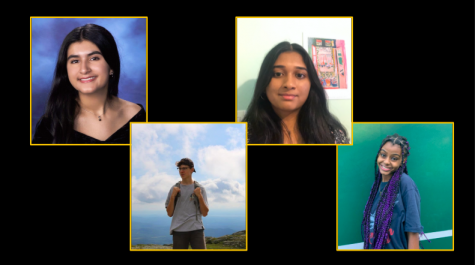 You can listen to "Senior Reflections" here.
The featured guests were Nikki Shah, Alexis Crawley, Anand Chitnis, Anh Tran, Anjali Natarajan, Anna Cheng, Claire Gelillo, Corinne Hanway, Edward Sorensen, Helena Aytenfisu, Olivia Blucker, and Rediet Ghebrehiwet.
The episode was hosted by Mirula Prasad and Amna Shamim.
The script was written by Amna Shamim and Charlyn Chu.
Publicity and Outreach by Rediet Ghebrehiwet, Amna Shamim, and Mirula Prasad.
Graphic by Valerie Wang. Music courtesy of Corrigan Peters.
Edited by Rediet Ghebrehiwet. Produced by Mirula Prasad and Amna Shamim.
You can listen to the rest of the TidePod podcast here.