Adapting to a global pandemic by adopting a furry friend
As the county's only open-admissions shelter, the Montgomery County Animal Services and Adoption Center (MCASAC) is responsible for providing high-standard sheltering and care to the homeless, abused, and neglected animals in the community. 
Although the Center was closed for adoptions between March and August of last year because of the coronavirus pandemic, it had to keep accepting animals, whether strays or owner-surrenders, which entailed surrendering ownership of the adopted pet back to the Center. 
Maria Anselmo, the community relations manager for MCASAC, found that her initial role of community outreach had to adjust to meet the new situation.
"Since we still had animals coming in, the only way for animals to leave the building was through our rescue transfer program," Anselmo said. "I spent about five months more or less single-handedly transferring 480 animals out to Friends of Montgomery County Animals."
Under normal circumstances, potential adopters walked into the Center with their required documents, visited with the animals, spoke with a counselor, and adopted that same day. Once the Center reopened in August, adoptions are now only made through appointments to limit the number of people in the building. 
The first stage of the adoption process is to look at the "Available Animals" pages on their adoptable pet database. After finding and reading a short synopsis about the animal they are interested in adopting, the potential adopter submits an animal adoption questionnaire for the specific animal that acts as an application adoption counselors use to ascertain whether they are a good fit for the animal. Inquiries will be handled on a first-come, first-served basis.
From there, if the potential adopter is first in line for the animal they applied for, the Adoptions Staff members contact them for required documents located here. Once those are submitted, an adoption counselor reaches out about scheduling an appointment to visit the animal. When adoption counselors reach out to potential adopters, they must respond with the requested information within 24 hours or their application will be voided. Hours have been changed to be between 10 a.m. and 5 p.m., rendering the weekends busier for visitations.  
Interestingly, the Center has had a much lower animal population since its reopening compared to previous years. Anselmo pointed to a 28 percent decrease in owner-surrenders during the past 12 months compared to the year before as the main cause of this reduction. 
"This is fantastic — our goal is to not have to be here. We love our job's security and all of that, but our goal is to not have to be an organization that even exists," Anselmo said. "We don't want these animals to be missing out on homes."
To help prevent owner-surrenders, the Center's Behavior Team provides free support to adopters struggling with their pet's behavior. 
Other general services include holding weekly rabies clinics that are administered by veterinarians and are made by appointment. 
"
I've had cats and dogs my whole life. I just really liked working with animals. It's the best volunteer job for me."
— Theresa Goldsholle
Another part of Anselmo's position includes managing the volunteer department. Two volunteers are present per shift; the Center is not yet back to its full capacity of four to five volunteers per shift. 
Although the general volunteer program was put on pause during the Center's closure, foster home volunteers have been recruited throughout the pandemic because they are not in the building and instead take care of their animals at home. 
Theresa Goldsholle, who has adopted three cats and a dog from the Center, is one of these volunteers. 
"I've had cats and dogs my whole life. I just really liked working with animals. It's the best volunteer job for me," Goldsholle said.
In the ideal situation, adopters would go meet the animal in the foster's home. However, because of COVID-19, not every foster is comfortable having strangers come into their home. If there is an approved adopter who just needs to meet the animal and make their decision, the Center will arrange for the animal to be returned to the building if the foster is reluctant to have strangers in their home. 
When the volunteer program restarted, Goldsholle continued her role as a cat caretaker and was responsible for administering food to the cats, cleaning their litter, and changing their towels, as well as observing each cat and marking their behavior in a book. 
"It's really just being there every day to visit with them. I think that's what people really missed during the pandemic," Goldsholle said. "You couldn't keep an eye out for them."
 Consider donating unopened bags or cases of dog and cat food/other pet food, blankets, towels, and newspapers to support the Center. Pet toys are also accepted. For those in need of pet food for their animal, the Center is working on holding a pet food pantry every Thursday and Sunday. 
About the Writer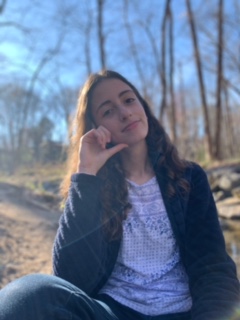 Davi Jacobs, News Writer, Features Writer



Davi Jacobs is excited to learn about various issues and sharpen her writing skills this year. She also aims to connect with people beyond computerized...