In new EP, PG County's Cordae treads familiar ground
Prince George's County, Maryland rapper Cordae brought fans his first EP since the lead up to 2019's The Lost Boy, his first studio album, midnight last night. The four-track EP, titled Just Until…. is concise and features a variety of styles, musically and lyrically. It follows a similar formula to The Lost Boy, with some notable evolutions in beat and flow, promising for an interesting album that has been in the works and in social media teasers since last year. 
"More Life," the opening track, features Q Tip, a huge figure in 90s rap known for his work with A Tribe Called Quest. The track is more synth-driven than much of Cordae's earlier work, especially looking at the distinctly acoustic funk- and jazz-tinged soundscape of The Lost Boy. However, the overall energy of "More Life" feels largely the same, featuring a very familiar storytelling style to his earlier work.
The second track sees Cordae on his own for the first time on the EP, in a track teased on his Instagram last week on April 15. "Dream in Color" feels similarly close to Cordae's established musical style while not quite the same, this time eschewing the brass of The Lost Boy for a beat driven by vocal loops and echoey claps. Thematically, the lyrics of this song reveal lots of ties to The Lost Boy yet again. Family and growing up in less than ideal circumstances are frequent topics of discussion within Cordae's bars—The Lost Boy itself being largely a commentary on his childhood with a single mother in PG County. "Dream in Color" discusses similar themes, but also incorporates lines about Cordae's girlfriend and tennis star Naomi Osaka, a new fixture in his family circle.
"Wassup," featuring Atlanta rapper Young Thug, and produced by acclaimed duo Take a DayTrip, is the first real departure from Cordae's style on the EP. This is immediately noticeable in the song's beat, which takes a decidedly more trap-influenced direction, as opposed to the more open, golden-era wavy beats of the rest of the EP. Lyrically, the opening chorus is simple, lacking any of the witty flow that Cordae is known for. This discrepancy all but disappears into the verses, with both Cordae and Young Thug delivering hard and bouncy bars over the first and second verses. If this song proves anything, it is that Cordae's style is undeniably versatile and he can perform on nearly any beat. In terms of style, this can be more closely compared to Cordae's earlier work, such as 2018's "Kung Fu." 
The closing track of the EP is once again a return to peak Cordae, a positively sunny classic hip hop beat. Once more, the storytelling flow and family theme return. While it feels upon writing that Cordae only ever raps about his family, if anything, this EP proves that Cordae's lyrical ability to look at situations in different ways has prevented this somewhat singular theme from becoming stale in any way. The ending of the song features an aside from Cordae to the listener themselves, where he mentions his "perfectionist" tendencies as an excuse to the album's long release timeline.
Overall, the EP presents an undeniable evolution of Cordae's craft and an exciting step forward into his newest album. As our current generation's de facto king of storytelling rap, Cordae generated many expectations for this new album. Just Until…. proves that those expectations will not only be upheld, but also that Cordae has evolved while retaining his sonic identity.
Final Verdict: A strong 7/10, with the best track definitely being "Dream in Color."
About the Writer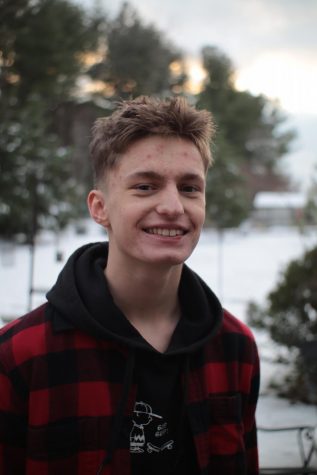 Bence Szego, Opinions Writer
Bence Szegő has been writing for the Tide for two years now, and is excited to be entering the third. On a normal year, Bence spends most of his time...