Mr. Colchao turns his passions and natural talents into a fulfilling career
Whether noticed on the RMBC morning news or seen dancing on the basketball court during the holidays, most students are familiar with Spanish teacher Jason Colchao. He teaches Honors Spanish 3 and Spanish for Spanish Speakers and is currently about halfway through his fourth year at RM. Mr. Colchao prides himself in his teaching style, where he works to provide his students with a true understanding and connection to the language and traditions of Spanish-speaking countries. 
Mr. Colchao has been a social butterfly throughout his life and has always been passionate about meeting new people and connecting with new cultures. Most would describe him as an extrovert and speaking in front of groups is a strength he has possessed since he was young. "I have also always loved making and giving presentations, so teaching was just a natural fit," Mr. Colchao said via Zoom. This way, he was able to turn his passions into a fulfilling career. 
With a Peruvian background on his father's side, Mr. Colchao grew up speaking Spanish in his home and has always had knack for world languages. "While I am currently only bilingual, I have studied and can speak minimal Chinese, Japanese, Arabic and Russian," Mr. Colchao said. In the end, combining his experience in Spanish, his desire to learn more about it and a deep-rooted love for his rich culture, Mr. Colchao decided on his path to become a Spanish teacher. 
According to Mr. Colchao, one thing that makes him unique is his "canción del día" (song of the day). "It is my approach to inspire students to start listening to Spanish music and incorporating LatinX culture in their daily lives," Mr. Colchao said. He wants students to love what they are learning and in order to do that, they must take the time outside of the classroom to understand it. In addition to his warmups, he emphasized one of his teaching values. "My firm belief [is] in teaching the 'why?' behind everything [and] not believing in giving 'busy work,'" he said. This has been part of the foundation of how he has taught Spanish for the last four years.
Both inside and outside the classroom, Mr. Colchao has felt an immense flood of love and support from the students, faculty and administration here at Richard Montgomery. He recalled a few of his favorite memories that he has made as a part of the Rocket staff thus far. He will never forget getting to dance alongside his colleagues in the winter pep rally or being given the opportunity to judge the Mr. RM acts over the years. 
"If Mr. Colchao didn't teach, I think he'd probably host a game show," junior Abby Marmelstein said. Marmelstein had him as a freshman but can recall some of her favorite high school memories being formed in his class. Mr. Colchao, known for an interactive class dynamic and his famous school trip marketing infomercials, has impacted many students in one way or another. Sophomore Leah Barash had Mr. Colchao as a freshman as well. " [Mr. Colchao is] always so fun and energetic," Barash said. Before taking his class, she had no idea how enriching and exciting Spanish class could be. 
Over the years, Mr. Colchao has met so many students from different backgrounds and appreciates that Richard Montgomery has such a diverse student body. "I am constantly learning from others," he said. He knows working as a Spanish teacher for RM was the right decision, not only for his career but also for his livelihood. He said, "I believe that deciding to become a Spanish teacher to improve my own language skills and connect more with my own culture has shaped me into the person and teacher I am today."
About the Writer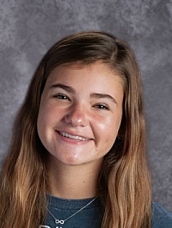 Maggie Orcev, Features Writer
Maggie is a sophomore at Richard Montgomery who loves to read and write. This is her first year writing for The Tide and she's excited to continue writing...