Super Bowl LV- Four key observations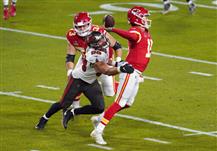 With the Super Bowl several couple weeks behind us and with the NFL community having a chance to take a step back from it, it is time to take a look into what made Super Bowl LV one of the most consequential and overhyped Super Bowls in history. 
Brady's seventh
Despite critics pointing out a phenomenal supporting cast, highlighted by top-five units on both sides of the ball, there is no denying Tampa Bay Buccaneers quarterback Tom Brady the GOAT status any longer. "I think a lot of people can't argue that he isn't the GOAT anymore," sophomore Noah Fisher said, "especially now that he's done with a different franchise." At the age of 43 and in his 21st season, Brady exceeded all expectations, while silencing his critics for good.
In the biggest game of the year, Brady calmly passed for 201 yards and three touchdowns, setting the tone early against a red hot Chiefs team. He now joins Peyton Manning as the second quarterback to win a Super Bowl with a second team. He also extends his lead for the most Super Bowls ever won by a player to seven, while also earning his fifth Super Bowl MVP award. 
Down and Out 
While Brady thrived, Chiefs QB Patrick Mahomes suffered his worst loss ever in an NFL game. Despite the Chiefs' offensive failures, the majority of the blame can be attributed to the lack of offensive line protection against a relentless Buccaneers pass-rush.  
"The offensive line issues go beyond just the [Chiefs Pro Bowl left tackle] Eric Fisher injury,"  junior Elias Applebaum said. In addition, Chiefs All-Pro right tackle Mitchell Schwartz was also out with injury. The Chiefs' lack of health at the key points of protection ultimately doomed Mahomes and the Chiefs' hopes of winning. 
Over the entirety of the game, Mahomes was forced to scramble for a grand total of 497 yards and was pressured 29 times on his dropbacks, according to NextGenStats. Despite also throwing some passes at ridiculous angles with accuracy, the Chiefs' receivers committed several crucial drops that could have turned the tide of the game. 
A Historic Defensive Performance
While the Kansas City offense was far from healthy, there is no doubt that Todd Bowles's defense did an incredible job at containing arguably the most electric offense in the league.
 It is also the only time that a defense has ever truly been able to stifle the magic of Patrick Mahomes. Throughout his entire NFL career, Mahomes had never lost a game by double digits, nor had he ever been held to single digits before this game. After Mahomes and Chiefs wide receiver Tyreek Hill lit up the Buccaneers defense in their prior meeting in 2020, Bowles adjusted accordingly. The defensive game plan was effective from the get go and the Chiefs were never able to fully adjust. 
Who's the Next?
With fans already looking towards the 2021 season, many might be wondering if anyone could stop the Bucs or Chiefs from reaching Super Bowl 56. 
"With a young rising team they were pretty good this year. Josh Allen had a breakout year and I think [the Bills will] be a challenger in the future," sophomore Noah Fisher said. 
Others believe the biggest competition in the AFC could be in the division for the Chiefs.  "The Chargers have got a new head coach. They had a lot of close games last year," Applebaum stated. "I think more one possession losses than any other team, and you know Herbert is just gonna get better." 
As for Tampa Bay, Applebaum said, "I don't really see anyone that is gonna step in front of Brady's path because that team is so intact. That defense is pretty special." 
The recent release of highly regarded defensive end JJ Watt could potentially shake things up in the NFC, however.  "We will have to see where JJ Watt goes…..especially if he goes to [the NFC Championship runner-ups] Green Bay [Packers]."