Finding ways to manage mental health during the pandemic
As RM approaches the end of its sixth full month of virtual learning in the 2020-2021 school year, many students have had to find ways to manage their mental health amidst the hustle and bustle of this new life. Sophomore Joanne Doe*, junior Kai Smith*, and senior Abigail Jones* gave their story on how their mental health has been affected by the pandemic and ways they have dealt with it, along with some tips from school psychologist Lisa Nesson on maintaining good mental health and positivity. 
The transition to online learning has had ups and downs for many, with different students experiencing different effects. "It's frustrating that we are not learning as much as we would in school, and it's difficult to connect with teachers," Smith said. "Being at home all day makes it very hard to motivate myself to be productive — I think we'd all much rather be lazy all day." 
With the sudden transition, many students have not had time to prepare for the added emotional effects of the COVID-19 pandemic. Some students state that with the lack of commute, they have been able to get more sleep, while others comment that the anxiety that comes along with living through the pandemic has made sleep more difficult to obtain. "My mental health has hit an all-time low," Jones said. "From March to May I was doing okay, but now it's like I have thrice the work to do added along with the stress of the pandemic. My grandma actually passed away from COVID and we couldn't even visit her … because of anxiety I haven't been able to sleep, and that's a real problem, considering getting adequate sleep was one of the plus sides of this whole arrangement."
The lack of interaction during the ongoing quarantine has also been a challenge for many. "The lack of social contact can sometimes make you feel slightly lonely as well as very strange when you are out in public every once in a while," Doe said. "This was surprising for me, as I don't usually talk a lot to others."
"
I found that much of my school-related activity is motivated by college, looking good or feeling secure, no matter how 'good' the activity itself is."
Keeping in touch with friends and family through social media has been helpful for some students. "Especially in the last few months, I've also been taking time to talk to friends, both to be productive and relax," Smith said. Spending time to connect with others helps many students feel more connected to their friends whom they have not seen in-person for months due to the pandemic and virtual learning. 
Because of the problems that have arisen due to online learning, it is important to take care of one's health — mental, emotional and physical. "I found that caring less about having perfect grades and stellar extracurriculars for college is a huge relief," Doe said. "I found that much of my school-related activity is motivated by college, looking good or feeling secure, no matter how 'good' the activity itself is."
In addition, taking time to think about the bigger picture and keep a routine is helpful to manage the stress that is the pandemic and online school. "I'd suggest that others create their own daily routine," Smith said. "You can't plan every day, but just doing the same thing most of the time helps me to separate my relaxation time from my productivity time. Also, I find it helpful to prepare for school like I am in school [in-person], which helps me feel less stressed and overwhelmed about what I have to get done."
For students who may be struggling with the anxieties that come with the current reality, school psychologist Dr. Lisa Nesson gave her perspective as a mental health professional. "The pandemic has made it more difficult to connect with students; last year I was new to this school, so I was just trying to get to know staff and students," Dr. Nesson said.
As a result, she has never met some of the students she works with, but she still does her best to help everyone. "It's definitely a combination of me reaching out to students versus them to me. If students want to get in touch, sending me an email is the best way." Students can email Dr. Nesson directly at [email protected] or email their own counselor to get in contact with her. 
"
A routine can provide a sense of control and calm in your life."
— Dr. Nesson
Dr. Nesson also offers some tips on dealing with online school and managing stress, some of which have been echoed by students who have benefited from these tips. "Establishing and maintaining a daily routine: for a lot of the chaos and unpredictability, a routine can provide a sense of control and calm in your life," Dr. Nesson said. "Eating a balanced diet, getting enough sleep [and] exercising regularly helps with your well-being as well," she added. 
Communication is also key. "Trying to verbalize your thoughts and feelings with people you trust, and not being afraid to ask for help when you need it [is important]," Dr. Nesson said. By communicating, students can lift a weight off of their chest that can otherwise be detrimental to their health, and they won't have to bear their burden alone. Additionally, communication helps a person relieve stressful thoughts that could snowball into worse feelings over time. 
Many aspects of technology can be harmful to a student's mental health as well, such as overuse of social media. "Set a goal to limit use of social media if it's a problem and source of stress," Dr. Nesson said. Social media can often drag people away from reality and influence depressive thoughts as it is easy to become addicted to. 
In addition to caring for one's own mental health, Dr. Nesson mentioned the importance of helping others too. "Focusing on helping others can be beneficial – obviously that's going to look a bit different [now], but you can write a letter to people who are home alone and healthcare workers, spend time with a younger sibling and send positive messages over social media," Dr. Nesson said. 
As the pandemic and online school continue to draw on, it can be difficult at times to see the light at the end of the tunnel. "[The pandemic] will eventually end, and continue to practice kindness with yourself and others. Cut yourself some slack if things aren't going the way you hoped or wanted," Dr. Nesson said. Do not be afraid to reach out to a trusted friend, adult, teacher or other person if you need help; we are all in this together. Stay strong, Rockets!
* Names have been changed to protect the identity of these individuals. 
About the Writer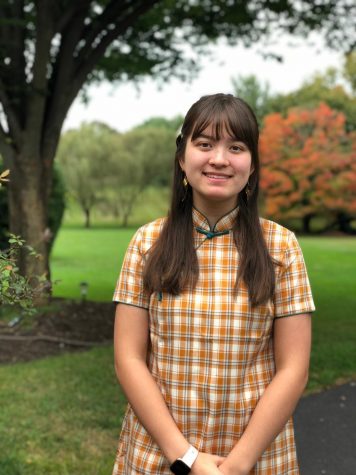 Angelina Guhl, Features Writer, Graphics Artist



Angelina Guhl is a junior at Richard Montgomery and this is her third year with the Tide. She is a graphics artist as well as a Features writer....