Capitals fall up short yet again to the Penguins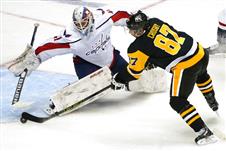 Three years ago, the Washington Capitals climbed to the top of the NHL hierarchy and were crowned Stanley Cup champions. Alex Ovechkin was awarded the Conn Smyth Trophy, a prestigious award given to the best player throughout the NHL playoffs. Since winning it all, then Capitals coach Barry Trotz left to coach the New York Islanders, leaving the team under new leadership.
Todd Reirden was promoted to replace Trotz, but led the Capitals to two very disappointing postseason finishes. Peter Laviolette has since filled the role, leading a new era for the Capitals.
Despite a strong start to the 2021 season, the Washington Capitals fell short of victory both times in their series against the Pittsburgh Penguins. Capitals goalie Vitek Vanecek was in goal this time, making his second start ever. 
At the 4:55 mark of the game, Capitals center Lars Eller struck first with assists from Capitals red-wingers TJ Oshie and Richard Panik, giving Washington the lead. The Penguins would answer as Pittsburgh center Colton Sceviour tied the game with assists from wingers Kasperi Kapanen  and Teddy Blueger.
Despite valiant efforts from both teams, the Washington Capitals managed to hold a 4-2 lead over the Penguins in the second period. Three quarters into the second period, the Capitals had a two-man advantage, but Blueger was able to overcome the defense with a strong pass from Penguins Goalie Casey DeSmith.
This led to a goal, cutting the deficit for the down to just one. Just over two minutes later, Penguins center Evgeni Malkin scored on a power play and tied the game at four a piece, sending the game to overtime. 
Overtime commenced with a strong faceoff win by Malkin, followed by a shot on goal by right winger Bryan Rust. A minute into the extra period, Penguins center Sidney Crosby scored the fifth and final goal of the game granting the Pittsburgh Penguins a 2-2-0 record, while the Washington Capitals fell to 2-0-2. The loss marked a second consecutive overtime loss to the Penguins. 
Since the series, the Capitals have bounced back nicely. They've still yet to lose a game in regulation, sporting a record of 5-0-3. While they are atop the East Division, the Capitals trail only the Toronto Maple Leaves in the overall league standings.