During a pandemic, having frontline workers as parents is both stressful and inspiring
Amidst the eleventh month of the COVID-19 pandemic, people across the U.S. are struggling as they continue to adjust to this new way of life. One particular group of people who have had to be up-and-front with the COVID-19 virus are frontline and healthcare workers, and some students at RM have the unique experience where their parents are those very frontline workers.
For sophomore Evelyn Shue, the coronavirus has significantly impacted her father's job as an allergist. "The biggest thing is that his patients stopped coming. He was just home all day and didn't really go to work much," Shue said. That did not mean her father was completely cut off from the hospital, however: "He had to go to the hospital when his patients had allergic reactions, and he had to see patients in the COVID ward," Shue said. 
With her father being in direct contact with COVID-19 patients, Shue's family had to adapt to the circumstances. "It was scary because even the atmosphere at home changed sometimes. [His job] picked up in recent months because restrictions were loosened, and he got to go to work. It was just insecure because we didn't know when things would go back to normal."
Despite having to watch her father face COVID-19 head-on, Shue is still proud of his role as a frontline worker. "I've always been thankful that he's in healthcare," she said. "In the pandemic it was a little scary, but I also think it's pretty inspiring … This pandemic helped me see how hardworking [healthcare workers] are." 
Shue's father has had to deal with unique cases while working as an allergist, especially with patients in the ICU, but Shue is grateful that her family is still safe and they are able to stay stable during this unprecedented time, both as a family and financially. Despite being in contact with people who have contracted COVID-19, Shue and her family have been able to take the proper precautions to keep themselves and others safe, including frequently sanitizing their home and quarantining away from immediate family members.
"
It was just insecure because we didn't know when things would go back to normal."
— Evelyn Shue
One notable feat that Shue's father was able to do was collecting masks to donate to those in need. Shue's father collected masks with his friends and was able to donate PPE to those on shortages in China. "[T]hey ended up getting hundreds, maybe thousands of boxes heaped against the wall, and it was pretty amazing that they did that," Shue said. 
Throughout the pandemic, healthcare workers have been able to stay resilient even through the worst of situations. For example, freshman Nandi Patel's parents have had to handle special cases such as working longer hours or treating patients with a chronic illness and COVID-19. Her mother works at a biotech company that produces essential kits for COVID-19 and cancer and where frequent sharing of materials had been common. "[My mother] has had to wear masks and deal with uncommon surges in workloads," Patel said. "For example, my mom used to work 8 hours, but for the same pay, they [now] ask for 9-10 hours because many are sick and there's a higher demand for healthcare items."
Patel's family has been able to keep being flexible despite the challenges that Patel's parents both face in their unique jobs. "I guess with hope and lots of well wishes," Patel said, "you can overcome these challenges while keeping others around you safe." Both Shue and Patel emphasized their thankfulness that no one in their families has contracted the virus, but they also added that there is an added precaution to daily life with the fear that a member of their family does contract it. 
With her parents working longer hours than before the pandemic, however, Patel has her own concerns about staying home alone for a longer time without her parents. "My parents are both at work longer – my dad has to go do longer office work as well, but it's caused me and my brother to stay alone more often and become worried about the awful effects if one of us gets it," she said. With the stories that have circulated about the after-effects of COVID-19, many, including Patel and Shue, are wary of the lasting consequences that COVID-19 can have on a person, regardless of medical history, age and other factors. 
Having a parent directly face COVID-19 patients during the past 11 months can no doubt be stressful. Though these students' testimonies are just a small glimpse into the lives of students with parents who are frontline workers, they offer an insight into their own feelings and perspectives on the matter. 
About the Contributor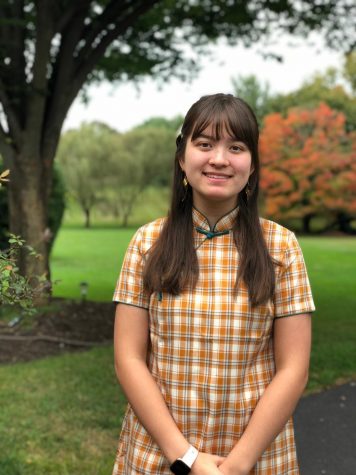 Angelina Guhl, Features Writer, Graphics Artist



Angelina Guhl is a junior at Richard Montgomery and this is her third year with the Tide. She is a graphics artist as well as a Features writer....