Rose Bowl Recap- Crimson Tide roll to the National Championship Game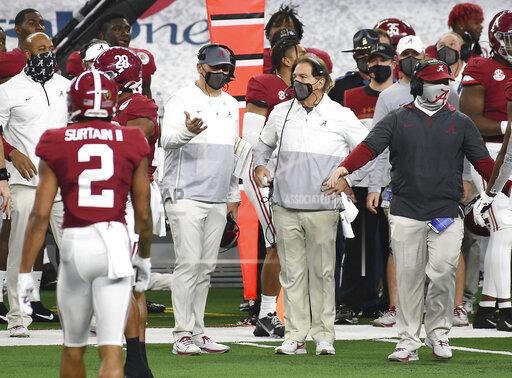 Last Friday, the fourth-ranked Notre Dame Fighting Irish faced off against the top-ranked Alabama Crimson Tide in the Rose Bowl to determine who will advance to the 2021 National Championship Game.
The game was moved from its usual location in Pasadena, California to Arlington, Texas because coaches wanted their players' families to attend, something that would've been impossible with California's restrictions. This would be the first matchup between the two teams since the 2013 National Championship Game, which Alabama won in dominating fashion. 
Despite the unexpected location change, the game played out exactly as expected. Alabama demolished Notre Dame in a somewhat embarrassing loss for the Fighting Irish. For many Crimson Tide players, on the other hand, the dominating performance furthered their draft stocks for the 2021 NFL draft. 
Alabama quarterback Mac Jones and wide receiver Devonta Smith are two of four players nominated for this year's Heisman trophy, the highest individual award in college football, typically won by quarterbacks. If Smith wins, he would be the first wide receiver to win the award in almost 30 years. 
Jones was once nothing but the highly touted Tua Tagovailoa's backup. He's made a name for himself this season, breaking Tagovailoa's school record of 3,966 passing yards in a season, while throwing for 36 touchdowns. His consistent deep ball placement matched with Smith's elite route-running terrorized Notre Dame defenders all afternoon, with Smith finishing with seven receptions for 130 receiving yards and three touchdowns. 
Jones would finish the afternoon completing over 80 percent of his passes for 297 yards and four touchdowns.
Apart from the Heisman-nominated duo, running back Najee Harris stepped up as well, furthering speculation whether he was the top running back in the 2021 NFL Draft class. Whereas Clemson's Travis Etienne, Harris' top competitor for the title, underwhelmed in the Sugar Bowl against Ohio State, Harris thrived against Notre Dame's stout defense. He finished with an efficient 125 yards on 15 carries, averaging over eight yards per carry. 
While Alabama shone, Notre Dame crumbled under a conservative offensive game plan. Quarterback Ian Book failed to generate any offensive momentum for the Fighting Irish, finishing with 229 yards and no passing touchdowns. While Book run for a score late in the game, there was too little time for the Fighting Irish to make a comeback. The poor performance further hindered Book's draft stock in a draft class dominated by quarterback talent. 
Despite several miscues, the Fighting Irish fought a good battle. Running back Kyren Williams had over 64 rushing yards throughout the game, capitalized by a touchdown in the second quarter. Notre Dame's offensive line kept the pocket clean for Book the entire first half against the relentless Crimson Tide pass rush. However, that streak would quickly snap in the second half, as Alabama would finish with two sacks. 
Despite their best efforts, Notre Dame's thrilling season once again came to an end at the hands of Alabama. While analysts continue to ponder on where these college stars will end up in the NFL, the Crimson Tide still have their eyes on taking home another National Championship.