Delicious holiday recipes of December
It's almost the most wonderful time of the year! Along with decorating Christmas trees and hanging up stockings by the fireplace, some families also prepare holiday recipes for the Christmas season, whether it be recipes we all know or original recipes from their ancestors. In order to find out more about these recipes, I interviewed three of my peers to find out what kinds of delicacies will be prepared in their houses this Christmas!
"We usually have at least snickerdoodles and funny cake," said freshman Emma McCarthy via Google Hangouts. When I heard this, I was a bit confused because I had never heard of funny cake, so I questioned her further. "It's like a cake-ish top, with a chocolate bottom, in a pie crust," replied McCarthy. The full name of this cake is Pennsylvania Dutch Funny Cake, I believe, if you want to look up the specific recipe.
Additionally, I asked if anyone else had a tradition in their families to bake or cook something during Christmas. "Cookies are pretty much it for my family; […] choco chip cookies and seasonal frosted cookies are good as well," noted freshman Ian Palansky via Hangouts. It seems like he and his family specialize in cookies around this time of the year!
Lastly, I interviewed freshman Sienna Burns and asked her if she had any special holiday recipes in her family. "[M]y family used to make a lot of cookies but I don't think a lot of people have heard of them—I'm pretty sure my grandparents made up some of them. There are blossoms which I think are common, a peanut butter cookie with a Hershey kiss in the middle, and pastels which [are] like two pastry puff cookies about the size of a quarter with frosting in the middle. Oh, and jumbles, which are like super puffy [and] dense snickerdoodles," said Burns via Hangouts. Since some of them were original recipes, I thought they were quite creative and sounded tasty. Similar to Palansky's family, it looks like Burns and her family members enjoy baking a variety of cookies during this time of the year. 
Old Time Jumbles (Burns)
Ingredients:
½ cup soft shortening 
1 cup sugar
1 egg (mix in)
Stir in:
¾ cup buttermilk
1 teaspoon vanilla
Sift together and Stir in:
2 cups Gold Medal (flour)
½ teaspoon baking soda
½ teaspoon salt
Chill Dough, drop round teaspoon of dough 2" apart on lightly greased cookie sheet
Sprinkle with sugar and cinnamon to liking
Bake until golden brown 400 degrees, 8-10 minutes
Pastel Sandwich Cookies (Burns)
Ingredients:
2 ¼ cups of flour
1 cup butter or margarine 
½ cup confectioners sugar 
2 tablespoons milk
2 teaspoons vanilla
½ teaspoon salt
¼ teaspoon baking powder
Wrap and chill dough for 4 hours or overnight
Rollout small sections, use cutting tool to cut shape (my family has always used a tall shot glass)
Once on pan (non-stick) use fork to indent cookie to prevent them from puffing 
Bake in 350 degrees, 10-12 minutes
Icing 
On low speed, beat 2 cups confectioners sugar, ½ cup butter, 2 teaspoon vanilla, and ⅛ teaspoon salt
May add food coloring
Put ½ teaspoon of icing between 2 cookies (once cooled) with side with fork indent facing out
How did those recipes sound? Some were original recipes created by the students' family members, while others were regular (but still tasty!) recipes. Although the majority of this year has been different and unique, to say the least, I hope this Christmas season wraps it up well for you and your family!
About the Writer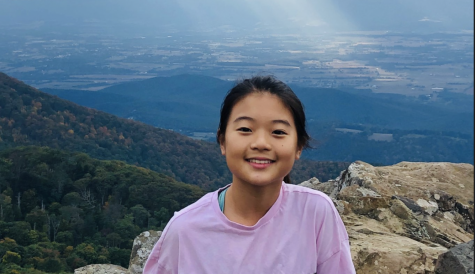 Joelle Lee, Arts Writer
Joelle Lee is a freshman who recently joined The Tide as an Arts writer. Another club she is a part of is Quizbowl. Outside of school, she plays piano...