No vote does not mean no voice: Students get involved in Georgia's Senate runoff elections
On Jan. 5, 2021, Georgia will be holding its Senate runoff elections after being turned Democratic for the first time in decades by President-elect Joe Biden. Now, the incumbent Sen. Kelly Loeffler (R-Ga.) is defending her seat against Democratic challenger Rev. Raphael Warnock, as is Sen. David Perdue (R-Ga.) against Democrat Jon Ossoff. 
In Georgia, runoff elections only happen if no candidate wins over 50 percent of the votes. To ensure that one candidate will end up winning the majority, the number of candidates in Georgia was reduced to the top two finishers. "This is very rare, it was unlikely to happen — but it did," junior Lulu August, who has been involved in increasing voter turnout since late September for the general elections, said.
Even though RM students do not live in Georgia, that does not mean that there are no ways to get involved in this election. This election cycle has seen record turnout, with almost 5 million people having voted in Georgia for the November presidential elections compared to just over 4 million people in the 2016 presidential elections. There are a variety of methods for students to engage in the political process, even for those who are not eligible to vote yet. 
One organization that many people, even students at RM, have contributed to is Vote Forward. Its mission is to provide easy-to-use templates for people all over the country to fill out and then mail to the address of a specific voter. The letter can contain the writer's personal feelings, experiences and reasons why they feel that voting is meaningful. "2020 has had a very tense political climate, and writing letters is so cathartic. It is calming, old-fashioned, and something that you don't do on an everyday basis," August said.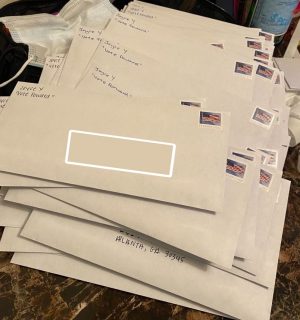 While it can be intimidating to become civically engaged, August stresses that it is an open community, especially to those without any prior experience. "My favorite thing about Vote Forward is that it is so flexible, so there is no strict schedule, like this day you need to do this or this day you need to do that," August said.
The first step of writing letters for Vote Forward is to adopt a certain number of voters, which corresponds to the number of letters that will be written. The next step is to choose whether to participate in their social or political campaign. Their social campaign focuses on writing letters to those who are generally underrepresented, while the political campaign is to urge people to vote for a specific candidate. 
One major aspect of Vote Forward's social campaign is that it is nonpartisan, meaning that the writers do not advocate for the receiver to vote for a certain candidate but instead push for them to vote for the candidate of their own choosing. "I have a feeling that if you get a letter from who genuinely cares about you and genuinely cares about you being represented in government, you're probably more likely to listen to that perspective and take that into account," August said.
For the past month, the Vote Forward campaign raced to convince enough Georgian voters to register by the Dec. 7 deadline. After writing letters almost daily, August and other Vote Forward volunteers mailed out their letters on a single mail date. By sending their letters as close to the deadline as possible, the organization is expecting that their go-out-and-vote campaign will have a more significant impact.
The flexibility of Vote Forward allows individuals to host their own private letter writing parties over Zoom, which August did. As attendee and junior Anishka Basheerbad expressed, "It was really fun because it felt like I wasn't writing letters alone but that it was a group effort." To Basheerbad, she was inspired by August's involvement in voting campaigns, even though she was not attentive to politics in the past. "It takes a lot of skills and leadership to [host a party], so I definitely think I want to try and learn how to do it."
Similarly, August was not politically involved in previous election cycles but was inspired after the first presidential debate of 2020. "I was so angry. I don't think I've ever been that angry before because I just felt like, these are the people who are supposed to represent us. Why can't they act civically?" August said. 
"
These are the people who are supposed to represent us. Why can't they act civically?"
— Lulu August
Other opportunities to write postcards to voters are Envoys for Humanity, an organization dedicated to increasing turnout among young Black voters in under-resourced communities, and Taiwanese Americans for Progress, an organization that mails out postcards in various Asian languages. 
For those willing to speak one-on-one with prospective voters, phone banking may be a viable option. Students can choose to partner with organizations such as the Democratic Volunteer Center and Together for 2020, both of which provide informational videos on how to get started and Zoom sessions with a trainer to check their setup and get training. "Phone banking is fun after you do it multiple, multiple times. It can be really intimidating to call random people," August said.
This election cycle has been drastically different from previous years, such as the 2016 presidential election. One major player has been the COVID-19 pandemic, which uprooted many people's lives and drastically shifted the nation's priorities. However, Basheerbad also sees it as an awakening moment for younger people. "This year with COVID-19, people are more at home, especially the younger generations. So I guess that they got more motivated, and people wanted to make a change since there have been a lot of things going on this year," she said. 
In general, August believes that it is crucial for students to be educated about the political environment. "A lot of our opinions are shaped by other people. Your parents have political beliefs and they pass those onto you. The area where you live in, Montgomery County, is very liberal. Social media, the things that come up on your feed and when you search, those things affect how you think," August said.
In spite of the fact that most high school students are not old enough to vote yet, that does not mean that they cannot have a role in the election. "You need to be able to stand up for what you believe in despite what others say," August said.
About the Contributor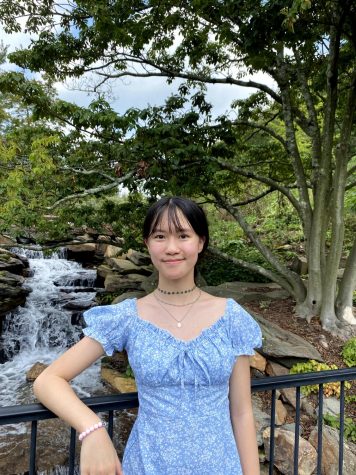 Angelina Xu, Features Writer
Angelina Xu is a writer for the Features section. As a freshman, she is excited to be a part of the Tide. When she isn't working on the newspaper, Angelina...