Freshmen enter high school online
What could have been a year of gazing in amazement at the hallways and posters, feeling the thrill of excitement at a fresh new start and enjoying the freedom of open lunch has now transformed into a very different virtual experience for many freshmen students. 
Not only has the 'dream high school life' that every freshman imagined been rather anticlimactic, but some are also struggling with the social aspect of online learning. "Definitely the work is different," freshman Sophia Guinea said. "And also, because I'm coming to a new school, it's different now that I don't know as many people … since we're starting online, it's hard to meet new people, so I only know like a few friends." Due to the nature of online learning, freshmen are only able to interact with each other in breakout rooms or group projects, making it harder to form strong relationships.  
Virtual school has been difficult to adjust to as well. "I feel like it's harder because there's a lot more distractions at home … the workload is huge, and it's hard to get everything done because you have responsibilities at home, and you have to balance it with your schoolwork too," freshman Nitya Donthi said. 
Freshman Erica Muragaki also pointed out, "I guess it's the communication, you definitely can't communicate as well. And some teachers don't really respond to emails that quickly." Becoming accustomed to the influx of work in high school in addition to constantly being in Zoom meetings, communicating with teachers and balancing schoolwork and extracurriculars have all been common problems among this year's freshmen. 
"
I feel like it's harder because there's a lot more distractions at home."
— Nitya Donthi
The experience online is just not the same as physically being in RM, especially when it involves the most unique aspect of the diverse student body: clubs. Freshman Joy Jiang said, "What's harder about joining clubs is that you can sign up for a lot, but then you don't really feel like you're really in the club, like as a member. You just feel — it just kind of feels like you're attending meetings. It doesn't feel like you're in the community of the club." This same idea applies to being a part of the student body at RM: it is much harder for new students to feel as though they belong in the school community. 
However, even with the multitude of obstacles that online learning poses for freshmen, most have continued to remain optimistic. "It's nice that we can sleep in more because high school does start early," Guinea said. And besides being able to sleep in until 8:58 a.m. before first period starts, freshmen can enjoy other freedoms in the comfort of their own home. "Part of the benefit is that your schedule is more flexible, and you can have more flexibility for when to do your work [and] how to do it," Jiang said. 
Even though virtual learning during freshman year is not ideal, most of the freshmen have accepted it realistically. "Well, I have mixed feelings. I'm like, I think it's necessary, but it doesn't mean I really like it," Muragaki said. Freshman Aparna Ganesh agreed, mentioning, "It's not a preferred way of going to high school for a lot of us. It's only like what we can do right now, I guess."
Regardless of the current circumstances, many freshmen are looking forward to eventually having the opportunity to walk through the doors of RM. Guinea said that the thing she's most excited about is making new friends.  "I'm really excited to get to know people. Because so far, everybody seems nice," she said. Hopefully soon, these freshmen will be able to officially join the RM community and enjoy the freedoms that so many of us have been able to have. 
About the Contributor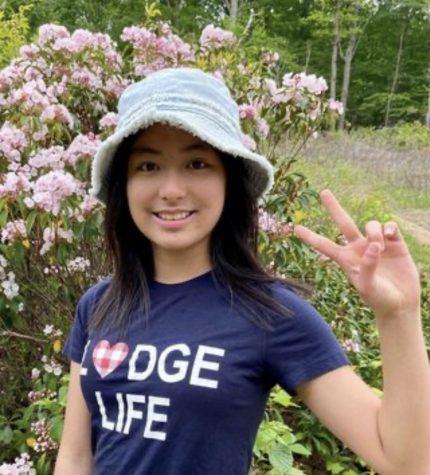 Lilian Wang, Features Writer
Lilian is eager to be a Features writer for the Tide another year! She was a Features writer freshmen year as well and aiming to continue her streak for...