Celebrating a socially-distant Halloween
It is that time again for candy, pumpkins, spooks and surprises. Except this year, things are going to be a bit different. In fact, Halloween may never be the same.
Halloween is a big event in the RM community. Between all the departments having a different theme, staff members from each department dressing up from a specific series or each class having a competition to decorate doors, the festive holiday holds a special place in the hearts of both staff and students.
However, with the current global pandemic, it is absolutely impossible for these traditions to carry on this year. It is more important than ever to remain safe, healthy and remember the lives of others before making decisions.
Although the coronavirus has brought about many changes to our lives, there are still many opportunities to have fun during these difficult times. Earlier this month, the Centers for Disease Control and Prevention (CDC) released a set of guidelines of ways to enjoy the spirit of the holiday while still remaining safe. 
Some of the normal Halloween activities they suggest include carving and decorating pumpkins, decorating living spaces and watching Halloween-themed movies with family. In light of the pandemic, they also propose newer activities, such as hosting a virtual themed costume party or organizing a Halloween scavenger hunt inside one's house. 
"
We're adapting as best as we can to the Halloween spirit so that we all continue to be safe while having a great time."
— Fiona Godes
High-risk activities that the CDC outlines are classic trick-or-treating, visiting indoor haunted houses and attending any fall festivals. If possible, these gatherings should be avoided in order to reduce the spread of the coronavirus. 
According to Johns Hopkins Medicine, they highly encourage that children and adults to wear masks, physically distance, and practice proper hand hygiene. Parents should also plan ahead and communicate with neighbors to see what their Halloween plans are and whether they will still be participating in traditional trick-or-treating.
For sophomore Fiona Godes, she and her friends typically have elaborate activities planned for the holiday. In previous years, they have traveled to Markoff's Haunted Forest, and last year, they even dressed as a group of college fraternity brothers. But this year, they had to make some big changes because of the coronavirus.
Godes was discouraged at first to still celebrate the holiday. "With the stress of online school, and being in a global pandemic, it was extremely difficult to arrange a time to celebrate," she said.  
However, this is not stopping her and her friends from having fun in a safe way. "[We're] being socially distant, we're wearing masks and we're adapting as best as we can to the Halloween spirit so that we all continue to be safe while having a great time," she said.
An activity they have planned for the holiday is an outdoor movie night with a small group of people, which would fall under the moderate risk category by CDC recommendations.
"This Halloween will definitely be memorable," Godes said. "For what reasons besides it taking place during a pandemic? It's too soon to tell. But my friends and I will still try and make the most of what we can."
With coronavirus cases steadily on the rise around the country, it is still imperative to remain safe.
About the Writer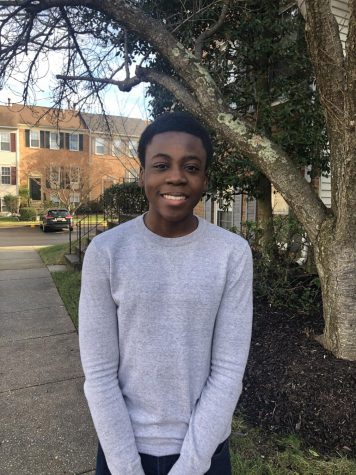 Kobina Asafu-Adjaye, Features Writer
This is Kobina's first year of being apart of The Tide and he is ecstatic to be a Features Writer. He enjoys reading, cooking, and playing video games....