A Tribute to Two RM Legends: Mike Curtis and Roy Lester
As the world is currently going through some unfamiliar times, the RM community has recently lost two of its greatest legends in the school's history.
Mike Curtis
On April 20th, RM Alum and NFL Football Legend Mike Curtis passed away at the age of 77 on April 20th in St.Petersburg, Florida. Initially a fullback during his time in the Rockets, he went on to play college football at Duke University, where he would earn an Academic All-American along with two All-ACC selections. He would then go on to be drafted in the first round of the 1965 NFL Draft by the Baltimore Colts, where he would switch to linebacker. He was well-respected throughout the rest of the league not only for his athleticism and toughness on defense, but also for his leadership as a team captain for most of his career. He was a 4-time Pro Bowler, a 2-time First-Team All-Pro, and was the 1970 AFC Defensive Player of the Year.
In the prime of his career, he was an anchor for the Colts defense, helping them reach Super Bowls III in 1969, before winning Super Bowl V in Super Bowl V. Even as injuries began to plague his career, Curtis was still a valued player in the league, as the Seahawks drafted him in the 1976 Expansion Draft, where he would again serve as a team captain. He would go on to play for the Redskins for the final seasons of his career, before retiring in 1978.
Curtis personified toughness and grit throughout his career, thriving both as a coverage linebacker and in the blitz. As a result he became one of the first players to reach 20 interceptions and 20 sacks (sacks weren't recognized as a statistic until 1982).
His hard-hitting style on the turf, however, would have a deteriorating effect on his health. In the later years of his life, he would experience the effects of chronic traumatic encephalopathy (CTE), a neurodegenerative disease caused by repeated head trauma. A 2012 RM Athletics Hall of Fame inductee, he is survived by his 3 children and 7 grandchildren. 
Roy Lester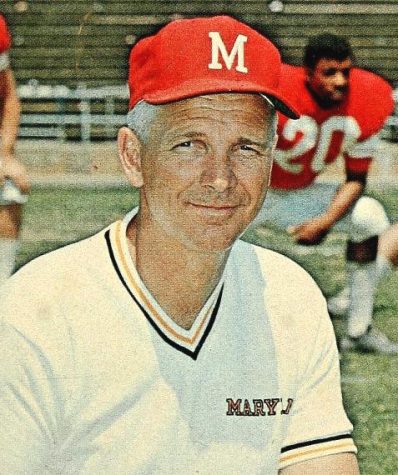 Roy Lester was the Head Football Coach at RM from 1959-1968. Throughout his time at RM, he amassed an overall record of 86-10, including 6 undefeated seasons and a top 4 national ranking, all before the State Championship era would occur. Lester's teams throughout this time span were consistently viewed as one of the best teams in the state and before leaving to take a job at the University of Maryland in 1969, he held a 25-game winning streak at Richard Montgomery.
After three years of college head-coaching experience at UMD, he would return to coach in Montgomery County at Paint Branch High School in 1972, where he would lead them to the Maryland Class B Championship in 1975. He would then become the head coach at Magruder High School, where he lead led to the Class B Championship in 1984 and the Class A Championship in 1986. Upon the conclusion of his coaching career, he would compile 260 wins over 32 years.
He is considered to be one of the greatest football coaches in Montgomery County and Maryland history, and was inducted to the Maryland Football Coaches Association in 1996. In 2012, he was inducted into the RM Athletics Hall of Fame, along with his former player Mike Curtis. He passed away at the age of 96 on May 3, 2020 in Rockville, due to complications of COVID-19. 
About the Contributor
Kevin Zhang, Sports Writer
Kevin Zhang is a junior and a Sports Editor for The Tide. He enjoys covering all things sports, whether it be nationally, or across MCPS. His favorite...