Drumline stirs up school spirit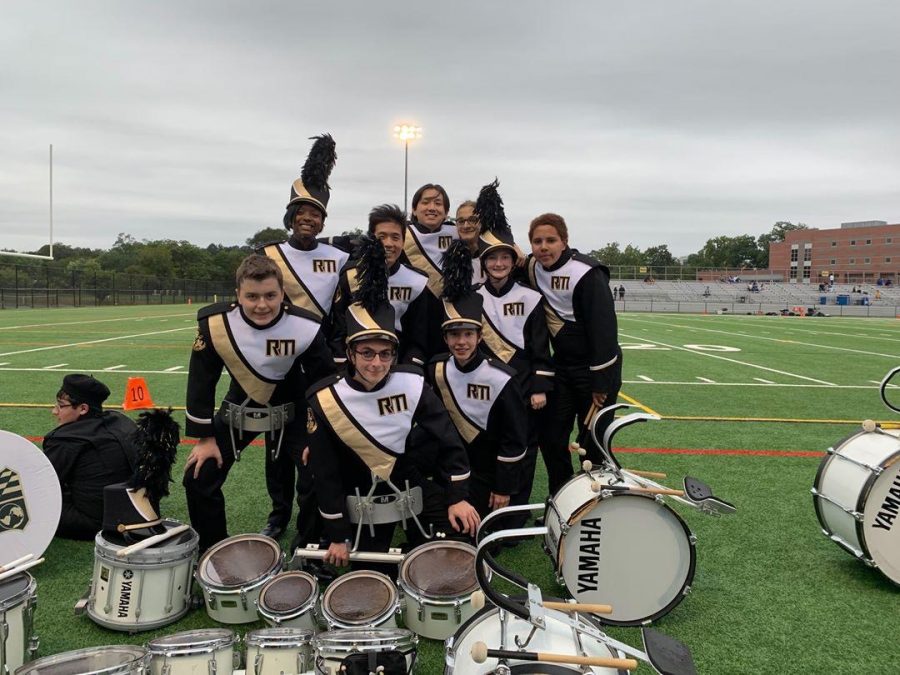 Maybe you've seen them at pep rallies. Maybe you've heard their rhythmic clamor at football games. More likely than not, you've walked out of your seventh period some afternoon after the bell has rang, turned on to Main Street and heard them before you even saw them.
Wherever you first heard it, a performance by RM's drumline is a memorable experience. 
Composed of nine members, each playing either the snare drum, bass drum, tenor drum or cymbals, drumline provides the rhythm and volume behind the marching band. 
"The purpose of the drumline in marching band is to help the band keep time and to add a drum kit feeling to the band during songs," sophomore and snare drum player Adam Owens said.
"Drumline plays at football games, pep rallies, poms competitions, club fairs, and occasionally on Main Street after seventh period. We've also played for the freshman orientation and for delegates who visited from China," senior and co-captain Liam Chen said.
The dedicated group practices every week, rehearsing drum cadences in preparation for events throughout the year that need drumlines. While drumline accompanies marching band during football games in the fall season, they are just as busy in the winter with basketball games and poms competitions.  
One of the many events drumline supports are competitions the poms team attends , where they provide poms members with an accompanying beat during their routines. 
"While we are only really needed to play for about a minute while the poms march on to perform, we also get to meet and play with the other drumlines around the county which is always super fun to jam and meet other drummers," junior and co-captain Julian Saint Denis said.  
Chen added, "It's really cool to talk with other drumlines and hear them play, which isn't something we get to do very often."
In addition to setting the beat for poms, drumline has also brought spirit to local community events. 
"One of my favorite experiences was in my freshman year, when the marching band played at a Montgomery County ceremony honoring local Olympians. We saw Katie Ledecky, which was pretty cool," Chen said. These past two years, the drumline played at Twinbrook Elementary during their Halloween parade. That was definitely one of my favorite experiences, just seeing kids smiling and in awe of the drums." 
In a team event where it's vital to be on the same beat, drumline has also provided its members with opportunities for camaraderie. 
"For me, I've had a lot of fun not just playing drums but getting to know people and making friends. It can be really exhausting during the marching season, but I think in the end it helps bring us closer," Chen said.
"It's been a really fun experience every year and is especially a great bonding experience for everyone on the line, so it's especially great for freshmen and other clansmen," Saint Denis said.
While winter drumline season just ended, be sure to check out drumline at pep rallies in the coming months!
About the Writer
Amanda Wu, Features Writer
Amanda Wu is a sophomore staff writer for The Tide, and is excited to be writing in Features for a second year! Outside of the The Tide, she also enjoys...