Math Modeling club works to tackle today's issues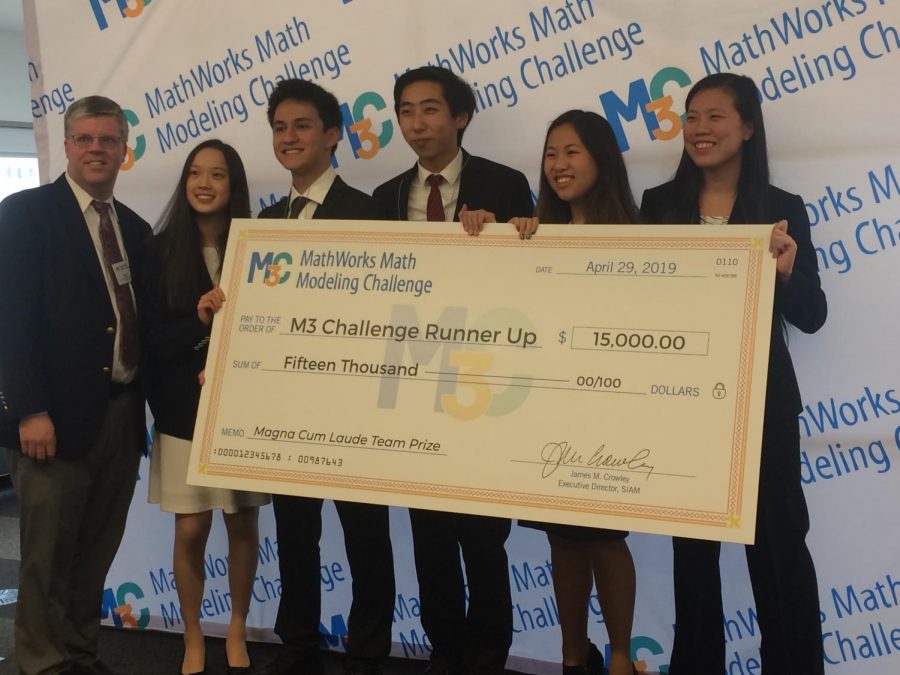 What will the trend of vaping and cigarette use look like over the next ten years? 
While this may not seem like a traditional competition math problem, this was one of the questions that students from Richard Montgomery's Math Modeling Club were asked to tackle in last year's M3 Challenge. The annual challenge attracts 1,500 teams from across the country dedicated to using their math modeling skills to solve real-life problems.
The club sponsor, math teacher Matt Davis said, "It's not what you would usually think of as a math competition, like the AMC where there are just tricky math problems that you solve—these are open-ended questions that are asking you to model something that's going on."
Despite it being their inaugural year as a club, RM's team achieved great success in the 2019 M3 Challenge. After building a mathematical model to represent the problem and summarizing their findings in a twenty-eight page paper submitted online, RM's team of then-seniors Matt Kolodner, Clarissa Xia, Lauren Zhou, and then-juniors Jack Yang and Laura Yao advanced through multiple rounds of judging. In April, they were invited to attend the final round in New York City. There, the team took home second prize, winning $15,000 in scholarship awards and recognition on the national stage. 
Club co-president Laura Yao said, "It was really fun. Before, you don't really think about how math can be applied to the real world, and through math modeling you can kind of see how these more abstract concepts actually have a purpose when you look at them through real-world issues – whether it be vaping or a water bottle ban we recently did, so there's a lot of things it can be applied to."  
As students research and model real-world issues, an extra challenge they face is the limited amount of time allotted by competitions for working on the project. 
"
You can kind of see how these more abstract concepts actually have a purpose when you look at them through real-world issues."
— Laura Yao
"For the M3 Challenge, we got 14 hours to do the whole thing. As soon as you click on the problem, it starts your timer for 14 hours and you have to turn it in by the end," co-president Jack Yang said. The entire research and model construction process was squeezed into a little over a day. 
"Most of the regular competitions are one or two weeks though," he added.   
Not only do competitors diligently work through long hours, but they also need to be well-versed in a variety of subject areas. From researching the problem, to coding simulations, to writing the lengthy paper, to understanding biological processes that are affected by drug use in the specific M3 scenario, students need to utilize a wide range of skills to create a successful final project. 
"It's not really like a team of the five best math students—it's people who are good in a variety of areas and can put their skills to use in a team effort to produce a product that's really good," Mr. Davis said. 
After all its success in its inaugural season, Math Modeling Club is looking to continue expanding and participating in numerous competitions this year. Club members were provided information about competition format and expectations during the beginning of the school year, and then periodically kept up-to-date about upcoming competitions that invite students to make use of their diverse range of skills.
 Interested students are invited to create their own teams of around three to five students and register for online competitions showcasing their abilities to model relevant twenty-first century problems. 
"The earlier you can get involved the better. If you didn't hear about it in the beginning of the year, but you're aware of it now, contact the leaders," Mr. Davis said. 
 If interested in joining, email [email protected] to receive information about the club and its ongoing activities. 
About the Writer
Amanda Wu, Features Writer
Amanda Wu is a sophomore staff writer for The Tide, and is excited to be writing in Features for a second year! Outside of the The Tide, she also enjoys...