RM students place top 300 in Regeneron competition
January 14, 2020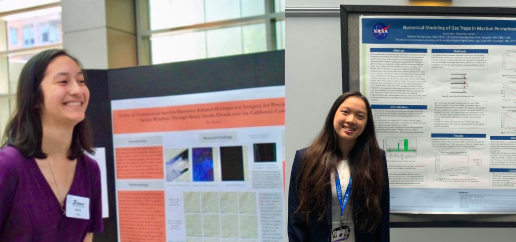 Photo courtesy of Katie Kolodner (left) and Laura Yao (right)
On Jan. 8, 2020, seniors Katie Kolodner and Laura Yao were both announced as one of the top 300 scholars in the Regeneron Science Talent Search Competition. This STEM based event awards students who demonstrate exceptional talent in research of modern day issues, with over 2000 applicants for this competition competing.
In order to enter the competition, each competitor had to conduct extensive research and communicate their findings through a scientific paper. "You have to conduct research and write a research paper on what you did," Kolodner said. "My project was on the Utility of Commercial Satellite Shortwave Infrared Multispectral Imagery for Precise Geo-location of Active Wildfires Through Heavy Smoke Clouds over the California Camp Fire." 
Yao, on the other hand, researched a different topic. "I researched Methane Plumes on Mars and developed a computational model of salt seals in the Martian permafrost," Yao said.
Although each of these topics were extremely different, they both share a commonality in that they both have modern day applications. "With my research I looked into a mechanism that could explain methane gas plumes, an unexplained phenomenon. If we can understand the mechanism maybe we can also find life," Yao said. 
Kolodner's research also used innovative technology to obtain results in a short period of time. "My research can detect minute locations of wildfires with high spatial resolution to help save people," Kolodner said.
Both Yao and Kolodner highly recommend this competition to future seniors as they believe participation has taught them a tremendous amount in writing professionally in a scientific setting. "Once you get to write about your research, it's very introspective," Kolodner said. "It just helps you a lot with your own understanding."
Both Yao and Kolodner have received $2,000 in scholarships for being chosen as top 300 scholars, and they both have the chance of winning an additional $25,000 if chosen as one of the 40 finalists of the competition.