Sister Sister: Legacies in the making
December 14, 2019
Sister duos Lindsay and Caroline Maggio and Elise and Charlotte Turesson are currently four of the most prominent athletes at RM. However, despite being related, they have all paved their legacy within RM athletics as individuals.
The Maggios
It's not a new concept for siblings to often play the same sport, or participate in the same activities. The Maggios, however, take this concept to a whole new feat.
In the fall, senior Caroline Maggio and sophomore Lindsay Maggio play together on the varsity field hockey team. During the winter time, they participate in varsity basketball, and when spring hits, it's time to head back to the turf for varsity lacrosse.
The athleticism and leadership the Maggios show are on a whole different level compared to a regular athlete. Caroline and Lindsay were both moved up to varsity field hockey their freshman year after the regular JV season was over. "I was surprised when coach moved me up at the end of my freshmen year, only because field hockey wasn't something I had been playing long before high school, but I loved the experience," Caroline said.
During the time Caroline played basketball, she was bumped to varsity the end of her sophomore year, where she was a practice player. Lindsay followed a similar pattern, playing for JV her freshman and sophomore year, whilst being a varsity practice player after the JV season concluded.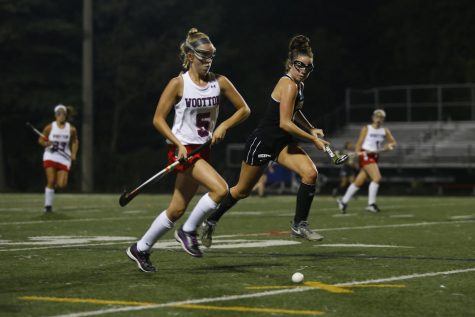 Although the Maggios hold the ability to swiftly pick up any sport, anyone who knows them would know they had a main sport: lacrosse. Both Maggios became starting players for the varsity team the moment they joined, as freshmen. 
The Maggios, however, were not new to the sport when they entered high school. Their father, Coach Bob Maggio, serves as an assistant coach to the varsity girls' lacrosse team and both sisters have been playing club since they were young.
During the 2019 season, Lindsay held 52 goals and 27 assists, despite only being a freshman. She was also voted onto 1st Team in both all county and all division. As a junior, Caroline scored 51 goals and 34 assists, earning a spot on the 2nd team all county and 1st team all division.
The Maggios are much more than just their athleticism however. As both a sophomore and junior, Caroline earned the MVP title for the RM Varsity lacrosse team, in addition to captaining every year she's played. Now as she prepares to leave for college next year, Lindsay looks right up to take over her sister's incredible athletic legacy.
The Turessons
On the other hand, Elise and Charlotte Turesson strove to both individually make their mark on RM despite being twins. Elise cheers in the fall, swims during the winter, and plays lacrosse in the spring season. On the other hand, Charlotte has played basketball, lacrosse, and ran track and cross country (XC).
Although the Turessons eventually chose to pursue their own sports in high school, when they were younger, they both played a wide variety of athletics. Elise said, "When we were young our parents put us into every sport so we could decide which ones we loved the most." 
Eventually, Charlotte found herself intrigued with lacrosse, playing five and a half years of lacrosse before high school. Meanwhile Elise began participating in competitive cheer. Their natural athleticism soon became very apparent the moment they entered high school two years ago.
"
When we were younger we didn't want to be on the same team, but as we got older we got closer and were fine playing lacrosse together and having classes together"
— Elise Turesson
Despite not having a ton of formal training, Charlotte very quickly became the fastest girls' cross country runner as a freshmen. For Elise, a spot on the varsity cheerleading squad was ensured. Following a successful first fall season, Elise and Charlotte went their separate ways again in the winter: Elise on swim and dive and Charlotte playing basketball. 
However during the spring season, the Turessons would both be on the RM lacrosse team. "When we were younger we didn't want to be on the same team, but as we got older we got closer and were fine playing lacrosse together and having classes together," Elise said.
Although Elise played for JV her freshman year, while Charlotte was on varsity, they were both on the varsity team sophomore year, marking the first time they played together on the same team since they started attending RM.
Both sisters have also faced difficulties through their path to success as well. After needing to take a six week break following an injury, Charlotte found herself stuck between two sports she loved: basketball and track. "I found myself enjoying practice more for track and loving the atmosphere and community, I definitely had to sacrifice the amazing times I had on basketball, but I still kept the friends I made," Charlotte said.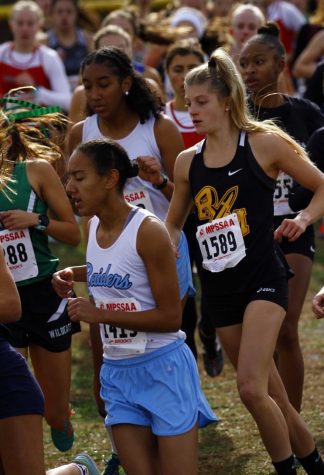 Elise too faced a similar dilemma earlier this year. Although she had been switching from cheer to swim during the winter season for two years, Elise was stuck between two sports when she was voted as a varsity cheer captain for the fall season. "I got super close with the coach and I felt like I just couldn't leave them after leading them for months," Elise said.
However, other extraneous circumstances ultimately led into Elise's final decision. "I got a job at a law firm and decided that my priority is a job, and that if I could balance a sport and a job, I would definitely do that. As much as I loved my team, the schedules never worked out and swimming so happened to fit perfectly into my schedule," Elise said. 
More than just incredible athletes, both sisters have also shown to be incredible leaders, with Elise becoming varsity cheer captain and Charlotte as a track and XC captain this year. Despite only being a junior, Charlotte was also recently voted onto the Moco All-Decade Cross Country team, which consists of the best XC runners from the past ten years.
The legacy the Turessons have built at RM is an impressive feat that only continues to grow. Despite being only juniors, they have already established their dominance in the athletics program and will undoubtedly leave a legacy for years to follow.