RMXC star runners lead pack at counties and beyond
December 6, 2019
More commonly known as RMXC, the RM Cross Country team boasts one of the best programs in the state. With the number five boys team in the 4A state division, the number five individual boy runner and the number two individual girl runner, RMXC has enjoyed plenty of success in the past few years. 
Not only is the team a strong competitor at a high level, they also have a fun and enjoyable team atmosphere. "It consists of the team joking around, saying inside jokes, listening to some music in the beginning," senior captain John Condon said, "and when Coach comes out, this fun and relaxing atmosphere continues. But then we also know when it's time to work."
Many other teammates concur with this strong team unity. "I would say that we all get very close over the entire season, and that the team is very supportive and encouraging," sophomore Hazel Hoppe said. 
Holding a roster of over 70 runners, RMXC has always had a very large squad. However, once the county championships passed on Oct. 19, the team was whittled down to about 10 boys and seven girls as the varsity championship season took over. Senior Garrett Suhr said, "It gets a little bit more serious but we still like to have fun as long as we get the work in." 
"The pressure increases but the support and encouragement do too. And going to regionals especially when the team gets really small we all get nervous and excited together and hype each other up," sophomore Nisha Ashtrey said.
Unfortunately, the RMXC girls team failed to make the cut for states, one spot short of qualifying. "I think for the girls team it was mostly a season of developing and gaining experience. Our team is young and there's lots of potential to come," junior Charlotte Turesson said. "Even though our team didn't qualify for states, I think that it was a great experience to gain knowledge about themselves as individuals in running."
Turesson qualified as an individual for states after placing second in both the regional and county championships, behind Walter Johnson's senior Jenna Goldberg. At the states race, Turesson once again attained the silver medal, just behind Goldberg.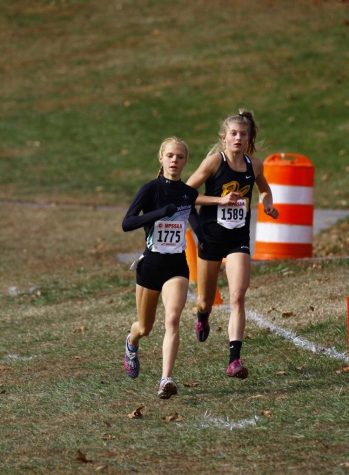 "You win some, you lose some. Honestly I'm so fortunate to have raced against Jenna for this season," Turesson said. "I'll admit it was tough at times to end up second three times in a row, but there's no point on dwelling and feeling sorry for yourself when each day is a new day."
The RMXC boys team also came into the season with big hopes. "We wanted a county and state title. And to defend our regional title," junior Elias Applebaum said. Suhr also looked to take home the individual state title.
After a decent showing at the Great American XC race in North Carolina, RMXC began to prepare for the county, region and state championship races. Every day of training from the beginning of June through the end of November is planned by coaches Davy Rogers and Dave Warren. 
"I think the coaches are good at prioritizing what we need to be focusing on in the long run across our season," junior Edward Sorensen said. "Every workout is important in building us to be able to perform our best when it counts."
The county championships was the first title race of the season. "The team was going for the win and to prove the haters wrong who say we choke every year," Suhr said. Unfortunately, RM fell short, with the boys placing fourth.
Once again, the RM boys fell short of their expectations, grabbing second behind Walter Johnson. "I think Regionals was big for us as a team because we collectively realized that we had to perform better," Sorensen said.