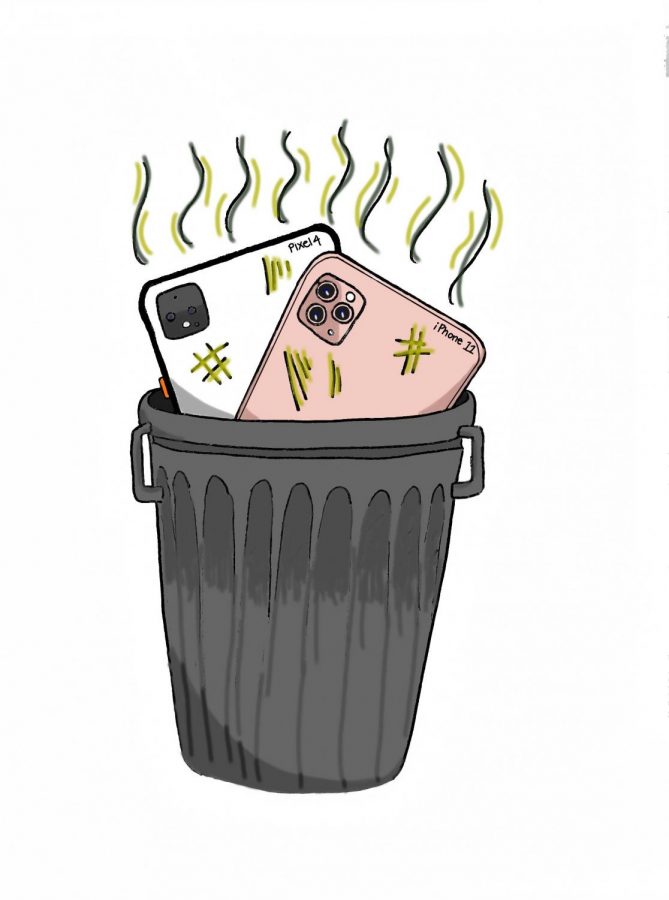 Neither of these overpriced phones are worth your money
It is the age of pictures. Whether you are sharing a piece of your life on social media or memorializing a beloved relative, photos are essential. More and more people are ditching big clunky cameras for big clunky phones. They are bigger, bolder, but not really better. The iPhone 11 was recently released, with the Google Pixel 4 soon following. And the only thing that differentiates them from older models is the photo quality and the price tag. 
 The most obvious specification that both phones boast is the improved photo quality. Apple's iPhone 11 has dual camera, brighter true tone flash, portrait mode with depth control, next-generation smart HDR, third-generation neural engine, and the list goes on. But the iPhone XR has all of these features just without the adjectives, and for a much cheaper price. 
Senior Neal Machado said, "I don't think there are any key differences. It's really an incremental upgrade it's not a huge design difference." Compared to the iPhone X, the iPhone 11 does not have any sort of new revolutionary technology. It could be argued that upgrading to an iPhone 11 is worthwhile if someone owns a lower model such as the iPhone 7 or 8. But even then, unless the photo features are absolutely essential, an iPhone XR would be a better option for an upgrade. Sophomore Una Mekic, owner of an iPhone 11, said "I mean, considering the cost there aren't really any advantages having an iPhone 11. My [iPhone] 8 Plus was broken; otherwise, I wouldn't have gotten it." There is almost a $100 price difference between the XR and the 11 and a $400 price difference between the 11 Pro and XR, which is quite a sum of money for phones that are virtually the same. 
The Pixel has the same story. The Pixel 4 only has slightly more improved features than the 3, with an even wider price difference than Apple. The Pixel 4 is currently at $800 while the Pixel 3 is priced at $500 to $600 depending on the storage. And once again, the only major difference is photo quality, as the Pixel 4 boasts a dual camera. In fact, it actually may be a loss for some people to buy the new Pixel. Machado said, "I don't think that the Pixel 4 is worth the money because it doesn't have the best battery life, the cameras are ok, it doesn't have expandable storage, it doesn't have a headphone jack, and it doesn't come with an adapter." This may be okay for some, but there were quite a few people who were outraged when Apple took away its headphone jacks.
The only reason the iPhone 11 and Pixel 4 are so popular is because of the hype and social status that surrounds both phones. Sophomore Megan Block said, "It's just like, here's the new phone buy it, be cool that you have the current one. It's more like status, it's not that the phone changes." This philosophy holds with almost every new generation of a product when it is released. Companies overhype their product with cool advertisements and flashy release promotions so that it catches a person's eye. 
The only people who will really recognize and appreciate the newer models are technology and photo enthusiasts. The Pixel 4 has a refresh rate of 90Hz instead of 60Hz which allows for faster load time and smooth scrolling, but an average user honestly will not be able to tell the difference. So for the average consumer, these phones are overrated. There will not be a noticeable difference and the only wow factor is photo quality. If you are using a phone to get the perfect shot then maybe it is time to invest in an actual camera. Truth be told, no one is looking for a high-resolution picture for Snapchat.
In the end, it is best to do some research on the perfect phone because everyone has different needs and requirements. Listening to overhyped reviews may lead to a major loss of money for an overrated product. Though the iPhone 11 and Pixel 4 are both amazing phones in their own right, they are not life-changing pieces of machinery. After all, they really just take up pocket space.