Fall's arrival brings exciting new art exhibits to D.C.
November 5, 2019
From fiery red and orange leaves scattered across pavements, to thick and cozy knits gracing the streets, fall's arrival brings changes everywhere. D.C. art exhibits are no exception. With the new season, museums such as the National Gallery of Art and the Hirshhorn unveil fresh new exhibitions from artists of all different styles and backgrounds. We've compiled a list of four must see D.C. exhibits this fall:
Judy Chicago's new exhibit, The End: A Meditation on Death and Extinction is currently on view at the National Museum of Women in the Arts. An innovative feminist artist known for setting new boundaries, Chicago's latest works continues her trailblazing legacy. Inspired by her personal experiences, each exhibit room tackles a different topic relating to mortality, starting from human denial and acceptance of death, to the detrimental effects of human activity on other forms of life.
"I have always had a strong sense of my own mortality because of my childhood, which was shadowed by the deaths of many family members and friends," Chicago said in an interview with the Smithsonian Women in Arts magazine. Chicago's blunt depiction of harmed animals such as lumpy, tumor-ridden turtles, combined with strikingly graphic linework, challenges the audience's morality and previously held truths of human nature and the value of life. Chicago's Meditation, intellectually challenging and especially topical during this era of climate change, will be on view until Jan. 20, 2020.
The National Museum of Women in the Arts celebrates the lives of incredible, successful and resilient female painters in their new exhibit Women Artists of the Dutch Golden Age. Despite facing unfair societal standards and, for many of them, the challenges of motherhood, these artists were nonetheless able to succeed and master their medium. The NMWA places the spotlight on these various artists, unifying the paintings of flower arrangements, peasant musicians and other subjects with an underlying earthy tone and rustic allure. The shades of sienna brown in each piece evoke the colors of fall, making this exhibition perfect for a crisp fall weekend in D.C.
Alonso Berruguete: First Sculptor of Renaissance Spain features the evolution of influential sculptor Berruguete's works. Arranged in dramatic chronological order, the exhibit outlines the origin of Berruguete's signature, expressive yet still realistic style. The exhibit focuses mainly on his carved and painted wooden pieces of religious figures from intricately detailed retablos, or wooden altarpieces. The inclusion of early paintings and sketches demonstrates his talent with other art forms as well. Although Berruguete was one of the most important artists in his time, this exhibit in the National Gallery of Art is his first major one held outside of Spain and definitely a sight to see.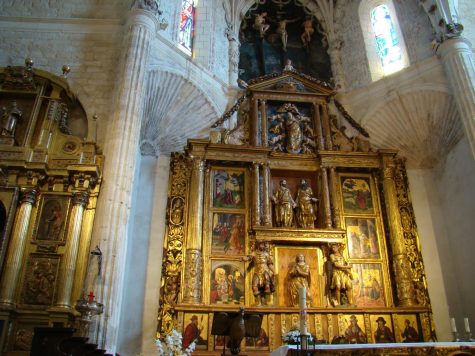 This fall, Hirshhorn will be dedicating their entire outdoor plaza to a single artist's work for the first time ever. Korean artist Lee Ufan will be exhibiting ten of his sculptures in Open Dimension. His work is minimalist and conceptual in style, often using unaltered materials such as sheets of stainless steel and large boulders. Contrasting materials are placed meticulously along the round structure of the Hirshhorn, allowing the viewer to gain a better understanding of the interaction of art with the surrounding nature and space, and to experience art outside of a classic gallery setting. Addressing the changes that this exhibition brings to the Sculpture Garden, Open Dimension's curator Anne Reeve said in a talk, "The Sculpture Garden [at the Hirshhorn] is not, and has never been envisioned as additive." Open Dimension plays gracefully off of the minimalistic architecture of the Hirshhorn, and it has quickly become an essential part of the museum experience.
Whether they created their artistic vision during the 16th or 21st century, the artists spotlighted were all innovators in their time. D.C. museums welcome the new season with new exhibits, new artists and new ideas.