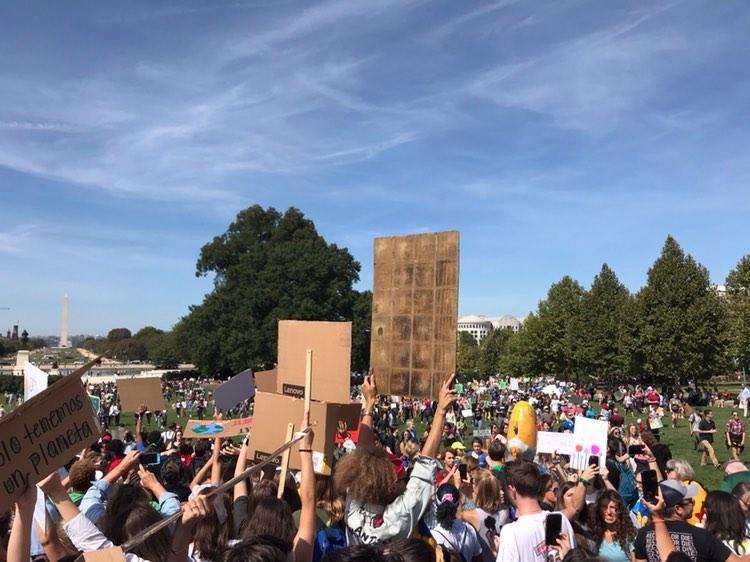 MCPS students rally for change at D.C. Global Climate Strike
November 2, 2019
On Sept. 20 2019, a small contingent of RM students gathered at the corner of the school parking lot, and began their march to the Rockville Metro Station. From there, they would leave to attend the D.C. Global Climate Change Strike, a rally happening all around the world.
The D.C. Global Climate Strike was a rally in which thousands of people gathered together to call for more action from the government in regard to climate policy. Hundreds of students from around the county left school to show their support.
Walter Johnson High School senior Yerim Kone, was one of those students. "I believe in a world that is safer and more inclusive than the one we have now, and you can't have a safer and more inclusive world if you don't have a world to start with. I think that the government should be taking us in a very specific direction, and instead of doing that they're taking us in the opposite way," Kone said.
During the rally, students marched down the streets of Washington D.C and gave speeches. One of those speaker was sophomore Eleanor Clemens-Cope. "These strikes are for climate, for jobs, and for justice. There are impacts for those who need jobs," Clemens-Cope said. "Policies such as the Green New Deal will create millions of new jobs. And climate change disproportionately affects those who affect it the least, such as people of color and low-income workers."
Other students had different reasons for supporting policy changes. "For me, coming to this strike I really wanted to represent the indigenous community, because indigenous people have been the first protectors of this earth, and the first people to fight for climate change, yet their voices are not heard enough," Montgomery Blair senior Jansikwe Medina-Tayac said.
Despite widespread support from students which resulted in higher absence rates at school, MCPS leaders are not counting participation in this rally as an excused absence from school due to learning disruptions and safety concerns.
Many students have disagreed with this ruling, as they believe it leads to a reduced student voice in world affairs and discourages civic engagement of many. "Montgomery County Public Schools is not doing its students a service by making this an unexcused absence. If they excuse this absence, students will feel more comfortable advocating for themselves and the future of their lives," Clemens-Cope said.
Because of this lack of support from officials, many students urge others to participate in ways without leaving school. "You could do something as small as joining your green club at school, or you could start your own organization like the youth from Zero Hour have done, or join an organization, there's s many in this area," Medina-Tayac said.
On the other hand, many students believe that advocating for changes in federal policy is not the most productive solution to the issue of climate change.
"I'm personally more concerned with the effects of individuals on individual ecosystems, because the effects of humans on specific ecosystems such as deforestation is much more disastrous, and I don't think governmental action will necessarily be the most productive solution," junior Jeremy Kuznetsov said.
Bence Szego contributed to this report.