Field hockey ends run at playoffs, a recap of the season
November 1, 2019
With a team consisting of a majority of juniors and sophomores, the RM Varsity Field Hockey team thrived under the leadership of a small group of seniors and the emergence of several star players.
Although there were only three returning seniors on this year's Varsity Field Hockey team, the Rockets had several veteran members on the team. 
Several of the sophomore and junior players were not new members on the team, but were rather pulled up last season due to their advanced stick skills and pace. Others, including senior co-captain Caroline Maggio had been a long member of the varsity team. 
Starting off their season, RM competed against Springbrook for their first regular season game. Despite being shut out by the Blue Devils during preseason, the Rockets came back during the regular season game to pull out a win in overtime, 3-2.
Junior Lauren Payne said, "We really played as a team and didn't give up. It felt nice to be able to know we improved a lot since the first time we played them."
Following their first win, the Rockets were faced with several harsh competitors in their upcoming games, including the notorious W schools: Winston Churchill, Walt Whitman, Wootton, and Walter Johnson. 
Despite battling hard against these schools, the Rockets eventually saw their record drop to 3-6. "It was a tough pill to swallow, I mean, it's my last year playing and obviously I want to win, but I knew we had to keep our head up and not give up even if the score wasn't what we wanted it to be," senior co-captain Bianca Scarano said.
"
I knew we had to keep our head up and not give up even if the score wasn't what we wanted it to be."
— Bianca Scarano
With that mindset in mind, RM headed into the end of their regular season with their heads held high. In a rivalry game against cross town rivals Rockville, the Rockets found themselves fighting in another overtime match to secure a win.
After a back and forth match, Maggio scored with eight minutes remaining on the overtime clock. It was looking up for the Rockets as their season improved to 4-6.
With two games remaining in the regular season, RM hoped to finish with their best case scenario: a tied record, or 6-6. However, with competitors like Poolesville and Seneca Valley in their path, the Rockets knew they would have to fight hard for their wins.
During the senior night game against Poolesville, a win was fresh in everyone's mind, but especially for the seniors. 
Knowing that this would be one of the last games they'd ever play as a member of the RM Field Hockey team made it especially emotional. Senior co-captain Sophia Monte said, "It finally hit me that night. These past four years have flown by so quickly, I remember watching the senior night when I was a freshman and now I'm a senior, it's crazy."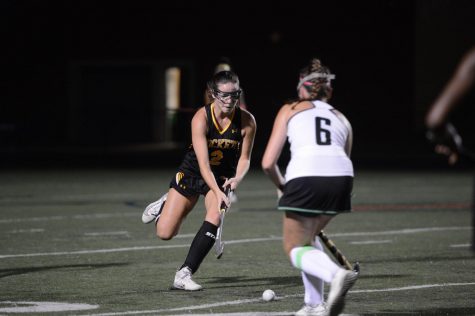 Wanting to end off their year right, the Rockets won their next two games, not allowing a single goal into their net. Defeating Poolesville 1-0 and Seneca Valley 2-0, RM celebrated ending off their regular season with a record of 6-6.
Entering playoffs, the Rockets were once again faced with a long standing rival: Wootton. The game would determine whether or not RM would compete for the regional championship title. 
Following a tight back and forth game, the Rockets were sadly defeated 0-3 by a strong Wootton team. 
Not only was it the last game of the season for the team, it was also an especially emotional moment for the seniors, who had just played their last game ever for RM field hockey. Scarano said, "I've given so much to this program in the past four years, so it's crazy it's all over. I'll miss everyone so much, but I know they're going to kill it next year. I love all the girls so much."
Though the Rockets didn't achieve the outcome they wanted, the girls have high hopes for the future of the team. "Our team is really young, but the talent we have is insane. We didn't get the outcome we wanted this year, but I'm super hopeful for next year," junior Valery Orellana said.
With the majority of the team returning next year, the future of the RM field hockey program is looking extremely bright.