Thrifting on the rise for teens
October 29, 2019
The hangers squeak against the metal clothing rack as students flip through the secondhand pieces at the Bargain Box, a thrift store in Rockville Town Center. This store has become a popular after-school shopping stop for many at RM.
Just a few years ago, back-to-school shopping would happen strictly at the mall. Recently, however, the thrift culture has hit the mainstream, with popular social media stars and teens heading instead to secondhand and consignment stores to find vintage styles. Young thrift culture can be attributed to the growing environmental consciousness in teens, and the resurgence of decades fashion trends.
Fast fashion is currently a hot topic in the news. Forever 21, the hallmark fast-fashion brand popular for years among young people, has filed for bankruptcy, perhaps marking the start of the demise of fast fashion. According to resale site thredUp, by 2028, the used clothing market is expected to grow to 64 billion dollars, whereas the fast-fashion market is only predicted to grow to $44 billion.
With the hit fast-fashion documentary "The True Cost," as well as the increasing awareness of the detrimental environmental effects of fast fashion, Gen Z and millennial environmental activists are looking for a more humane and environmentally friendly way to shop—thrifting. "I've converted to thrifting because I learned recently how terrible fast fashion is to the environment," junior Alexandra Haralanova said.
According to the World Resources Institute, it takes 2,700 liters of water to make one cotton shirt, and one garbage truck of clothing is being burned or landfilled every second. Sustainable brands such as Reformation and Everlane sell basic pieces for sky high prices. Low prices make thrifting an easily accessible form of protest against the wasteful fast fashion cycle.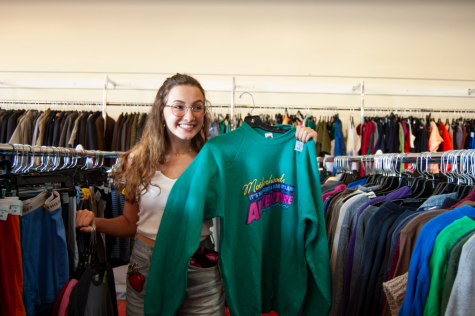 With the amount of mass produced clothing that big-name brands are churning out, many style-savvy teens place value in unique items. Sophomore Sarah Luan said, "There are a lot of pieces at the thrift store that I cannot find anywhere else." From the thick tackily printed sweater to the delicate sky blue silk slip dress, the thrift store is filled to the brim with interesting, strange, and eye-catching pieces.
With the advent of social media, platforms like Depop and thredUp host tons of online thrift resellers and buyers, the majority of the demographic being young adults. These fashion innovators are not afraid to experiment with styles from different time periods and cultures, creating an artistic and expressive world of thrift and fashion culture not bound by traditional fashion rules. 2010 fashion was all about fitting in; 2019 fashion is all about standing out.
Long gone are the days of careful color matching and print mixing, of balancing textures and fits. Long gone are the days of tossing low quality items into the trash every month, of buying more low quality items every month to replace them. Thrift culture is disrupting the materialistic, fast and rule-bounded world of fashion.