Booster club revenues across MCPS threaten equal playing fields
June 9, 2019
Although students can participate in school-sponsored sports for free, athletic departments are not without cost–they require funding for expenses such as field maintenance and updated equipment. This funding comes from two main sources: MCPS central office and booster clubs. Similar to Parent Teacher Associations (PTAs), booster clubs are community-led organizations outside of MCPS jurisdiction that help support student athletes by soliciting donations and organizing fundraisers, such as the Mulch Sale and the selling of concessions.
However, due to differences between school communities, each school's athletic funding varies drastically, as some booster clubs, particularly those in wealthier areas, have raised over $100,000 and others have raised under $10,000 in FY 2016, according to publicly available Tax Form 990's. Although MCPS factors in booster club involvement when allocating county-wide funds, they do not fully compensate for the gap between schools. As a result, some schools have the means to purchase newer equipment, renovate their facilities and provide their student athletes with better resources.
MCPS Central Office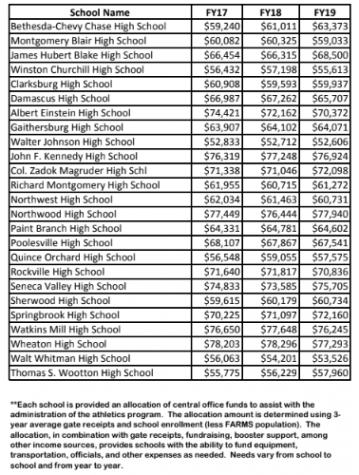 At the central office, funding is determined on a case-by-case basis. "[Funding is] based on some formulas based on school size, there's a socioeconomic component, three year average gate receipts, so that central money is divvied out to schools based on that formula," Director of System-wide Athletics Dr. Jeffrey K. Sullivan said. "Schools that don't have the ticket revenues that other schools have are going to get more than a school that has a higher ticket revenue." Since each school's athletic department retains its ticket sales and booster club donations, county officials take those contributions into account in order to allocate appropriate funds.
Based on documents obtained through an MCPS Public Information Request, in the 2019-2020 academic school year, Walter Johnson High School will receive the least funding at approximately $53,000 and Northwood High School will receive the most at nearly $78,000. This amounts to an approximate $25,000 difference in funding.
Of the 25 MCPS high schools with athletic programs, Richard Montgomery will be the 10th least county-funded athletic department, with about $61,000 to be expected in FY 2019. John F. Kennedy, Wheaton and Northwood High Schools–all in the Downcounty Consortium–will receive the most funding from the county.  Among the least funded high school athletic departments are Walter Johnson, Walt Whitman and Winston Churchill, suggesting that they receive more funding through other channels.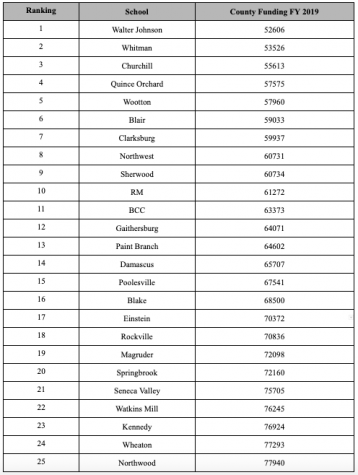 Booster Clubs
Primarily comprised of parents and community members, booster clubs across the county raise thousands of dollars to pay for additional expenses. On their website, the RM booster club states, "RM Athletics spends around $200,000 a year to support the programs at their current level. This leaves a $140,000 funding gap.  [To] close the gap, the school and the booster club work to increase ticket sales and do various fundraisers." 
"Some expenses are easy to identify…such as uniforms, sport-specific equipment, officiating, transportation to away-events, and some are harder to identify a specific sport such as: trainer or medical supplies, field maintenance for the practice, baseball, softball and stadium fields, gym maintenance for indoor sports, storage sheds for equipment," RM booster club president Steve Schuck said. 
However, there are major discrepancies between MCPS booster clubs, starting with whether or not they exist. Kennedy High School does not have a booster club, and several other booster clubs are relatively new. For instance, Northwood Athletic Association, the booster club for Northwood High School, was formed in 2017.
Booster clubs also vary in revenue, sometimes by hundreds of thousands of dollars. In 2016, Richard Montgomery's booster club raised over $56,000, whereas Damascus High School raised more than five times that figure at over $300,000. Behind Damascus, Walt Whitman raised $112,000 and Quince Orchard raised over $81,000, according to 2016 Tax Form 990s.
Despite this, RM's booster club is still considered relatively average in terms of revenue. In 2016, James Hubert Blake High School raised approximately $7,000, representing just 2% of that raised by Damascus in the same year.
In trying to achieve a more level playing field, MCPS athletic officials account for booster club revenues when determining the allocation of county funds, trying to give more money to schools who receive less from their booster clubs. However, even with these adjustments, certain athletic departments accumulate more funding compared to others. Although Damascus' booster club raised approximately $250,000 more than RM's in 2016, Damascus received $5,000 more from the county than RM the following school year. 
Certainly, other factors such as ticket revenue and school demographics also play roles in fund allocations. Yet, of the 13 schools that receive less county funding than Damascus, eight have a higher percentage of students either on or previously on Free and Reduced Meals, according to publicly available data from the 2017-2018 school year. The FARMs population serves as an indicator for the percentage of students from low-income families.
In addition to general booster clubs, several MCPS schools have separate clubs for their crew, or rowing, clubs and raise hundreds of thousands of dollars. For example, Bethesda-Chevy Chase, Walter Johnson and Walt Whitman High Schools are involved in the Washington Metropolitan Interscholastic Rowing Association (WMIRA) and row alongside many of the area's private schools. At Walt Whitman High School, for instance, the Crew booster club raised over $200,000 more than its general All-Sports booster club in 2016.

The graph above displays compiled data of booster club revenues in FY 2016 and county funding in FY 2017 for each school with data available. The 2017 county funding is influenced by the booster club earnings from the previous school year. Because these values come from different years, this graph does not show the total amount of money in each athletic department of one year but instead a general estimate, as both booster club revenues and county allocations do not drastically change from year to year.
*Booster Club revenues are missing for Montgomery Blair, Churchill, Gaithersburg, Kennedy, Northwood, Wheaton and Walter Johnson. Kennedy High School does not have a Booster Club and the Northwood Athletics Association was formed in 2017. Other schools' Booster Club officials could not be reached.
** Churchill, Walter Johnson and Whitman Crews do not receive county funding.
In order to operate, booster clubs are expected to collaborate with their schools. "Booster clubs shall have the approval of the principal and must adhere to school and systemwide guidelines in order to function on behalf of the school," Dr. Sullivan said. 
However, since booster clubs are 501(c)(3) organizations and thus technically separate entities from their athletic departments and the school system, MCPS officials do not and cannot directly control their actions or take any action such as diverting booster club revenues to other schools with less successful or nonexistent booster clubs. 
Even so, officials recognize the inequities between booster club revenues, and more broadly, the quality of athletic departments across the county. "There are some discrepancies with [booster clubs], and that's something back to equity that as a school district we're looking into and how we can account for some of those discrepancies and how we can further close any gaps that exist and providing equal opportunity with our students," Dr. Sullivan said.