Proposed MCPS Fiscal 2020 Capital Budget to target overcrowding and school security
December 28, 2018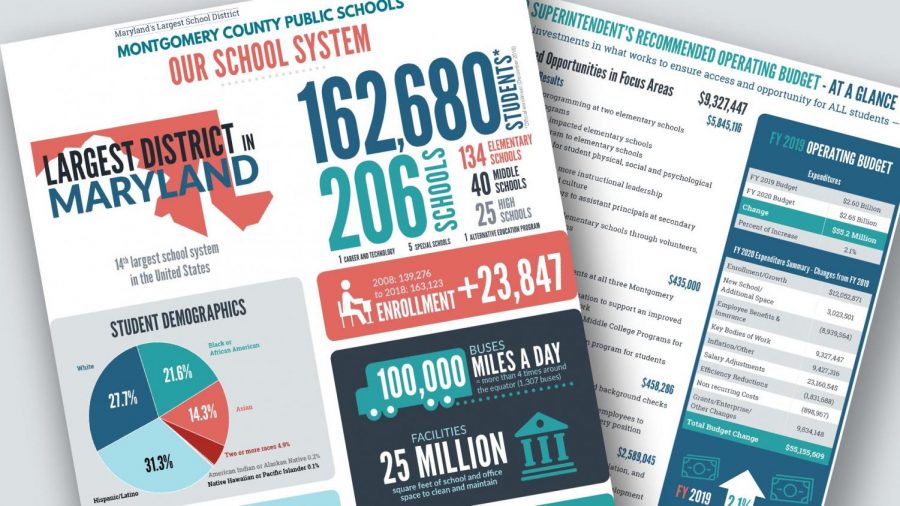 Proposed MCPS Fiscal 2020 Capital Budget to target overcrowding and school security
Flyer courtesy of MCPS
The Montgomery County Public Schools superintendent, Dr. Jack R Smith, recently proposed the Federal Year of 2020 Capital Budget, as well as improvements to the amended capital improvements plan for fiscal years 2019-2024. The Board of Education approved the budget on Nov. 27, and Dr. Smith hosted a virtual community conversation on the budget on Dec. 18.
According to MCPS, the budget comprises projects varying in scope, including new programs, career opportunities, and a diverse staff. The countywide budget consists of a federal year of 2020 appropriation of $281.5 million and an amended Federal Years 2019-2024 Capital Improvements Plan, totaling $1.82 billion.
One of the most pertinent sections to Richard Montgomery regards overcrowding. Federal Year of 2020 Capital Budget shows that in the current school year, Richard Montgomery's capacity is 2218 students while the enrollment is 2491, a gap of 273. By 2025, this gap is expected to grow to upwards of 500.
"Richard Montgomery is structurally sound, as it was rebuilt 10 years ago, and even though we are overcapacity, I don't feel crowded," sophomore class Vice President Nick Asante said. "The way our school is built, we don't feel the effects of overcrowding like other schools may feel, because our school is big and spacious."
Although adding new classrooms in the form of portables was considered, a more head on approach to tackling overcrowding is being undertaken, with the proposed opening of a new high school on the Crown Farm site to address overcrowding in the mid-county region. Such a project will likely be further down the road, and may take six to seven years to complete. In the short term, however, there will be no direct change to the Richard Montgomery cluster.
However, overcrowding is also becoming a problem in other areas of the county like the Downcounty Consortium and Walter Johnson High School. To ameliorate this overcrowding, Charles W. Woodward High School will be reopened, expected to cost $120 million. Located in Rockville, this reopening may also alleviate some of the overcrowding at Richard Montgomery.
The School System Security project is another pertinent amendment to the capital improvements plan. This project was created in response to the multitude  of school shootings that occurred across the nation during the 2017-2018 school year. The additional funding will cover technological upgrades to existing security systems, as well as new technologies to schools that do not have them.
This will cost almost $33 million over the next six years. Students are split on whether the School System Security project will improve the safety of MCPS schools. "I feel like our schools can never be truly safe unless the country as a whole examines the external harmful forces. I feel like it would be more productive to address those issues instead of taking measures internally to prevent [school shootings] from happening, as it will just force the threats elsewhere or be ineffective altogether," sophomore Claire Gelillo said.
However, other students see the security project as a good step forward. "43 million isn't much compared to the 1.8 billion dollar budget, but it is a big step towards safer schools. We have good security means right now compared to schools in other states, but it is a good initiative to add to what we have right now," freshman Jonathan Nalika said.  
Community members will be able to attend throughout operating budget hearings January, and the Board will take final action on the budget on Feb. 12, 2019.