Winter spirit week fills RM with holiday cheer
December 20, 2018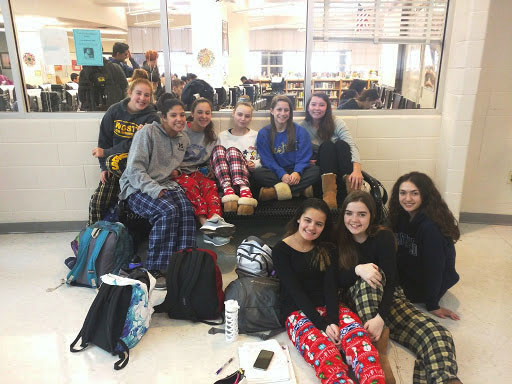 Photo by Eashana Subramanian
As winter break approaches, students and staff got into the holiday spirit with an annual RM tradition, winter spirit week. Starting on Dec. 10, this year's spirit week began with Pajama Day on Monday, then Winter White Out on Tuesday, Ugly Sweater Day on Wednesday, Swinter (a mix of summer and winter) on Thursday, and finally ending the week with the black-and-gold pep rally on Friday.
Each theme was unique, reflecting school traditions and the creative thought that the SGA put into the festive week that led up to winter break. Every day of the week, hundreds of students and many teachers dressed up to celebrate the upcoming winter break, a time for students to finally relax after a long and grueling few months of hard work.
Although students will celebrate the holidays in different ways over the break, winter spirit week brought the entire school together. Students in all grade levels got together to prepare fun and often outlandish outfits to show their school spirit.
On Monday, students dressed up in their favorite PJs. Many students used Pajama Day as an excuse for them to wear the most comfortable clothes they own to school. "My favorite theme is probably pajama day," freshman Kevin Zhang said.
A favorite was Ugly Sweater Wednesday, which brought everyone into the holiday cheer. Some students wore penguin sweaters while others rocked the classic ugly Christmas sweater complete with bells and lights. "As a non-spirited person, I'm mostly looking forward to ugly sweater day because I adore ugly sweaters and love seeing the outfits people come up with to out-ugly others," freshman Emily Wu said.
The interesting themes enticed even the most "non-spirited" people to show their spirit, and as usual, the pep rally finale was a hit. Students were decked out in black and gold as the music, cheers, and performances united the Rockets and ended spirit week with a bang.