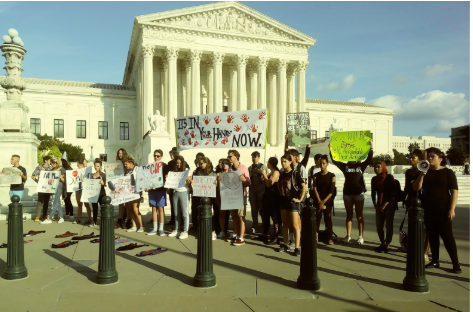 The crowd continuously chanted, "This is what democracy looks like!" and, "my body, my choice!" as numerous female students spoke about their experiences with sexual harassment.
"Catcalling is considered a rite of passage in womanhood," said one female student who attended the protest. "I am here to take ownership of my body, a body I was born with but does not belong to me." 
"My initial reaction was to cry and to hide. Screw that!" said Ruby Brayton, senior at James Hubert Blake High School. "Boys will not be boys. Boys will be held accountable for their actions, just like everyone else."
The student-run group MoCo Students for Change protested against the nomination of then-Judge Brett Kavanaugh in front of the Supreme Court on Oct. 1. This followed Dr. Christine Blasey Ford testifying before the Senate Judiciary Committee about her sexual assault allegations against Kavanaugh. Fast-forward one week later, and I'm shadowing a class called "Women, Men, and Politics" at Wellesley College, Mass. I recalled the aforementioned protest when Professor Kay Schlozman posed this question: After enrolling in college, how will the Parkland survivors continue their movement?
To answer the professor's question, March for Our Lives capitalized on their momentum by partnering with the NAACP and touring the country to register new voters this past. By wearing a shirt with a QR code, David Hogg registered "more than 100 new voters," as told to POLITICO. Once in college, MFOL organizers can simply conduct voter registration drives on campus, which surely boosted youth turnout during the 2018 midterm elections. This begs the broader question: What makes a political movement sustainable? This issue is particularly pressing for student activism, which is often dismissed as a way for students to skip school, not to conduct serious social change. However, this is far from the case, as student activism has and will continue to be a force for long-term change, and it goes beyond marching in one rally during school.
The protest in front of the Supreme Court on Oct. 1 is one of many examples of increased student activism since the 2016 elections. Montgomery County saw this a week after Donald Trump won, when then-RM junior Daniel Gellilo organized a student walkout.
This year, the shooting in Parkland, Fla. served as a political awakening for America's youth. On Mar. 14, students from Montgomery County poured into the streets of D.C. to protest government inaction and the National Rifle Association's influence on Congress. Ten days later, hundreds of thousands marched in D.C. and other metropolitan areas. Unfortunately, issues tend to have short relevance due to the nature of the media cycle. Tragedies such as mass shootings tend to get news coverage for a week, then journalists get wrapped up in whatever horrendous thing President Trump says or does immediately afterwards.
The same thing applies to shootings of unarmed Black citizens and violence in the Middle East. It becomes harder to galvanize people when there's no immediate catalyst and they simultaneously become desensitized and less willing to protest. However, activists can actually use repetition to their advantage to demonstrate how systemic a problem is. Using the #MeToo movement as an example, it becomes harder to argue that a female employee is just being disgruntled, and not a sexual abuse victim, when 10 other employees come forward with near-identical accounts .  The ability to mobilize is also crucial for student organizers. For example, Brayton, who is the MoCo Students for Change Vice President, said that it only took a few days to organize the Oct. 8 protest. When compared to John Lewis, who was the President of the Student Non-violent Coordinating Committee in the Civil Rights Movement, students can disseminate information far easier thanks to the advent of social media and school clubs.
The RM Super Political Activism Club (Super PAC) exemplifies this, as they advertised the Kavanaugh protest, as well as opportunities to canvass for Democratic politicians, to advance progressive causes. Though the news is always changing, many political blunders are having long-term consequences. Student activists can similarly pounce on political blunders by garnering counter-donations and then using it to support candidates who believe in their cause. Susan Collins' support for Kavanaugh is one example. Though the media cycle has already forgotten about Kavanaugh, Crowdpac certainly hasn't. The political crowdfunding site was used by three activist groups to raise $3 million against Collins' 2020 reelection bid, according to USA Today. After realizing their blunders, politicians can become responsive to activists to preserve their careers. Gov. Larry Hogan, who once had an A-rating from the NRA, demonstrated this when he signed gun control legislation following the Parkland shooting and the walkouts thereafter.
The great lesson for student activists is that political engagement needs to go beyond a march or walkout. Other means of involvement like contacting your representatives, donating money, and phone banking for candidates are equally valid for enacting the policy.
Interested in responding? Submit your letters using this google form! If you have any questions, please do not hesitate to contact [email protected] or reach out to Rebecca Huang, Shevani Tewari, or Ashley Ye directly!