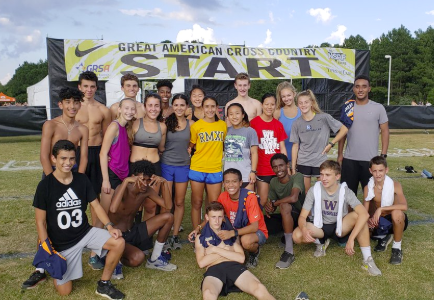 Photo courtesy of Coach Rogers
XC shows out at annual Great American Festival
On Saturday, October 6, the RM cross country team traveled to North Carolina for the annual Great American Cross Country Festival. The trip was worthwhile, as every participant ran either a personal best or a season best, with the varsity boys finishing fourth overall on a 5K course.
"Great American was a really fun trip. We went down there with some expectations to run really fast, as a whole team," Coach Dave Warren said.
The key game plan for the boys was to run as a pack throughout the race. "It was a great race from us because it was really the first time we packed up as a group, and throughout the entire race we sticked together and helped each other out, and it led to some good times and personal bests," junior Nick Olano said.
Olano finished the weekend with a season best of 16:34.6 and was followed by junior Aidan Goldenberg-Hart (16:46.8), sophomore Rafael Berhanu (16:52.3), senior Connor O'Brien (17:02.5), and sophomores Alejandro Fornell Balaban (17:13), Edward Sorensen (17:46.4), and Andualem Amado (18:30) in the varsity race.  
"The whole team did very well, I hit the time I wanted to get, and it just gives us a lot of momentum headed into these upcoming postseason meets," Berhanu said. "The season has gone well, the whole team has looked really good, and some of our injured runners are making it back, so yeah, everyone's really hyped up."
The JV boys were led by Mark Unger, who recently returned from injury, but showed no signs of wear with a blazing time of 16:47.8. Sophomore Elias Applebaum finished with a 17:56.1, followed closely behind by Junior Leule Yohannes with a 17:59.8. Sophomore Max Maust rounded out the pack with a solid time of 19:33.5. Two freshmen, Henry Kaye (18:34.4) and Lucas Corea (18:44.2) also qualified for the meet, paving the way for the future of the team.
"The team has been trending up and lots of people in all the grades were all going in the right direction going into the race," Applebaum said. "But what's really good about it is seeing everyone training and improving so I'm excited for counties for both varsity and junior varsity."
On the girls' side, sophomore Charlotte Turresson ran a 18:09 in the Race of Champions, placing 14th overall, a Maryland best for the 5K on the season. For the varsity race, senior Lauren Zhou led the way with a time of 19:47, followed by junior Michelle Campano (20:52.7), senior Marlee San Sebastian (21:56), junior Maria Rodriguez (22:30.1), and sophomore Da Young Kim (22:56).
For junior varsity, junior Aral Markert ran a time of 23:18, followed by Olivia Maust with a time of 23:33.7. The lone freshman at the meet, Hazel Hoppe, ran to a time of 24:23.5, and senior Laura Chang finished with a time of 25:10.7.
"The season has gone pretty good so far. For the most part, all the kids, even the youngsters, improved. Everybody's in a lot better shape," Coach Warren said. "There's still a long way to go for a lot of kids who are new to the sports. Hopefully they are gonna stick to it and continue the next couple of years."
"We all feel good, in good shape, just have a couple of weeks of training, and yeah, I think we're ready to compete with the best," Berhanu said.
With counties coming up in a few weeks, everybody on the team, including people who did not attend the Great American Cross Country Festival, are ready to compete.  When talking about whether or not this momentum will carry over to finals, Olano's answer was brief: "Definitely, 100%, that's all I've got to say about that."