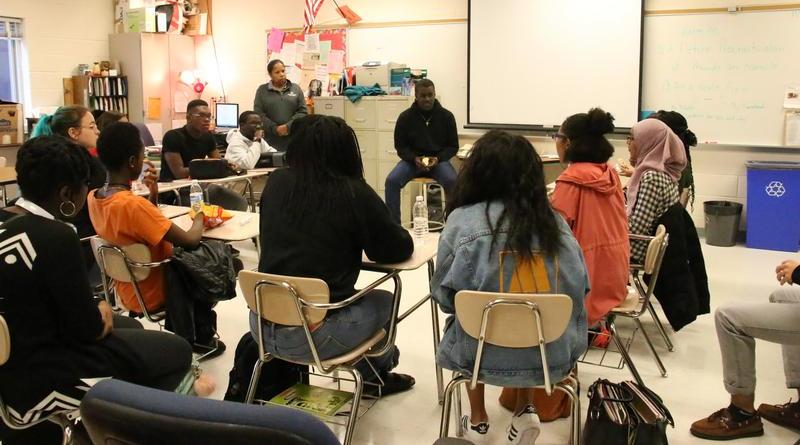 "We must reject educational stagnation in our high schools," stated former Secretary of Education Arne Duncan after the National Assessment of Educational Progress was released. "And, as a nation, we must do better, especially for African-American and Latino students." The NAEP report revealed that the average standardized test scores of Hispanic and African American students are 30 points lower than their white and Asian counterparts.
This systematic pattern of lower minority academic success, the achievement gap, is the main focus of Richard Montgomery's chapter of the Minority Scholars Program. "There is a great disparity between the races, academically," commented the program's sponsor and special education teacher Teresa Boyd. "Therefore we are putting things in place to reduce that gap."
The program's membership consists of highly-motivated Hispanic and African American students dedicated to promoting a diverse academic environment and cultivating minority success. Twice a week, members tutor students at Julius West Middle School to prepare middle schoolers for the rigor of high school. "The tutoring gives these kids a leg up and a quiet space to work with plenty of resources," junior Irene Guggenheim-Triana said.
"When those kids come here, they'll be ready and with people they know so they can continue that success," Ms. Boyd added. In addition to preparing middle school students for the academic rigor of high school, a key component of the program emphasizes enrollment in honors and AP courses. "The goal is to see more minorities have more motivation in school and be proactive in their work," sophomore Ibtsam Fedil said.
The president of RM's chapter of the program, senior Josiah Belfon-Valentine, hopes to build a culture of academic excellence. He manages People of Color-People of Power, or POC-POP, a group that works with the program to provide opportunities to minority students in the community.
"[It's] a group of us whose sole focus is helping students find connections with scholarships, provide application support, and also any job search help," Belfon-Valentine explained.
Belfon-Valentine strives to not only organize activities, but also to become a role model in order to motivate younger students to set higher expectations for themselves. "I want everyone to be able to look up to someone that's focused on excellence," Belfon-Valentine explained. "And that is the new cool."
An equally significant focus is placed on awareness of racial issues in the academic world, specifically the achievement gap. "I would like to see all races mingling with each other, not isolating themselves," Ms. Boyd commented. "We need to embrace those differences and encourage kids to excel at all levels, [to] help each other up as opposed to pushing away."
"Different schools have very different populations of groups," Guggenheim-Triana elaborated. "For example, [at RM, the school as a whole] is much more diverse than the IB program." Minority Scholars want to end the divide in all categories; between IB and MYP, and between races.  "The goal is to make people more aware of cultures in Montgomery County because we have people from all around the world."
Ms. Boyd feels that the first step in solving academic racial disparities is simple: unhindered, honest discussion. "Our language needs to change in terms of encouraging kids to take risks and to better themselves, [and] not to get comfortable with just mediocre," she stressed.
She hopes that the program will be a catalyst for discussion among all members of the RM community, not just the African American community. Ms. Boyd believes that the systemic change needed to close the achievement gap and progress toward racial equality, is impossible without the involvement of students of all  backgrounds.
The political aspect of the Minority Scholars Program aims to raise awareness from members of the community and representatives at state and county levels. Several years ago, the program led a march from the Carver Community Center to the Montgomery County courthouse.
"It brought the attention of many legislators and activists, the National Education Association (NEA) and school representatives," Ms. Boyd added. "As far as [knowing] that kids are paying attention to this; teachers and parents are paying attention." The "March to Close the Gap" was a message to politicians that students are passionate about closing the achievement gap.
The Minority Scholars Program has a presence in sixteen high schools across MCPS. "It's not only affecting the students here at Richard Montgomery but it's affecting the community at large and hopefully it will affect the entire county," Ms. Boyd said. "We are trying to make Richard Montgomery even more unique."
Featured image by Fatma Elsayed.