Students show off range of vocal talents at RM Idol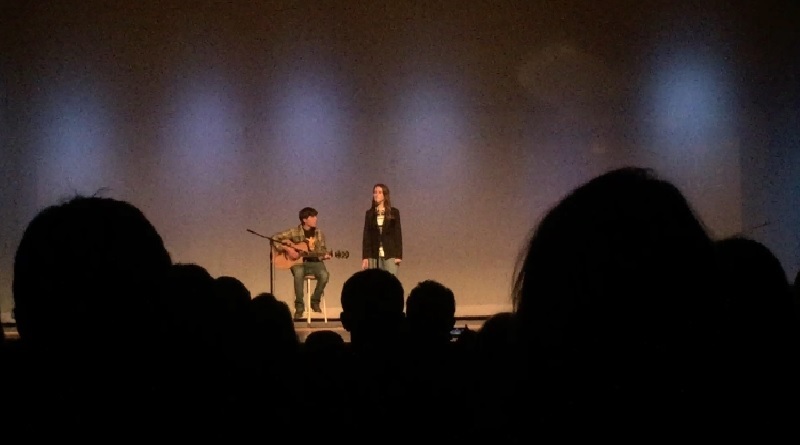 Michelle Dubovitsky
December 23, 2015
Although only one performer could ultimately take home the first place prize at last Friday night's RM Idol, all twenty of the handpicked contestants put on dazzling performances that drew deafening cheers from the enthusiastic crowd. Held annually as the main fundraiser for Fine Lines' award-winning literary magazine, this year's RM Idol proved exceptional in showcasing the incredible amount of student talent present at the school.
Representative of all four grades as well as different levels of experience, contestants performed a wide variety of songs that ranged from humorous, lighthearted melodies to melancholy ballads. Senior Dalia Marks began the competition with a heartfelt rendition of Adele's "When We Were Young". Starting out softly, Marks soon wowed the audience with her powerful voice as she sang the song's touching chorus.
Adele was indeed a popular artist choice among the performers, with three other students choosing to perform songs off of both her old and most recent album. Junior Lily Zhang sang the classic "Turning Tables," accompanied by Emily Wang. Karlia Gutierrez, accompanied by senior Eileen Moudou, and junior Samantha Quiros, accompanied by junior Jose Luque, both performed the "Make You Feel My Love." One of the final acts of the night, senior Muye Wang gave an especially moving performance of Adele's powerful and incredibly popular headliner, "Hello."
Several other performances also emulated well-known pop anthems, like senior Isaiah Vaughnn's soulful rendition of Bruno Mars' "When I Was Your Man", senior Zeinna Estrada's memorable version of the Jackson Five's "I Want You Back," and senior Mary Hopkin's performance of Meghan Trainor's "Like I'm Gonna Lose You."
Fans of theatre soundtracks were also delighted to hear performers like sophomore Victoria Seo and senior Judah Canizares sing musical numbers from productions like Wicked and the much talked about Hamilton. Canizares' upbeat performance of the hilariously creepy song "You'll Be Back," from the latter production, especially entertained the audience, with Canizares visibly enjoying himself onstage alongside accompanying guitar player and senior, Julian Avenilla.
One of the night's unique performances came from Amy Molina, who performed her own original song, "Be With You." Standing confidently in the spotlight with the guitar she claimed she could not live without, Molina electrified the stage and left no one in doubt of her incredible singing and composing talents.
Illuminated by rainbow stage lights, senior Leigh Robertson appealed to everyone's childhood with her enchanting performance of "Colors of the Wind" from Disney's Pocahontas. After Robertson, junior Nick Hopwood changed genres by singing The Script's classic rock anthem, "Breakeven." Expertly strumming his electric guitar, Hopwood used his experience as the headliner of his own band to really light up RM's stage.
Following Hopwood, the final performance of the night was senior Eileen Moudou's passionate rendition of Nina Simone's golden oldie, "Feeling Good." Beginning the song by singing a cappella, Moudou confidently strutted around the stage and belted her heart out, clearly enjoying every moment in front of the captivated audience.
As the judges deliberated which top three contestants stood out from the incredibly impressive line-up, Fine Lines member and junior Sonia Postolache wowed everyone in the auditorium with her spellbinding performance of ABBA's "Thank You For The Music."
After the deafening cheers subsided following Postolache's exit from the stage, all twenty talented participants lined up onstage to hear the judge's' decision. Third place went to junior Jisue Gonzales, who impressed the audience with her beautiful performance of "Shark in the Water." Junior Gaby Phillips, who played guitar and sang Justin Bieber's "Love Yourself,"received second place. Finally, the highly anticipated 2015 RM Idol winner was announced: senior Sarah Savonis. Her soothing voice perfectly suited to sing Bill Withers' melody, "Ain't No Sunshine," Savonis was a stand out and is well-deserving of the title.
Although students must wait until 2016 until the next RM Idol, anyone can purchase a Fine Lines magazine or join Fine Lines in order to support the club and experience the incredible creative and artistic work of RM students.