An extra placemat: art teacher reflects on adopting an at-risk student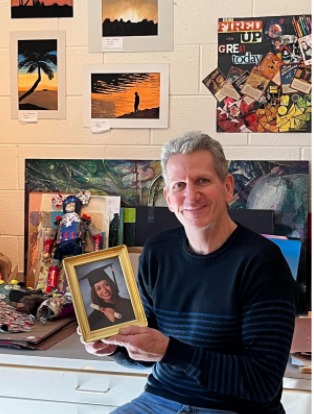 For thirteen years and counting, art teacher Michael McDermott and his wife have been caring for Katherine Guardado, whose mother returned to El Salvador after not being satisfied with the life she was living in the states. To keep Katherine from going with her, the McDermott family applied to be Katherine's legal guardians with the consent of her mother and Katherine became a part of their family.
How did you meet Katherine?
I bought a cage for her rabbit. My wife,Wendy, was a school counselor and Katherine was one of her students. She loved this kid deeply and wanted to do anything in her power to help them. They were homeless at one point and Wendy told me about this rabbit Katherine has, the only thing she's got. I knew her family bounced around from place to place and I thought, oh my god, she needs a cage for her rabbit while they're between housing. We brought the cage to where the family was living in a basement and there was little Katherine with her rabbit. She was very small and gentle. That was when I first met her.
What drove you and your wife to adopt her?
Katherine is an American citizen; her mother, Rosa,  jumped across the border from El Salvador to give birth. After spending some time in the states, her mom wanted to return. Wendy had gotten to know the family and the mom and knew that Katherine was afraid of going back because she feared for her life. Her father was murdered in El Salvador when she was a baby. Wendy suggested to Rosa for Katherine to stay with us. It was a very hard situation; the mother loved her kid and giving up a child is tough. But, Rosa agreed and we became her legal guardians. Rosa returned to El Salvador with Katherine's two brothers. 
How did this new addition to your family work out?
It was no big deal. I never had any children of my own, but my wife had an older son from her previous marriage. She was no angel at school though. She wasn't public enemy number one, but she underachieved academically, although Katherine had her favorite teachers who supported her and understood her situation. When she got caught smoking weed, that really bothered me because this is supposed to be my kid and I didn't have any tolerance for that. We got through that rough patch and she ultimately got it together. She's now in graduate school at UMD getting a school counseling degree.  Katherine's a good natured kid and it's been amazingly smooth. My parents, who think of her as their granddaughter, helped pay for her education. Despite some of the irresponsible things that kid did that blew my stack, it's been a real plus having her in our family. Our routines became hers, like going to the beach every summer along with her brothers.
Did Katherine retain her hispanic heritage since 2009?
I always wanted her to continue her Spanish, we didn't want her Spanish side to go, and Katherine took AP Spanish. She got a job two years ago at the crisis hotline and she speaks to the Spanish-speaking callers. She said having to speak Spanish all the time instead of English really helped her. We also had a quinceanera for her in 8th grade and since she's also Catholic, Katherine celebrates the holidays with us. She still talks to her mother daily and every year she visits her and her brothers in Indiana.
 How has adopting Katherine changed your life?
I used to look at my dad handling every problem the family had so adroitly thinking how amazing he was. He never advocated responsibility and I think, man, I became my father and that isn't a bad thing. Katherine's talking about getting a PHD now and she's thriving. I wonder if the love I have for the house, architecture and garden would be passed onto her. If she gets a house near us and needs help, I'll put on my tool belt and come out. That'll be fun, although I  have enough projects of my own at home for a lifetime.