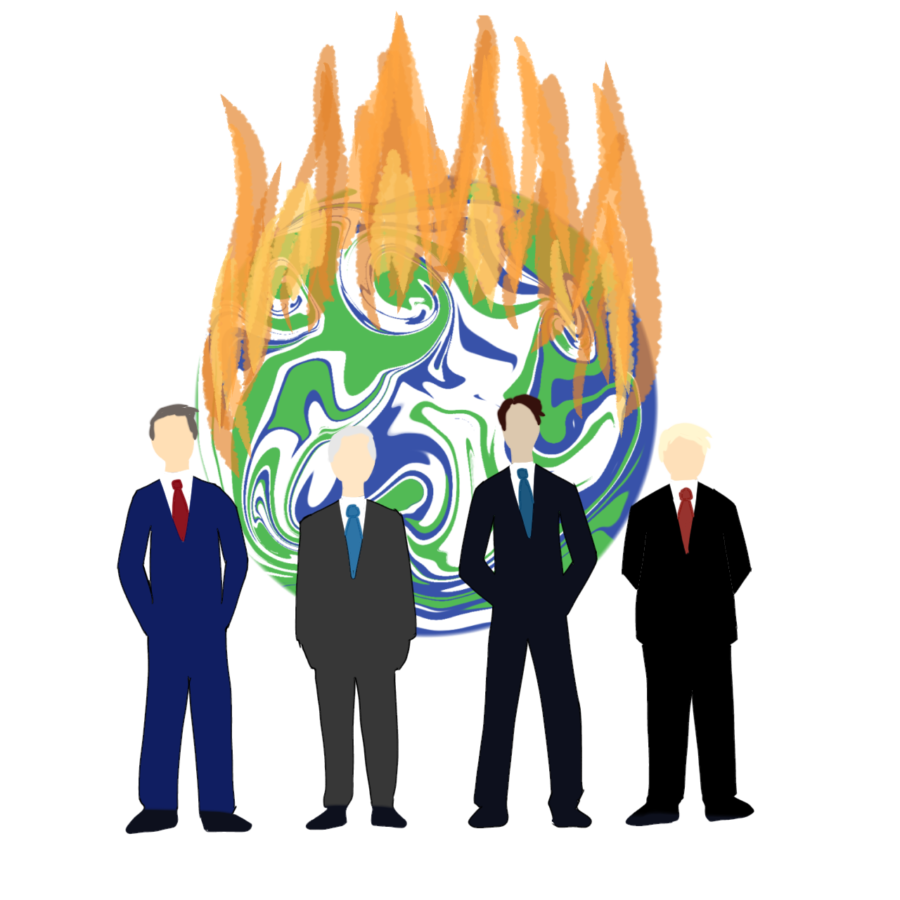 Graphic by Evelyn Shue
We have heard it all before: rising sea levels, extreme weather, melting glaciers, and droughts. These consequences make climate change the biggest issue of our generation. With the media constantly bemoaning the looming 2°C climate brink, it is hard to stray far from the topic in any discussion about relevant policy. After three decades of promised action, world leaders convened at the United Nations climate conference, COP26, in Glasgow earlier this month to address the problem. 
Among those to attend were President Biden, British Prime Minister Boris Johnson and French President Emmanuel Macron. While the talks appeared to be a promising advancement in reversing climate change, leaders need to yield tangible results to restore worldwide trust in the efficacy of climate politics. 
The COP26 is a success in certain aspects, concluding with 100 nations and parties pledging to cut methane emissions by 30 percent by 2030, the US among them. According to CNN, it also saw over 40 countries committing to near-zero steel production emissions and a pledge from over 100 countries to end deforestation, with the ambitious deadline of 2030 that borders on unrealistic. 
While such commitments are a step in the right direction, nearby protests and famed teen climate activist Greta Thunberg's vocalized disappointment with the summit. This showcased the lack of faith in concrete government action. According to Fortune, COP26 was branded as a form of "greenwashing" by Thunberg and other protestors. 
"Greenwashing" is a relatively new term that is used to describe a new form of performatism in which a party or parties appear to be climate-friendly on the surface. This classification is not undeserved, considering the proclivity of international governments in making sweeping promises with little to show for it. As reported by the New York Post, The UN Environment Program affirmed that past international climate agreements culminated to empty promises after releasing findings that global emissions have barely shifted its trajectory since 2005. "Numerous times climate conventions have come together to talk about climate change and have even come to a conclusion and formed a plan, but all too often, the plan is not realized," junior Lucinda Boyce, a member of RM's climate club leadership, said.
It is apparent that world leaders need to do more to solve global warming or face catastrophic ramifications. Specifically, leaders must look to the emerging markets of developing nations. In recent years, energy-hungry developing nations like India, Nigeria and China have distinguished themselves as global powerhouses.
 In order to be successful, the attendees of COP26 must be forward-looking as the next century will see developing nations leading in energy consumption. For these countries, greater energy capacity is the key to economic advancement. Just days prior to the summit, according to the New York Post, 24 developing nations said that climate deadlines were unjust because they hinder poor countries from economic development. 
In order to address these future emitters, President Biden must set to work now to fund global climate innovation and sustainable solutions abroad. Fortunately, COP26 proved to be critical in laying the groundwork for this exact kind of action. According to the Washington Post, the summit resulted in Biden announcing plans to quadruple funding for green technology by 2035; the US, UK, France, Germany and EU pledging $8.5 billion to wean South Africa's energy system off of coal; and the US backing India in its plan to build 450 gigawatts of renewable energy capacity by 2030. 
But while clear progress was made at COP26, policymakers still have a long road ahead. Greater continued attention must be paid to the energy industries of emerging world powers. Future policies must be made with elasticity. While growing pains will be impossible to avoid along the way, it is try or die for humanity. We can only hope that international leaders will step up to the challenge.