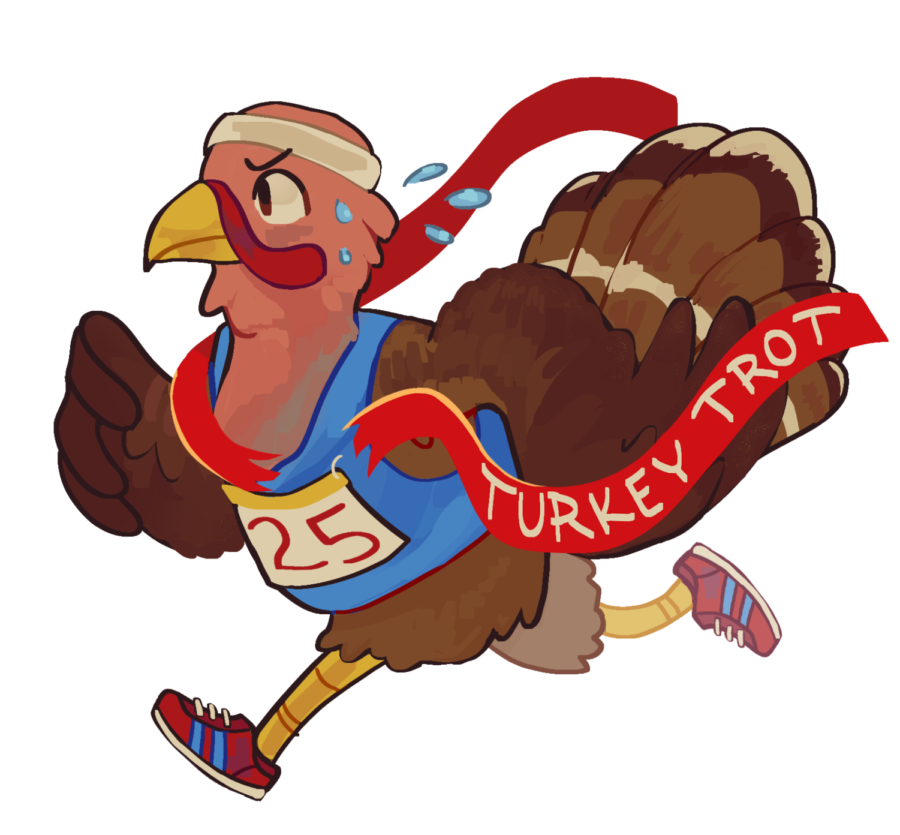 Graphic by Chloe Choi
As November rolls around again, many Richard Montgomery students are making plans to partake in a number of Thanksgiving day festivities. This year and in years past, students have ditched the lazy day of food and desserts and have instead opted for a more active way to celebrate, by participating in the Turkey Trot race. 
The Turkey Trot is a race held annually on Thanksgiving day in cities all over the country. It is non-competitive, and anyone, regardless of athletic background, is welcome to participate. Some RM families have a longstanding tradition of running the race in D.C. "I do the race with my mom, my grandparents, and my dog every year. At this point it's kind of like a tradition … there's no pressure, it's just a way to go out and exercise on Thanksgiving morning," junior McCarthy Devine said. 
Many runners look to burn the maximum amount of calories before indulging in their feasts later that day. "It always makes me feel better about eating a lot of food later and I have never come home from the race in a bad mood," Devine said. By partaking in the race in the morning, many people feel a lot better knowing that the big meal they will have later that day will be well deserved. 
While some may use the Turkey Trot as a way to better their physical state, others use it to strengthen their mental being. "During my run at each mile I'm going to think of a few things I'm thankful for to remind me of why Thanksgiving is important in the first place," junior Sam Navarro said. "It makes me remember what the holiday is for." Even though Thanksgiving festivities can be a bit overwhelming, participating in the Turkey Trot can remind runners about the roots of the holiday and it can help clear their mind. 
If one wishes to participate in a race this November, there are many Turkey Trots held throughout Maryland. One of the most famous and highly populated races is the one held in DC. "The best part about the race is that it's downtown. Not only do you spend the first mile running as the sun comes up on the Capitol building, but it is also a flat race," Devine said. "If running through the National Mall is not preferable, there are also races held in Bethesda, and Frederick." 
A number of states have chosen to hold a virtual race this Thanksgiving due to an influx of COVID-19 cases in their regions, but Bethesda, Frederick, and D.C plan to have the large group event in person. To register, runners can visit the national website and sign up with their state and desired race location.