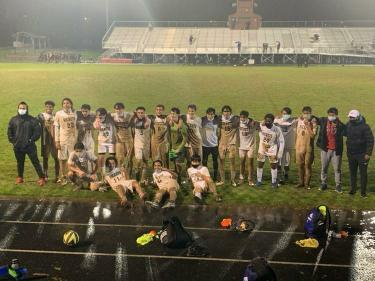 Photo Courtesy of Peter Borger and Daniel Choi
The Richard Montgomery varsity soccer team had a season to remember in 2021. One word best describes it all: magical. Over the course of the shortened season, the team put up a perfect 5-0 record, scoring 14 goals and letting in just 4. Despite this shortened season and the Covid-19 pandemic, the team was able to pull through and put together one of the best seasons in school history. 
"I think it's the best team I've ever been a part of," junior goalkeeper Ethan Le said, "I mean obviously we didn't have a lot of boys playing because of [Covid-19] and obviously we could've used that extra help. We worked with what we had better than any other team in the state. We were able to bond and I think our team chemistry carried us through all of our games."
"This is the strongest we've ever been and I think the results show that," junior defender Daniel Choi concurred, "I feel like there's certainly some parts of our playing style that could have been improved given more accessibility to the field and more practicing times that were kind of limited due to [Covid-19]." 
The sense of community within the RM soccer team was incredibly strong this season and was one of the key aspects that elevated the team's level of play. 
"I think it's not even just the team itself that has so much talent already, but just the team culture and the camaraderie between everyone was just so high this season," Le said. "Everyone was really brought together this season and without Covid we would've tried to spend more time with each other this season outside of the field but just hanging out with the boys every day at practice was nice. "
Despite the perfect record, it wasn't always a cakewalk for the team to come out on top. These moments ultimately pushed the team to new heights, with the team's cohesion on the field being put on full display.
"Walter Johnson was the first game of the season so it took us a bit to get used to the flow of the game and the flow of play because everyone hadn't played soccer, [on the school team], for at least a year," Le admitted.  "BCC was a thriller [as well] and we got it to overtime." Each matchup resulted in a 2-1 victory for the Rockets. 
Others, such as senior midfielder Noah Turner, reflected on the season finale versus Quince Orchard as the hardest due to the emotions of it being the final game for seniors on the team. "It was hard to grasp that the season was over and we could not play in the playoffs. [It] was hard to accept since it was the last time I would be wearing black and yellow representing RM on the field," Turner said. 
RM soccer not only put together an incredible season, they did it all while dealing with one of the biggest heartbreaks any team could face: the loss of a teammate. After the tragic passing of senior Simeon Mukuna in February, many players devoted their season to his memory and legacy. The perfect season was evidence of playing with true heart. 
"He would've appreciated this season maybe even more than all of us. He loved soccer so much," Le said. 
Turner summed it up better than anyone else: "We scored for him, we won for him, we played for him. Having an undefeated season I know he is proud looking down at us from above with that big smile of his."
Even without postseason play, honoring a friend was the biggest priority in 2021. "I just wish he was here with us physically to celebrate and play with, but I know he was watching us play and he is proud of what we accomplished." Turner said.