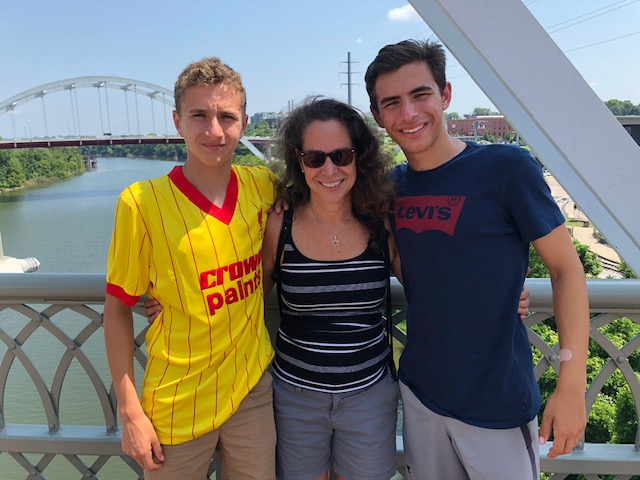 Photo courtesy of Ms. Shay
There is little doubt that almost all students, whether they are incoming freshmen or graduating seniors, have heard of or known Nancy Shay, the IB coordinator at RM. To the shock and sadness of many, she released the news of her retirement from MCPS schools at the beginning of March. After 35 years of teaching in MCPS, Ms. Shay will be leaving behind a legacy of dedication, guidance and enthusiasm at RM. 
Ms. Shay spent all of her childhood attending MCPS schools. After graduating from Brandeis University, she went to the University of Virginia to get her master's degree in education. However, this was not the original career trajectory she had in mind. "I had originally planned to go to law school, but during my summer vacations as a college student, I worked at summer camps. And I discovered that I loved organizing activities for kids and I discovered that I loved teaching," she said. 
During her stay at RM, Ms. Shay has definitely shown her commitment to the school. "I was the head of the Richard Montgomery English Department for 12 years, and I am in my fourth year of being the Diploma Program Coordinator for Richard Montgomery's IB Program," Ms. Shay said. 
On a daily basis, her job requires her to interact with a wide range of people. In addition to ensuring that the IB Program adheres to the mission statement and student conduct policies of the IBO, she also works with both students and parents. "I spend a lot of time counseling students and assisting them with their work. I spend an almost equal amount of time interacting with parents and helping families embrace the program," Ms. Shay said. 
When she is not fulfilling her responsibilities of being an IB coordinator, Ms. Shay ultimately returns to her passion of teaching English. She said, "[T]he thing I enjoyed the most throughout my career is taking a work of literature and making it accessible to students who probably wouldn't have picked it up on their own, and hopefully inspiring in them a love of learning and literature." 
However, there have been some challenges associated with her recent position as IB coordinator. "[T]he year before I became the IB coordinator, I had been selected as the Montgomery County Teacher of the Year, which was a huge distinction and honor," Ms. Shay said. But soon after, she was faced with resistance after embracing the values of equity and access that have shaped the program into what it is today. "It was a challenge getting parents and students to embrace our vision as leaders, probably the biggest challenge of my career. And I can say with some confidence that within the past four years, the program has become more accessible and has become more inclusive, although we certainly have a long way to go," she said.  
Beyond the current difficult times, Ms. Shay has had many memorable experiences from her years at RM. "I remember the day that I discovered Coach Fahrner. I was teaching AP Lit and IB English — seniors — so I was teaching a tiny sliver of the student population at Richard Montgomery. I didn't really have a sense of the school, the whole school at that time in my career. And I went to a pep rally and I saw this man wearing a letter jacket screaming into a microphone. And the entire crowd — the entire crowd — was on its feet and they were so moved by this magical being, whoever he was, and that's a really good RM memory because that was the day I realized that I needed to be a part of the whole school," she recounted. 
Another one of Ms. Shay's best memories of RM, which is arguably one of the funniest, also took place years before. "[O]ne of my other favorite memories was when a squirrel came running into my classroom in the old building. And Mr. Beach came in and chased the squirrel out of my classroom." No one knows where the squirrel came from to this day, but it definitely left behind an unforgettable experience.  
To students, Ms. Shay is known as someone who can always give them sound advice and guidance. Even though she personally describes herself as a terrifying but friendly Casper the Ghost, those who know her have something different to say. "She was my EE [Extended Essay] advisor which was great, she consistently provided great feedback and was very responsive to my questions and concerns. I think my EE turned out really well because of this," senior Amy Zhai wrote in an email. "She is always there for the students and is a very reliable person that you can always go to for advice or help, whether that's a school matter or personal," sophomore Katherine Beza added.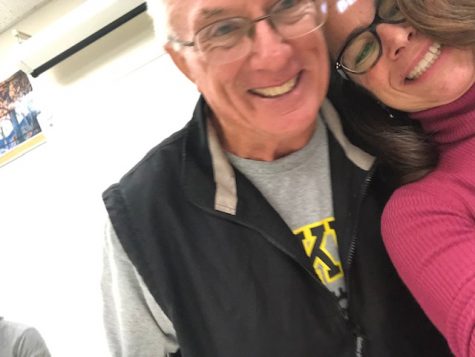 Many students at RM will miss Ms. Shay's openness and the support she provided them throughout their high school journey. "I would definitely miss her friendliness and how open she is to helping us since she's available at all times of the day and has given us her phone number, emails, etc. and we can contact her very easily," Beza said. "The thing I will miss most about her is having someone who is very enthusiastic about the IB program and very helpful in college endeavors, school assignments, and someone you can go to when you need help and talk to no matter the circumstance," junior J.P. King said. Over the years, Ms. Shay has taken on both the roles of supporter and counselor for students. 
Ms. Shay is not retiring from teaching entirely. After the end of this school year, she will be teaching IB English to high schoolers in the Cayman Islands. However, there are still many things about RM that she will look back on fondly. "I think it's important for people to know that Richard Montgomery, despite its flaws, because all institutions are flawed in some way, has always been a really, really special place, with the smartest, most interesting, dynamic, talented, social conscientious students on the planet. So I'll miss my colleagues and I'll miss the spirit of RM," Ms. Shay said. 
Before Ms. Shay leaves RM for the next chapter of her career, she wanted to give some advice to incoming and current students: "When you're at RM and you see something that needs to be changed, do something about it. Change it. If you see something that looks fun to you, get involved. Try new experiences. High school isn't always the easiest place in the world for many students, but I think that Richard Montgomery in all honesty, has a place for everyone." 
The RM community wants to wish Ms. Shay the best of luck in her future teaching career and thank her for all her contributions. "Even though chasing after people who don't submit their assignments on time is a hard task and not one that makes you easily favored, thank you for everything you've done to improve the IB at RM. We wish you the best at your new position." Zhai wrote.