Sunrise Rockville advocates for county action against climate change
April 13, 2021
If it were not for the pandemic, climate change would have been the headline natural disaster. Besides being a national and global concern, climate change is also a local issue in need of heightened attention. This is where Sunrise Rockville (SR) steps in. 
Sunrise Rockville is one of hundreds of Sunrise Movement hubs across the country. Founded in 2017 by a group of youth climate activists, the Sunrise Movement is currently a nationwide leader in advocating for political change on the climate change crisis. 
The ultimate goal of the Sunrise Movement is to pass a nationwide Green New Deal (GND) and GNDs on local and state levels for every municipality. 
The GND is a 14-page document citing broad goals to execute within the next 10 years to achieve net-zero emissions by 2050 in the United States and around the world, creating millions of new jobs in the process. It was introduced by Rep. Alexandria Ocasio-Cortez of New York and Sen. Ed Markey of Massachusetts in February of last year. 
The GND is highly controversial within the political spectrum and beyond. Much of this controversy stems from the fact that America is the largest oil producer and consumer, so the idea of limiting fossil fuel emissions is not regarded favorably in the eyes of the businesses and the people who benefit from this operation. In addition to emphasizing the dire effects climate change bestows upon the economy, the environment and national security, the Green New Deal integrates environmental and social justice. Vulnerable communities that include people of color, the poor, indigenous groups and immigrants are more likely to be affected by climate change because they are often more exposed to environmental hazards and extreme weather events. 
Besides advocating for the passage of the GND, the Sunrise Movement also addresses and participates in a wide range of causes, from the Black Lives Matter movement to protesting injustices within the healthcare system. 
Junior Eleanor Clemans-Cope and several of her friends founded the Rockville chapter in March of last year. Initially, they took part in a temporary climate strike group initiated by the Sunrise Movement where they called Maryland senators  and urged them to propose and sign Maryland GND legislation. After reaching out to friends and other people via social media, the group evolved into Sunrise Rockville. 
"
We had smoke from California fires reaching our area last October. It's not just an 'over there' thing."
— Rebecca Halper
"Sunrise is a really impactful way to go about making a difference," Clemans-Cope, SR's coordinator, said. "It also has an incredible theory of change."
A theory of change is the path members intend to take to reach their goal. Sunrise's theory of change is based around three principles. The first is bringing people into the movement to create a very personal community base. The second is building a base of enthusiastic and supportive public officials and getting the best public officials elected to bring change. The third is partnering with other justice groups with similar goals to accumulate more influence. 
"We don't have a hierarchical leadership structure. No person is any more important than the other person. We work on hub democracy," Clemans-Cope said. "Everyone's invited to make decisions together and work collaboratively."
There are no requirements to join SR, and members range from middle schoolers to college graduates. Inductees are introduced to the hub's functions, the Sunrise Movement's principles, the different teams to join (Movement Art Team, Actions Team, Outreach Team, etc.) and projects in the works. 
As SR's coordinator, Clemans-Cope communicates with other hubs in the area. She also leads the Montgomery County's (MoCo) climate action plan team, which is calling on government officials to approach the impending climate change crisis more urgently.  
"MoCo has been planning to address climate change for a decade now, almost as long as we've been alive. And yet they have done near nothing real to address the climate crisis on the scale of which it exists," Clemans-Cope said.
MoCo emits around 11 million metric tons of greenhouse gases annually, which is about 10 metric tons per resident. The primary sources of emissions are commercial and residential buildings (50 percent) and transportation (41 percent). 
In response to the ongoing crisis, MoCo officials have invested more effort in alleviating the burden humans place on the natural world by developing several proposals. 
 On Dec. 14 of last year, MoCo Executive Marc Elrich released the Draft Climate Action Plan (DCAP) for public review — three years after the MoCo Council's adoption of a resolution invoking an emergency global mobilization effort to address climate change. This plan reflects the County's ultimate desire to reduce greenhouse emissions 80 percent by 2027 and 100 percent by 2035 through the 87 climate actions outlined within it.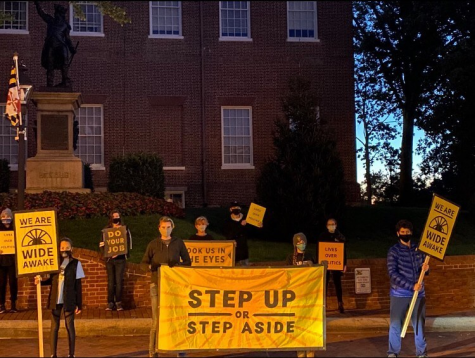 At first glance, the 130-page plan is intimidating. Acknowledging that the average citizen has only a basic knowledge of the climate crisis, Clemans-Cope summarized the plan to make it more digestible.
"Although the plan includes some really good goals, such as decarbonizing MoCo completely by 2035, it is unactionable because it lacks any detail or timeline," Clemans-Cope said. "We need to see an immediate policy package passed doing things like incentivizing going all electric, requiring new developments to have solar panels on them, contracting for more solar panel investments and pushing all the public facilities' energy source to renewable energy." 
Junior Becca Halper, SR's arts lead, agrees. Her role includes coming up with slogans for actions and taking pictures at the events that SR organizes. 
"The plan is very vague and unactionable. It is not urgent and we are in a climate emergency. We had smoke from California fires reaching our area last October. It's not just an 'over there' thing," Halper said. "It [the plan] is very difficult to read and there is not enough context, which adds to the difficulty."
Although SR is a relatively new organization, it has already organized several demonstrations despite the pandemic. 
"Back in September, we did a wide awake action at Governor Larry Hogan's mansion early in the morning. It was still dark out, and we woke him up by being noisy, by chanting speeches, singing, trying to get our message across that Maryland needs a Green New Deal, Maryland needs Climate Justice," Clemans-Cope said. "We were met by police officers there that showed up to make us stop and we didn't want anyone to get arrested, so we did comply with their orders because we weren't planning on making it a civil disobedience action."
Other actions that SR has coordinated include rallying outside of MoCo's executive building on March 3 to advocate for a rewrite of the CAP in a more detailed and actionable format and sending email storms to flood elected officials' inboxes with demands. 
The pandemic has created challenges, but SR has adapted accordingly. 
"Keeping people engaged and motivated in a virtual setting is a bit difficult. That's because Sunrise thrives on a lot of people-oriented events and actions that include art builds, demonstrations, one-to-one conversations and stuff like that," junior Sierra Stubbs, SR's communications lead, said. "We rely a lot on our social media platform to connect with people our age especially and we've gotten a lot of interest through networking with our current members and having them reach out to others." 
Currently, SR is planning a peaceful protest at MoCo Executive Mark Elrich's house to demand that a climate implementation plan be put into place by Earth Day, April 22. This plan would list the specific measures the County will take this year to abate climate change. 
"We want to make changes. Lots of people know about the climate crisis and they think maybe it's an issue. But we need to treat it like the massive problem that it is. The only way to treat it like the massive problem that it is is to actually do something about it," Clemans-Cope said. "But, we can't do it alone. We have to band together in solitary in order to have a chance to solve the climate crisis."
Students can get involved with SR by emailing [email protected] or sending a message to their Instagram account: @sunrise_rockville.