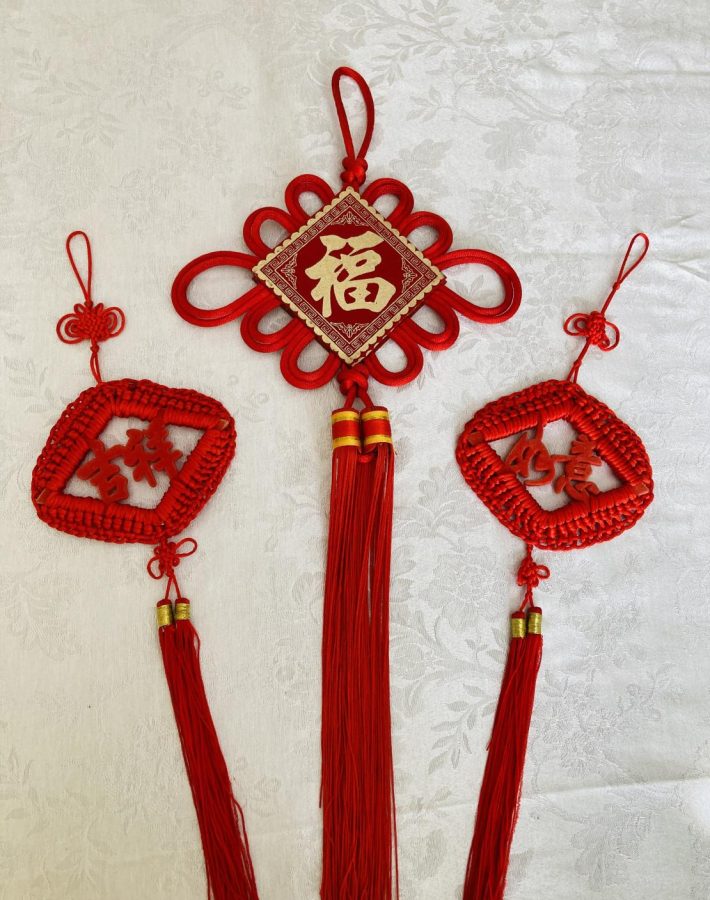 Photo by Victoria Tong
Unfortunately, Lunar New Year was vastly different for many of the students at RM this year. With COVID-19 forcing families to stay isolated at home, most people were unable to continue their usual yearly celebrations with friends and relatives. However, some still managed to carry out a few of their cultural traditions on Feb. 12 and overcome the barriers of social quarantine. 
Food was definitely a factor that remained the same for many families regardless of the pandemic. "My mom and I made some dumplings from scratch. It was one of my first times making that," sophomore Melanie Chen said. Along with these traditional gold-shaped dumplings representing wealth in the coming year, students also celebrated with a sweet prosperity-bestowing dessert unique to Lunar New Year. "We ate this sweet glutinous rice dessert that you fry which is called 年糕 in Chinese," freshman Sophia Fang said.  
In addition to eating typical Chinese cuisine, some students at RM also hung up traditional decorations and watched the annual CCTV Spring Festival Gala on TV. "I watched the 春节联欢会 … on CCTV, and I put up banners or 春联," Chen said. These banners, also known as spring couplets, are often poems that are hung on doorways to express hopes for the new year, while the 春节联欢会 is a collection of cultural singing, dancing and comedy performances for families to watch as they gather with their steaming homemade dumplings. 
Arguably one of the best bonuses of the holiday is receiving red envelopes containing money from older relatives. "[For me], a lot of it is in Hong Kong dollars, but from my parents, they gave me $50 from each parent," sophomore Jessica Sun said. But not all families have the same red envelope traditions; some give red envelopes to everyone. "Originally it was parents [who gave out red envelopes] but in our family, once you get up to a certain age, you have to give out [money] to the whole family," Fang said. "[The tradition is] kind of just wishing good luck in the new year." 
Because of COVID-19 this year, hosting huge parties with friends and family was virtually impossible because of the safety risks. "[T]his time it was just me and my immediate family … so it was a lot less people this time. And usually we would make [a] potluck where a lot of families come together and share and bring food," Chen said. For the celebrations at home this year, even though they remained meaningful, they were less entertaining overall. "In general, it's always more fun to celebrate things with friends and more people, and I wish that if this year had been different, we could've done more stuff," Sun said. 
Many students who celebrated the Lunar New Year this year were disappointed in the extent of their festivities. "It was a little lonely this time because usually it would be very lively and we would have a lot of conversations, but this time we just watched the festival on the TV and that's kind of it," Chen said. For those celebrating the holiday, this is probably how most spent their Friday evening. 
On the other hand, there is still a positive side to the whole situation. "I think it's actually kind of better because usually Lunar New Year doesn't fall on a weekday and I'm not able to spend the whole day with my family. But since we're in a pandemic and everyone is at home, we're able to spend the morning up until the evening all together," Fang pointed out. 
Regardless of whether or not Lunar New Year traditions stayed the same or changed this year, the holiday still holds significance to the students celebrating it.  "The general significance is tying back to my culture, and it makes it feel as if I'm really tied to my parents and China and Chinese culture," Sun said.
Fang echoed these sentiments, while also adding that the Lunar New Year enables her to have a fresh start on the resolutions she made at the beginning of the year. "I kind of am able to look back on my resolutions and see if I actually started working on them and accomplished them. And then if I didn't do them I can start actually working on them," she said. The cultural connection and second chance at New Year's resolutions are two of the most memorable attributes of the Lunar New Year for many. 
Even though the Lunar New Year may have been less grand this year, it still provided an opportunity for students to spend valuable time with their families. But next year, most will probably be thrilled to return to hosting those large parties that end at 2 a.m. and inviting all their friends over. "[There] was always just the feeling of togetherness and thinking that things will get better the next year," Sun said.