Homemade gifts you can give on Valentine's Day this year
February 9, 2021
As the first month of the new year has concluded, the month of love is now here. Usually, people give each other roses or sweet treats on February 14 to celebrate Valentine's Day. However, the circumstances are quite different this year, and giving flowers or chocolates may not be the best idea. 
Furthermore, our generation has become accustomed to technology and most people tend to send messages digitally rather than through a traditional letter; this is why it is especially appreciated when people receive handmade cards and letters. These gifts show that you truly put in your time and care to make a card specially for them. There are many ways to create and design your cards, but here are just a few ideas—most of which I also use!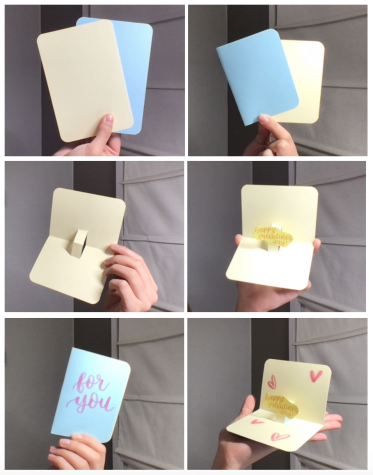 Pop-up Cards
Pop-up cards are actually quite easy to make, although they look quite complex. There are two ways you can make these, but I will explain how to make the easier version today. 
First, you need two pieces of paper which are identical in size; it's better if they're different colors, though, so the design stands out! Fold both pieces of paper in half for your card; then, cut a strip on the middle of only one of the folded papers. The strip should be about an inch wide and about two inches long (for A4 paper). Draw a message or image on a separate piece of paper, cut it out, and then attach it on the strip. It should be adhered on the inside of the card so it can pop up. Lastly, glue or tape the second folded paper on the outside of the card you just made so you can hide the strip you cut. That's it—you now have a pop-up card with a special message/drawing inside!
Calligraphy Message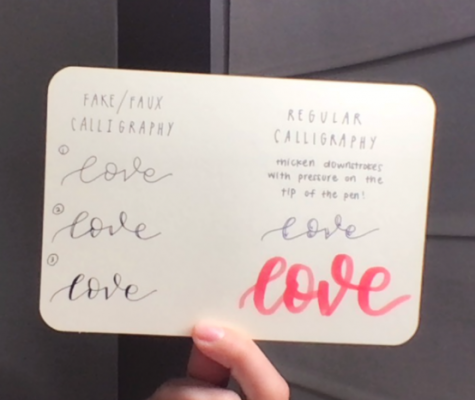 If you feel less confident trying crafts, then here is an idea that only requires pen and paper. Calligraphy is a good way to make your messages look more formal and elegant, but it is still quite easy. There are two types of calligraphy you can do: faux/fake calligraphy or regular calligraphy. Since regular calligraphy requires brush pens or other special writing utensils, I will explain faux calligraphy more in detail and briefly cover regular calligraphy at the end. 
Firstly, for faux calligraphy, you need to write words in cursive first. Then, thicken the downstrokes by going over them a few times. It's that simple! You just do the same thing with regular calligraphy, except using a brush pen or calligraphy pen will allow you to make thicker downstrokes with more pressure on the pen tip.
As you can see, the skills I explained are not very difficult, but look quite nice for a handmade gift. These two ideas are great for any other special day as well, to add something extra to your cards. I hope they are helpful to you this Valentine's Day!