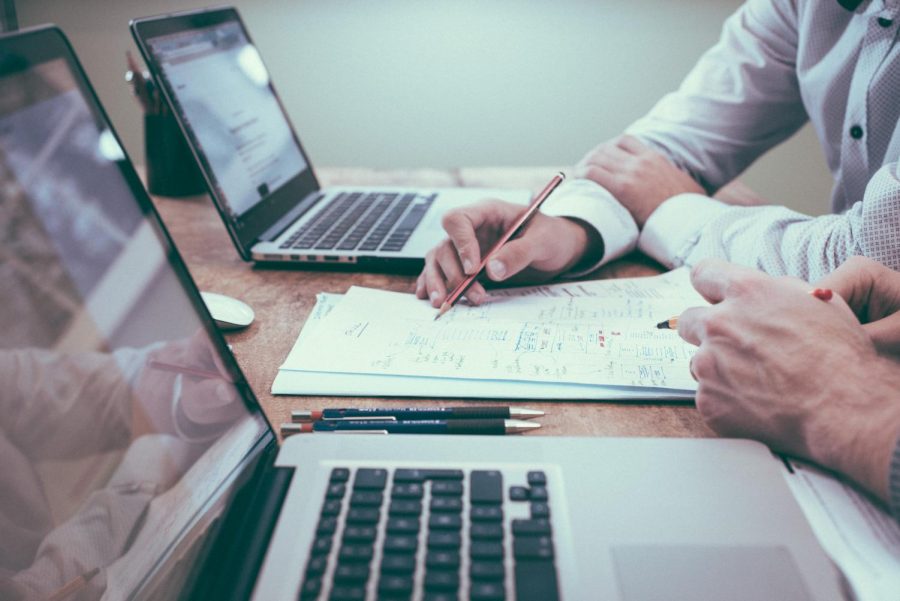 Photo Courtesy of Scott Graham via Unsplash
The Board of Education (BOE) held the second of two hearings regarding the superintendent's budget proposal for the 2021-2022 school year on Jan. 19. The $2.7 billion plan is $42 million lower than FY21 due to decreased county-wide student enrollment. This is also the first time that the budget has decreased since 2008.
The hearing lasted two hours, featuring appeals from municipalities and elected officials, students, employee associations, cluster representatives, and organizations. Multiple speakers called for the allocation of funds towards mental health and special education.
Municipalities and Elected Officials:
Rockville Mayor Bridget Newton and Councilmember Monique Ashton made a joint appearance, approving the use of funds to add six school psychologists and two parent coordinators in schools with high utilization of MCPS' Free and Reduced Meals (FARMS) program. "We have seen increased educational disparities, [and] more students falling behind in math and English, especially those learning the English language," Newton said, advocating for full funding for continuity of services.
Staff allocation has reduced in ESOL because of decreased enrollment, though Newton projected 2500 – 3000 students returning post-pandemic. Councilmember Ashton requested a linkage to a learning site at Twinbrook, citing school counselor data that showed 892 individual student meetings and 28 student case referrals for self harm.
Students:
Adhya Carna, a sophomore at Poolesville High School, introduced a new request for SRO officer training programs for neurodivergent students. The implementation of similar programs in other counties including Frederick, Fairfax, Baltimore, Williamsburg, and Kennedy, as well as the Kruger Institute, have been accompanied with a decreased rate of violence against neurodivergent students by 46.4 percent.
Eleanor and Rosa Clemans-Cope advocated for environmentally friendly policy changes. The sisters specifically proposed for the electrification of the MCPS bus fleet and comprehensive climate curriculums, with increased coverage of topics like greenhouse gases and carbon emissions. "We need to know the science so we can fight for our future," Eleanor said, "[and] we demand that we add real climate education to the science curriculum for every grade level; this is a responsibility that we have to our citizens," Rosa said.
Laney Parker from Lakelands Park Middle School urged the BOE to consider a countywide transition to green energy and electric buses and a decreased reliance on coal and natural gases. "My generation are the people who are hurt most by your choice to continue investing in dirty energy," Parker said. "MCPS needs to be a leader in green energy, and not a climate villain."
Felipe de Bolle, a junior at Whitman High School and member of the Montgomery County Regional (MCR) SGA, disagreed with the cutting of funds from the ESOL program. Bolle argued that the ESOL program is already underfunded in comparison to similar service groups, citing how special education students are allocated ten times the amount of money that ESOL students are.
Katie Yuan, a junior from RM, requested the inclusion of personal finance in county curriculums and as a graduation requirement. "Students exiting high school simply cannot thrive in today's economy without a strong understanding of money," Yuan said. "Student loans have soared, [and there is a] lack of equitable access to these personal finance educational opportunities."
In response to the student speakers, Deputy Superintendent Monifa McKnight clarified some of the reasoning behind ESOL cuts. "Over the past few years, with the number of [ESOL] structures that have existed, we've taken a step back to see what we're yielding as a result. A part of what we see in terms of aligning this budget is not particularly cutting excess to the needs in school of our ESOL students, but more realigning services, though] I think that's something we can make more clear and specific so our community can better understand that."
Employee Associations:
Chris Lloyd, president of the Montgomery County Education Association (MCEA), and Christine Handy, president of the Montgomery County Association of Administrators and Principals (MCAAP) and the Montgomery County Business and Operations Administrators (MCBOA), expressed approval for the budget. "[The proposed budget is] good because it takes into consideration that next year we will be facing significant challenges to recover the learning losses of our students, due to the impacts of the current pandemic," Handy said.
Should money become available, budget priorities would include the enhancement of school leadership and administrative staffing. This would include the conversion of assistant school administrators to assistant principals and the addition of assistant principals to elementary and special schools. "It is imperative that we have strong administrative teams to handle the complex work that is required for them to lead the learning and build positive school cultures, while managing the day to day operations of a complex school community," Handy said.
Cluster Representatives:
Cynthia Simonson, Montgomery County Council (MCC) PTA president, requested more site based and central office staff as a solution to an increased number of students needing to repeat courses. Simonson also stressed the need for clear and accurate communication, transparency around reporting, and the release of county data in accessible files.
"It is imperative that we look ahead, beyond the crisis, to how we will repair the educational, social, and emotional gaps this pandemic has caused," Walter Johnson cluster representative Sara Cortes said. Due to disparities in the current MCPS funding allocation formulas, the WJ cluster was short on counselors before 2020 and the pandemic increased the need for staffing.
Seneca Valley cluster representative Kathy Fusto said that funds would be redirected to technology, PPE, and air cleaners, potentially neglecting updates to grade-level curriculum. "Operationally, we need to focus on getting the basics back in place, programming and curriculum that is solid from Pre-K all the way through 12th grade."
Fusto further advocated for better communication between parents and educators, especially about data and information. "We need to have conversations, not surveys. MCPS has a lot of resources both in house and out in the community, [and] too many parents don't know about them or can't find them. We can take this time to think about where and how information is kept, and where it's sent out."
Fusto also requested a central repository for information to archive outdated content and update topical information, citing an incident in which a Bethesda Beat reporter accidentally spread misinformation by linking an outdated set of guidelines when covering a lawsuit against MCPS.
Gaithersburg cluster coordinator Kari Primozic said that Gaithersburg parents would benefit from clear logistics about returning to school and easily accessible county data. Primozic asked that the BOE prioritize the ESOL program, special education, and staffing.
Bethesda Chevy-Chase cluster coordinator Catherine Stocker voiced approval for restorative justice programs and increased funding for counselor staffing and mental health supports. "The goal is for a psychologist in every school, [and] highly qualified counselors will yield a large and measurable return in keeping kids engaged in schools and increasing graduation rates" Stocker said. Stocker also noted that current MCPS enrollment could skew county data [and thus the budget], as this year's decreased numbers are not typical or a reliable predictor[for future years. "Parents postponed kindergarten, many will be back. We are confident that enrollment will be higher [next year], [so] let's budget for them."
Einstein cluster coordinator Laura Stewart requested more mental health and administrative personnel, including psychologists, counselors, and social workers. Stewart further requested increased funding to cover the installation of school cameras, maintenance costs for air filters, and water testing for lead and legionella content. 
Wheaton cluster coordinator Chris Rutledge echoed a call for more mental health care, citing several students hospitalized for suicidal ideations or suicide attempts at Parkland Middle School. Rutledge also requested more staff development on LGBTQ+ issues.
Organizations and Associations:
Toria Simpson and Julia Fenner from the MCPS School Psychologist Association supported the proposal to add school psychologists. Psychologists would be well versed in direct intervention with students, consultations with teachers and families, social-emotional learning, threat assessment, crisis support, counseling collaboration with administrators to support schoolwide practices and policies, and identifying signs of mental health distress. Fenner cited the National Association of School Psychologists' recommendation of a 1:500 ratio of mental health practitioners to students within schools and the current MCPS ratio of 1:1574.
Cristopher Barclay from the 1977-II Action Group advocated for the recruitment, training, and retention of teachers of color, and budgeting for high quality career technology programs. "[We need a] teacher cohort that better reflects and can relate to the student body," Barclay said.
The next tentative action from the Board of Education regarding the budget is scheduled for Tuesday, Feb. 23, during the board's regular meeting.