Jaguar Scholars Leadership Program roars into community action
January 17, 2021
One of the first mistakes that one can make about the Jaguar Scholars Leadership Program (JSLP) is assuming that it is simply a club. In reality, it is much more than that. It is an accomplished program for students to become the "leader of the leaders" while also developing close relationships with each other to benefit the local community. 
In the spring of 2017, history teacher Jerome Price founded the first branch of JSLP at Julius West Middle School. After realizing the lack of opportunities presented to students from underrepresented groups, Mr. Price wanted to create a program dedicated to providing them exposure to leadership examples. "The program is designed for high-achieving students who want to make a difference within their community, both school and city. … In JSLP, student members are not only mentored and exposed to great leaders, they are [also] routinely put into a position to lead others," Mr. Price said.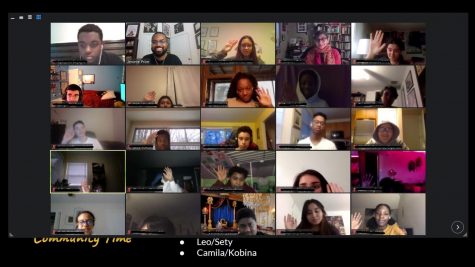 Every month, JSLP hosts general body meetings for its 75 members to build community and confer about leadership development topics. Examples include student leaders presenting in regard to recent news and education inequality. Although Mr. Price often presents, students are also given the chance to speak and lead breakout rooms. Vice President Jaiden Burney said, "We go into breakout rooms where we talk about our bud, rose and thorn. The rose is something that's good that's happening in your life. The thorn is something that you're not looking forward to, and then a bud is what you are looking forward to."
What many members find unique about JSLP is its "second family"-like bond. Many of its members have been involved since seventh- or eighth-grade, which has served to strengthen their bonds over time. "Each meeting is really different because typically, our meetings start with Mr. Price greeting everyone. He literally knows every person — he knows what's happening at home, what you're doing before and after school, he knows literally your entire life," Burney said. 
Before the pandemic, a huge part of JSLP was its mentorship program at Twinbrook Elementary School. Every week, JSLP members would visit a classroom of fourth- or fifth-graders to help them complete homework while also having fun together.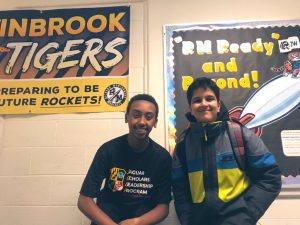 "We go into this random classroom, and then we will usually have them pull out their homework for that day, like an assignment they have due in a couple of days or maybe something they just have to work on," Diego Varisco, a member of JSLP's Executive Board, said. "And we just help them out. We're not going to be like, 'Alright, finish it.' We're not going to be restrictive. We usually try to have a good time because when you have a good time, you have a good experience, and then you're able to learn way better."
Thanks to the work of the JSLP mentorship program, JSLP has seen the academic performance of the elementary school students improve and their personalities develop. The mentors themselves also feel pride and fulfillment from seeing the growth they are helping to further. "Tutoring is not to do it just to be done—the tutoring is to impact someone's life. Even though it's a one-hour session, a one-hour session, or even five minutes, can make a huge influence on someone in fifth- or fourth-grade," Varisco said. 
JSLP has also previously met elected leadership officials, including the Rockville mayor Bridget Newton, Montgomery County Council members and the late U.S. Rep. John Lewis. "We've had all these people come talk to us about what we can do, and it's taught me that your age doesn't prohibit you from speaking out and doing something if you see a problem," Burney said. 
I don't have the words. I doubt I ever will. Thank you #JohnLewis for giving my students & I the opportunity of a lifetime. I'll always remember you and continue to share your story with my future students. I promise to teach them about getting in #goodtrouble. Rest well, sir. 🙏🏾 pic.twitter.com/Zk3F6BVkbu

— Jerome A. Price (@mrpricehistory) July 18, 2020
Due to COVID, JSLP has had to temporarily halt its mentorship program and field trips in order to help out their community. Although they can no longer do these activities, they are actively planning online college tours and gatherings with the mayor of Rockville, and they are potentially launching an online tutoring program. "Post in-person school, we're going to have a lot more field trips. Tutoring will be a must. I think there's a lot of things planned, but it's so far in the future that we're focusing on the present, and then we'll see what happens next," Varisco said. 
Despite the hurdles it has put forth, COVID has allowed the JSLP members to develop closer bonds as they work through the current challenges they face. "I think it's brought us closer together because there are three grade levels and we're farther apart in what's happening in our lives. I think it has allowed us to foster more relationships with each other and get to know each other. I now know freshmen, I know the juniors within JSLP, I now know everyone. That's something I wouldn't be able to do if we were at school," Burney said. 
JSLP has made a huge impact on its members, even long after they leave the program. "One moment that stuck out to me was when one of my JSLP student leaders presented me with a photo of herself on Harvard's campus," Mr. Price said. "She was wearing her JSLP hoodie and said, 'Because of JSLP, I can see myself at Harvard!' I was blown away."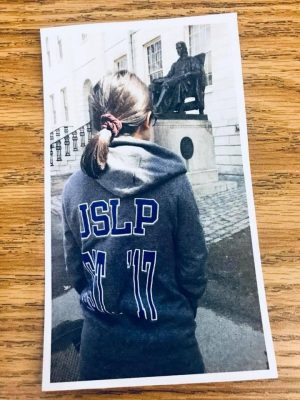 Contact information and updates can be found on the JSLP Instagram account, @jaguarscholars, and Mr. Price's Twitter account, @mrpricehistory.