There and back again: Ms. Mensah shares her journey from Sherwood to RM
January 3, 2021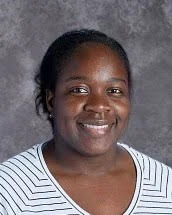 Photo courtesy of RM school website
New at Richard Montgomery this year, Counselor Abrafi Mensah may be one of the least known staff members to students. Being in a pandemic does not make it easier for her to form connections with her students, yet she tries her best to do what she loves: helping people. 
Ms. Mensah grew up as a first-generation immigrant to her Ghanian parents. She has come full circle by working in Montgomery County, the very same county in which she attended Sherwood High School. Though she has only been at RM for one year, she has been a counselor for a total of five.
During her high school years, she was very outgoing and labeled herself a "people person." She was involved in many clubs, along with playing volleyball, which helped her get adjusted and enabled her to quickly make friends when she transferred to Sherwood her sophomore year. She expressed that the move was as hard, as it would be for any high schooler, but it was not as bad as it could have been due to her social nature. "I had a really good high school experience actually," she said.
"I started off thinking I wanted to be a teacher." This is not how things played out for Ms. Mensah, but it led her on the path of finding a profession she loves. In her junior year of college at the University of Maryland, she was tasked with interviewing three people that were in the field she wanted to go into for one of her classes. She decided to interview a teacher, a school psychologist and a school counselor. 
She initially felt drawn to school counseling because of her own experience with her high school counselor, Mr. Burwell, who is still a counselor in Montgomery County Public Schools today. "He was very impactful on me as a first-generation student who was going to college," Mensah said. "I just remembered him being so impactful and feeling like I wanted to be the same person for a student." The impact he made stuck with her in the back of her mind and after interviewing a counselor for the assignment, she was set on this being her career.
Unsure whether she wanted to go to graduate school, she took a gap year after graduating from college and worked at the YMCA, which she loved. This post-graduate work was the final piece in her realization that counseling was the route for her. She then went through her graduate program at the University of Pennsylvania and has loved it ever since.
"
It was the county that gave me my education. It's weird because it's kind of like being home, and there's a sense of familiarity with it all."
— Ms. Mensah
Though she enjoys being a counselor, she admits that it is a stressful job at times. Life as a counselor is "varying" as she put it, but even still, she finds it to be very rewarding. "I have gotten to build relationships with students, staff members, parents, community members that I don't think I would have gotten to do in any other position, so with all the stress that it has brought, it has been a very rewarding experience."
Being that Ms. Mensah is a former MCPS student, she now has both a student and educator perspective. It allows her to be able to make connections between her own high school experience and her role now. "It's just interesting to learn a different perspective," she said. She was so fond of MCPS that even after looking at other counties in Maryland, she was still drawn here. "It was just more comfortable, you know? It was the county that gave me my education. It's weird because it's kind of like being home, and there's a sense of familiarity with it all. Obviously, I loved it enough as a student, why wouldn't I want to be here as a staff member," Ms. Mensah explained.
While being a counselor is a big part of her life, she also has a life outside of school. She has a dog that lives with her and has been keeping her company throughout the pandemic. One of her favorite things to do is powerlift, which she has been doing for the past four years. She also loves to travel, though that has not happened much this year, but she enjoys anything she can do with other people.
Another thing Ms. Mensah enjoys is concerts and music festivals. From these concerts, she collects shirts as mementos of the experience. A few artists whose concerts she has attended are J. Cole, Childish Gambino and Beyonce.
At the end of the day, no one can help everyone; not even a counselor. However, Ms. Mensah acknowledges this and takes it in her stride. "I didn't come into this thinking, 'I'm going to change everyone's life,'" she stated. "I would love to think so, but if I could be that caring, empathetic, supportive person for at least one student, then I feel like I made a difference."