Boycott 'Wonder Woman 1984': A pro-Palestinian viewpoint
December 24, 2020
Since it was first released in 2017, Wonder Woman has been a symbol for feminism across the globe. On Dec. 25, 2020, its sequel, Wonder Woman 1984 will be available on HBO Max and select theaters. Critics, who viewed the film ten days prior to its release to the public, have been raving about it. But some, including myself, have chosen to opt out of watching it. 
What many people in the United States don't know is the multiple controversies surrounding the lead actress, Gal Gadot. While her character in the film is anti-war, Gadot is famous for being a proud Israeli and even serving in the IDF (Israel Defense Force).
For many decades, there has been an ongoing conflict between Israel and Lebanon. In 2006, the two countries engaged in a 34-day war known as the 2006 Israel-Hezbollah War or the 2006 Lebanon War—which Gadot served in—where around 1,100 Lebanese citizens and around 165 Israeli citizens were killed. A 2017 Lebanese social media campaign named The Campaign to Boycott Supporters of Israel-Lebanon successfully called to ban "Wonder Woman" because of Gadot's involvement in the army.
The Israel-Palestine conflict, which has been making headlines for years, is an even greater reason why the film is troubling. In the past decade, things have escalated quite a bit in this conflict. And because Israel is a Jewish state and Palestine is a Muslim state, a large number of those boycotting Gadot's movies are Muslims.
As a pro-Palestinian supporter and Muslim student, I think that it is time to let actors and actresses know that we will hold them accountable for normalizing anti-Palestinian violence. Here's a little background on the chaotic conflict between Palestine and Israel: After the Holocaust, the few Jews who survived wanted to create a safe haven in a country in the Middle East called Palestine, which is an Arabic-speaking nation. Both nations claim that the land was granted to them thousands of years ago because of the significance of the city Jerusalem. Jerusalem has a lot of religious significance to Jews, Muslims and Christians. Israel ended up gaining control and the settlers forced the Muslims out. The areas that are still being fought over to this day are Gaza and the West Bank—both have a Palestinian majority. The Hamas, a Sunni-Islamic fundamentalist group, currently have control over Gaza, but is under blockade by the Israelis. Over 400,000 Palestinian refugees have fled from the area.
In July 2014, Israel invaded Gaza after Hamas kidnapped and murdered three Israeli teenagers. They two fired rockets at each other and the number of casualties were devastating. Over 2,000 Palestinians were killed, including 495 children. 72 Israelis were killed, 66 military personnel and 6 citizens.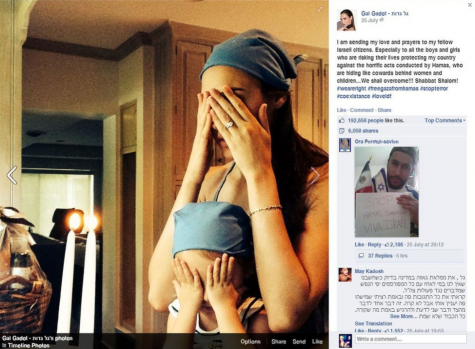 How this all relates to the 'Wonder Woman 1984' controversy appearrs when Gadot posted this photo on her Facebook page of her and her daughter, Alma, praying. She called the Hamas "cowards who were hiding behind women and children," "#weareright," and "#freegazafromhamas." While some users applauded her and viewed Gadot's post as a patriotic woman backing her country, I think I can say on behalf of other pro-Palestinians that we viewed it as her supporting the killings of thousands of innocent Palestinians. As one user wrote, "Palestinians are facing an ethnic cleansing ever since the zionist israelis started snatching land! What would you do if your home and everything you had is being taken away constantly?" 
Both this and the Lebanon conflict have made many pro-Palestinians wary to watch "Wonder Woman 1984" and are the reasons many skipped its predecessor, "Wonder Woman." While Wonder Woman may be a feminism icon and is empowering women across the world, the lead actress may have participated in the deaths of innocent Lebanese citizens and supported an invasion which also killed thousands of innocent civilians. Personally, choosing whether or not to support this movie has tested my morals, especially since the majority of the casualties of these conflicts are fellow Muslims. Either way, based on her previous movie, Wonder Woman, Gadot and Diana Prince are headed straight towards success.