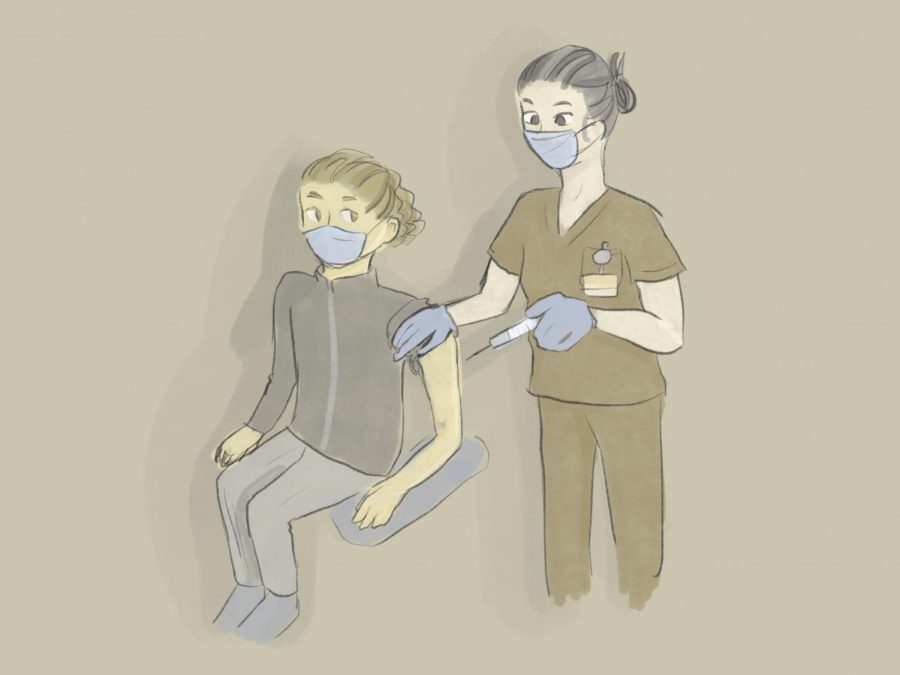 Graphic by Angelina Guhl
The long awaited COVID-19 vaccine is set to be available for distribution in Maryland in the week of Dec.14. "The state expects to receive 300,000 doses by the end of the month," Gov. Larry Hogan said last Tuesday afternoon according to The Baltimore Sun. 
Healthcare workers and nursing home residents will be the first group to obtain 50,700 doses of a Pfizer vaccine. A week later, 104,300 doses of a Moderna vaccine will arrive.  Transported by UPS and FedEx, vaccine shipping boxes will hold up to 4,875 doses topped off by 50 pounds of dry ice. The Pfizer vaccine will be stored at negative 80 degrees Celsius and the Moderna vaccine at negative 20 degrees Celsius. 
Although it may take months before the general public receives the vaccine, a system allowing citizens to register for the vaccine in advance should be released in the coming weeks. This system will also remind people when it is time to take the second dose weeks later after the initial dose. Acquiring two doses of the vaccine is required to procure full efficacy for either Pfizer or Moderna products at 94 percent and above. 
The presence of an effective vaccine will be instrumental in abating the number of COVID cases and deaths. "Certainly it's not going to be a pandemic for a lot longer because I believe the vaccines are going to turn that around," Dr. Anthony Fauci said according to the New York Post. 
However, a recent national Gallup poll taken in late October and early November revealed that only 58 percent of respondents were comfortable taking a vaccine. 
Maryland's top health officials are working hard to convince residents to get vaccinated once COVID-19 vaccines are available to the general public. Hogan said he and Lt. Gov. Boyd Rutherford will be vaccinated publicly as part of a statewide outreach program designed to address vaccine hesitancy. Maryland's medical community will further focus on vaccinating a diverse range of residents, including those disproportionately impacted by the pandemic.
Students at RM have mixed feelings about trusting this vaccine. "The possibility of a vaccine returning everything to normal makes me eager to take the vaccine," sophomore Nicholas Nash said via text. "I think it will lower the number of COVID cases and deaths if enough people get access to it."
On the other hand, sophomore Onyeka Osakwe does not have faith in the vaccine. "I'm hesitant because I don't trust the government," Osakwe said via text. "We also don't know the long term effects from the vaccine."
The delivery of vaccines is good news, but initial allocation will only be to high priority groups. However, the state is still working diligently to distribute vaccines as soon as possible. Vaccines will eventually be available to all in local pharmacies and doctors offices.