All the Thanksgiving recipes we're making this year
November 23, 2020
As October comes to an end and temperatures drop, it is without a doubt the start of the winter holidays. It might not be officially winter yet, but since November 1st, Mariah Carey's "All I Want for Christmas Is You" has been playing in retail stores all around the country, and with the elections and everything else going on in the world right now, it is easy to forget Thanksgiving. According to Britannica, Thanksgiving is an "annual national holiday in the United States and Canada celebrating the harvest and other blessings of the past year." It is generally said that this holiday is based on the 1621 feast between the English colonists (the Pilgrims) and the Wampanoag people. It is a time that we can spend with our family and friends and be thankful for all the things we have by stuffing ourselves and turkey with delicious food passed down from older generations. That being said, here are some of the homemade Thanksgiving recipes recommended by Richard Montgomery teachers and students!
Sweet Potato Pie 
For Thanksgiving, what is better than a classic sweet potato pie? RM English teacher Ms. Leckie has relied on this following recipe of a timeless treat for years. "I found this a long time ago in a magazine and we'll make this for Thanksgiving this year," Ms. Leckie said. 
Ingredients:
2 large sweet potatoes

½ package refrigerated pie crusts (15-ounce)

1¼ cups sugar

1 cup milk

¼ cup pineapple juice

¼ cup butter or margarine, melted

3 large eggs

1 teaspoon salt

¼ teaspoon ground nutmeg

Garnish: chopped pecans
Directions:
Bake sweet potatoes at 350 degrees for 1 hour or until tender; cool.

Fit pie crusts into a 9-inch pie plate according to package directions; fold edges under, and crimp.

Peel potatoes, and beat at medium speed with an electric mixer until smooth. Add sugar and next 7 ingredients, beating until blended. Pour into pie crust.

Bake at 425 degrees for 15 minutes. Reduce oven temperature to 350 degrees, and bake for 1 hour and 20 minutes or until a knife inserted in the center comes out clean. (shield crust with aluminum foil to prevent excessive browning, if necessary.)

Garnish if desired. 
Peanut Brittle
This recipe is perfect for anyone with desires to munch on some healthy, heavenly-baked sweets. Computer science teacher Kimberly Gustin shared her mother's famous peanut brittle recipe that has begun a sentimental tradition in her family. 
"
My mom has made this peanut brittle every year for the holidays since I was a little girl. Being away from home for the holidays makes me a bit sad, but knowing my mom will be in the kitchen again this holiday season, making this peanut brittle, brings a little bit of home and my childhood with me here."
— Ms. Gustin
"My mom has made this peanut brittle every year for the holidays since I was a little girl. Being away from home for the holidays makes me a bit sad," Ms. Gustin said, "but knowing my mom will be in the kitchen again this holiday season, making this peanut brittle, brings a little bit of home and my childhood with me here."
This simple, savory recipe requires ½ a pound of raw Spanish peanuts, 1 cup of white sugar, 1 cup of white karo syrup, 1 tablespoon of stick butter and 1 teaspoon baking soda.
Combine peanuts, sugar, syrup and butter in a pot. 

Cook mixture over a medium flame for around 15 minutes, or until mixture is golden in color.

Remove pot from heat and add baking soda in. Make sure baking soda is mixed in gently and thoroughly.

Quickly pour brittle onto a full size, lightly sprayed Pam cookie sheet. Allow brittle to cool before breaking up.
Apple Butterscotch Crisps
If you aren't a big fan of peanuts or sweet potatoes, this desert recipe could be the one for you. Recommended by RM freshman Emma McCarthy, these apple butterscotch crisps will leave you craving for more of the tangy crunch of Granny Smith apples along with the sweetness of butterscotch pudding.  
Ingredients:
6 cups thin-sliced Granny Smith apples (peeled)

⅔ cup packed brown sugar

⅔ cup cook and serve butterscotch pudding

½ cup flour

½ cup quick cooking oats

1 tsp ground cinnamon

½ cup cold butter
Directions:
Put apples in a slow cooker and mix brown sugar, pudding mix, flour, oats, and cinnamon. With a hand mixer, cut in cold butter until they are coarse crumbs. Cover apples and cook on low for 3 hours.
Daria's Olive and Potato Salad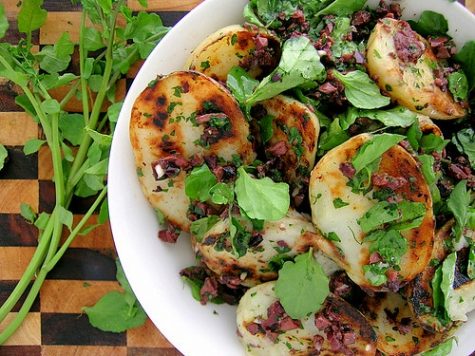 During the summer, my family and I put summer vegetables of tomatoes and cucumbers into our salads ceaselessly. So after 2 months of just tomatoes with lettuce, my mom's olive potato salad always puts a smile on my face. My mom makes me this recipe every year for Christmas and Thanksgiving and even though I personally don't really like olives, something about the dressing and the overall taste makes it never get old. It is a very nice alternative to regular salads and very easy to make.
Ingredients:
3 potatoes; medium to large

5 green onions; sliced into small pieces

2 eggs; boiled

100 g of olives
For the dressing:
 50 ml of olive oil;  adjust with taste

A spoonful of vinegar; adjust with taste

Salt and pepper according to taste
Directions:
Wash the potatoes and boil them until soft. Note: you can peel the potatoes before or after boiling them; it is not that important. Boil your eggs for 20-25 minutes and after they cool, peel them off their shell.

Slice your onions, olives, potatoes, and eggs and mix in a salad bowl.

Add olive oil, vinegar, salt and pepper and mix again.
Mashed Potatoes – Daria's other Amazing Recipe
One of my personal favorite Thanksgiving dishes, if not one of my favorite of all time, is mashed potatoes. I've eaten mashed potatoes all my life so here is a short and easy recipe that I'd recommend.
Ingredients:
2 pounds of potatoes, peeled and cut into smaller pieces (quarters are prefered)

2 tablespoons unsalted butter (¼ of a stick) preferably room temperature

1 cup milk

Salt and pepper to taste
Directions: 
In a pot about ¾ filled with water, add salt and the cut potatoes. Cook for 15 minutes or until they are not firm but not soft either. Drain the water.

While it is still hot, add in the butter and with a potato masher, mash the potatoes. Gradually add in the milk and add the salt and pepper to taste.
Some things to keep in mind: You don't need to follow this recipe exactly like in the instructions because the whole beauty of mashed potatoes is that every person likes them differently. You can add the butter in pieces gradually too if it is not melting and normally it is also easier to measure the milk by eye to make it more or less creamy. Lastly, if you don't have a potato masher you could also use a fork, the back of a spoon, or an electric beater but I wouldn't recommend it because it can make the potatoes too smooth.