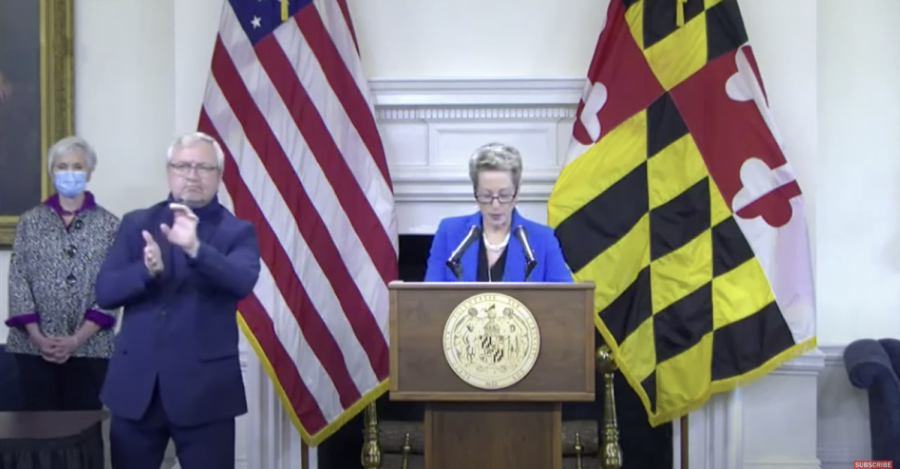 Screenshot from Governor Larry Hogan's YouTube Channel
On May 6, Maryland State Superintendent of Schools Karen Salmon announced that all public schools will remain closed for the remainder of the 2019-2020 school year.
Montgomery County Public Schools have been closed since March 16, transitioning to online learning two weeks later. On March 25, Salmon announced that schools would be closed till April 24; on April 17, the closures were extended once again till May 15.
For MCPS, the last day of school is still June 15; for seniors, it is May 22. Graduation decisions will be made by district superintendents. 
The announcement removes any hope of seniors returning to their high schools for regular instruction one last time. "Personally, I'm sad that I didn't get to experience the rest of my senior year with my friends. I was really looking forward to doing all the senior activities," senior Tanya Kibiy said over text message.
"I'm kind of upset about missing out on all the iconic senior year moments but that's more to do with quarantine than with school closing specifically," senior Selin Apaydin said over text message. "I think this was inevitable and I knew it was coming so really I feel absolutely nothing."
RM students and staff said they recognize the importance of prioritizing safety. "During this time it's important to take necessary measures to keep everyone safe and healthy," Kibiy said.
"Most of us expected this announcement. Until we get effective therapeutics or a vaccine, social distancing is the best strategy for limiting the effect of the virus," social studies teacher Todd Stillman said. "It would be difficult to do high school with social distancing. We're trying to make the most of distance learning. It's the reality and we'll endure it for as long as is necessary."
Despite closures, RM has been finding new, virtual ways to celebrate seniors. 
A student-run Instagram account called @rmhs.senior.commits has been posting photos of students with their intended college and major.
The Tide's Sports section has been posting daily senior athlete highlights on Twitter.
The Tri-M music honor society has been posting senior musician features on Instagram. 
The Tide's Centerspread is collecting senior wills for online publication as the May issue will not be in print.
The class of 2020 SGA Instagram account is posting baby photos and wishes to students written by their parents and family.
Parents are organizing efforts to create and distribute lawn signs and T-shirts.