MCPS announces grading criteria for "Pass/Incomplete" system
May 5, 2020
On May 3, MCPS announced further grading criteria for what is considered a "Pass" for the fourth marking period. For middle and high schools, a "Pass" will use four measures: assignment completion, contents and skills, engagement, and teacher professional judgement. In order to earn a passing grade, students must meet at least two of the measures stated. 
Included in the announcement was the following table: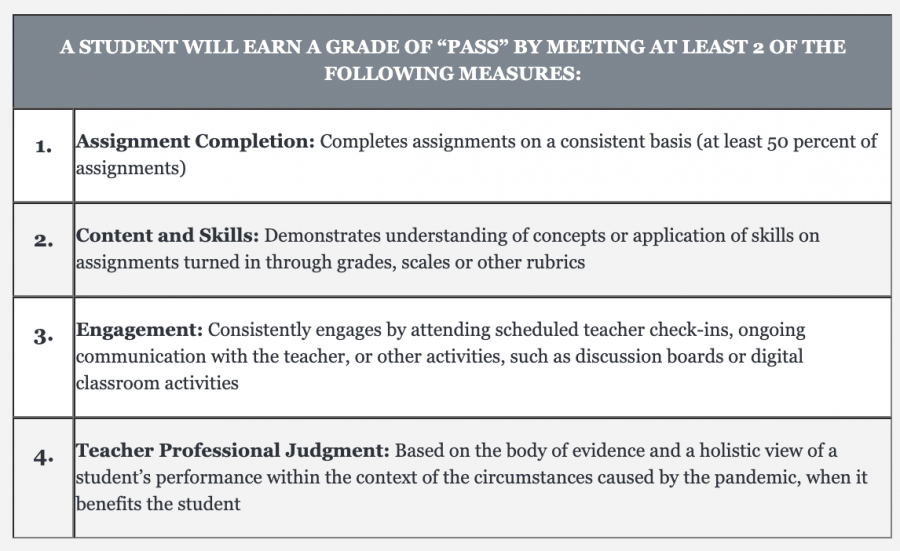 While Phase II of online learning is slowly coming together, there's still uncertainty on second semester and transcript grades. The MCPS Board of Education is scheduled to address the issue and approve a final plan by May 12. There will be a live-telecast of the meeting on the MCPS website, and the Board plans on making further announcements when a plan is finalized. 
In the meantime, the format of semester grades is being debated amongst stakeholders. A number of possibilities currently exist, including letter grades, universal Pass/Incomplete, and opt-out Pass/Incomplete systems. 
According to Bethesda Beat, director of MCPS' Department of Secondary Curriculum and Districtwide Programs Scott Murphy stated that feedback from students, staff, and community members suggests support for a Pass/Incomplete semester grade. "The traditional grading systems will exacerbate inequalities that are present in a traditional school setting," he said. 
An example of student feedback can be seen in a petition created by Clarksburg High School senior Zoe Tishaev calling for an opt-out Pass/Incomplete system. As of May 5, the petition has garnered over 1,700 signatures. "An optional pass/fail system would allow students who want to keep their grades to be able to, while students who have been unable to maintain their standard productivity in the latter half of quarter 3 and all of quarter 4 to opt for a 'P' instead of a letter grade for the semester," Tishaev wrote.