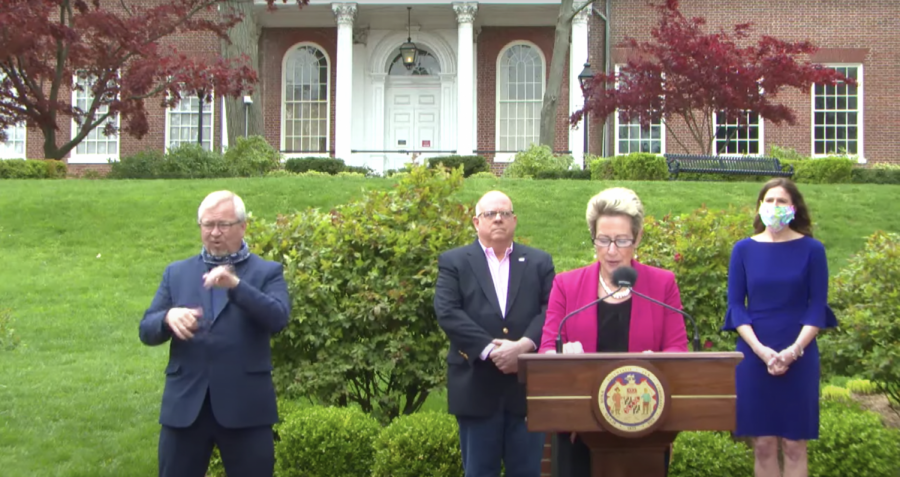 Screenshot from Governor Larry Hogan's YouTube Channel
On April 17, Maryland State Superintendent Karen Salmon announced that all public schools will be closed through May 15. This marks the second extension of the closure, which was previously scheduled through April 24.
Montgomery County Public Schools have been closed since March 16 and eased into online learning two weeks later. As of April 17, MCPS is still set to end its academic school year on June 15, with May 22 as the last day for seniors. 
During Friday's press conference, Dr. Salmon also addressed the additional possibility of summer learning, though no state-wide plan has been announced. "After speaking with local superintendents this week, school systems have also started to develop plans for additional digital learning and the recovery of any lost instructional time in the form of planning expanded summer school programs," she said.
With typical events like prom and graduation in limbo, school officials are looking towards alternatives. "We want seniors and their families to have an opportunity to recognize their wonderful accomplishments from their time in high school and receive their diplomas," Dr. Salmon said. "I will let you know that local superintendents have been working on a number of creative alternatives to ensure our high school seniors receive the recognition they deserve."
At RM, officials announced the possibility of a delayed prom in an email to the community on Thursday evening.  "We are attempting to work with the Rockville Hilton to reschedule our prom date for some time before June 15, 2020. Obviously, any discussions surrounding prom will be predicated upon future state stay-at-home directives from the state," the message said.
Besides school closures, Governor Larry Hogan has also authorized additional safety measures. Starting 7 a.m. on Saturday, April 18, anyone in a retail establishment or riding public transportation must wear a mask or face covering, the governor announced Wednesday. Here is a simple face mask pattern for those looking to make their own from old sheets or clothes based on CDC guidelines. 
Maryland has also invested an additional $4 million to MD Food Bank and the Capital Area Food Bank, according to Gov. Hogan in Friday's conference. Through matching with local organizations, they will invest a total of $8 million. Further, Hogan announced that officials are working to implement an online Supplemental Nutrition Assistance Program (SNAP), which will allow families in need to order meals online and have them delivered for free. For more information on food programs, check here.