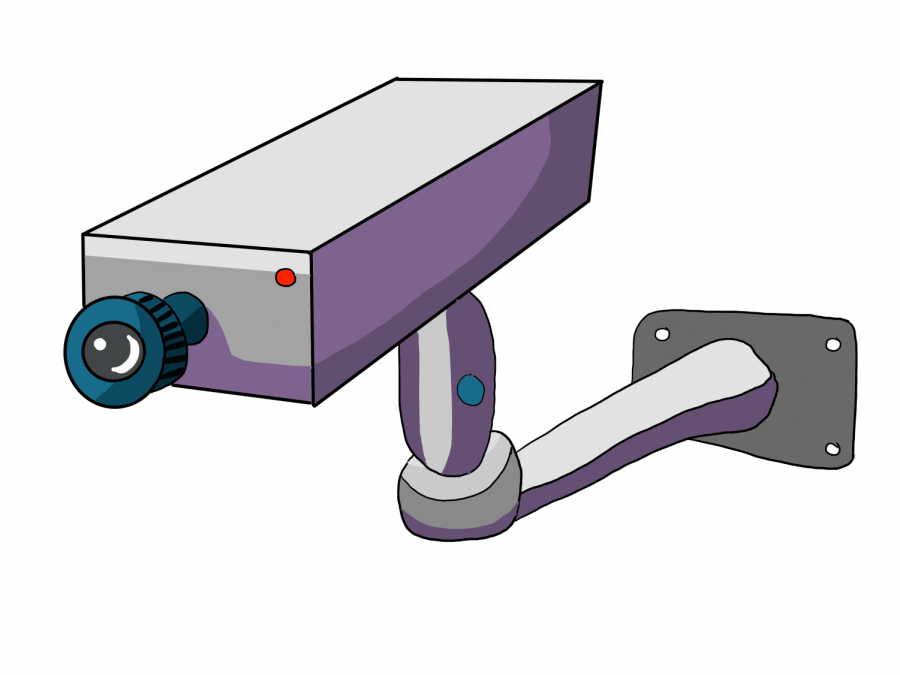 Graphic by Nicole Fang
At the beginning of the 2019-2020 school year, MCPS began to implement its latest plan to increase school security. According to ABC7 News, new safety measures range from an improved check-in system in every school building to interior security cameras on every school bus. 
Multiple aspects still have yet to be executed, including measures focused on increasing school bus safety. 
According to Bethesda Magazine, the county plans to purchase buses that have already been fitted with seat belts. MCPS spokesman Derek Turner said that the alternative, adding seat belts to existing school buses, would be much more costly. 
MCPS school buses are replaced in phases, each bus about every 12 years. According to the MCPS website, roughly 1,300 school buses shuttle 103,000 county students to school every day. 
Although bus drivers are trained to avoid accidents, many believe that installing seat belts would be a significant preventative measure. Alice Morton, parent of three current MCPS students, said, "In some cases, I think students stand in the aisle or walk while the bus is in motion, so [I believe] there are no safety measures currently." 
"I wasn't aware that seat belts were even available. At one point, [the seat belts] weren't even built in," photography teacher Ms. Kim Gould said. "So I feel like they should be wearing them, and if they have them available, then yes, they should be wearing them."
While state law would not require all students to wear seat belts once the county purchases the new buses, MCPS policy would require students to wear their seat belts. If they do not, students will be reported to their school administration. 
"I honestly wouldn't have a problem with [wearing a seatbelt], because it's the same thing you would do when you're in a car," freshman Anya Tahi said.
Students expressed that the seat belt rules should be clear. "I would definitely… have one [rule] or the other," Tahi said. "[Either] state law says that students wear seatbelts… and the administrator gets told if they're not wearing it, or they don't have to wear the seatbelt and they don't get told on." 
Another safety addition includes increasing security cameras within schools to monitor emergencies, tardiness or suspicious personnel.
According to the MCPS website, the majority of MCPS high schools are already equipped with security cameras. Over the next year, the county plans to install security cameras in all elementary schools as well.
Many students believe that more cameras will increase security. "I do think more cameras… in hallways and around corners would be beneficial to the safety of the students," freshman Jonathan Haddock said. 
"More cameras are nice because, you know, a lot of different things happen at our school, so I think that it will help," Tahi said.
Staff members have also appreciated the installation of more cameras in their high schools. "There have definitely been more cameras added over the last two or three years in the building," Ms. Gould said. "I absolutely think they help with safety."
Another added safety provision is a renovation of school check-in systems. All schools currently have an Access Control System (ACS), which allows staff to view visitors before they enter the school. The new planned check-in system scans visitors' driver's licenses and is also linked to the National Sex Offender Registry. 
"I definitely think our new check-in procedure has increased our safety," Ms. Gould said. "We've had too many doors left open and it's nice that we have one [way] in and one out."
Some students also expressed that their academic performance is linked to their feeling of the school's security level. 
"School is supposed to be a second home like away from home," Haddock said. "It's supposed to be a place where students can feel safe [and] if you don't feel safe, then you can't learn properly."
Echoing Haddock's sentiment, Tahi said, "School security is very important because especially in high school, it's basically like the outside world. Like you need [security] outside, you need it inside of a school."